st. louis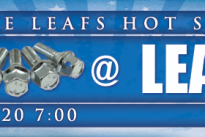 The Tampa Bay Lighting (13-15-1) are in town to take on the Toronto Maple Leafs (15-12-2).
The other day, Randy Carlyle called the Leafs' inability [more…]
As trade rumour season heats up and the Toronto Maple Leafs slip in the standings from 5th to 8th in the past week, Leafs Nation will almost certainly be whipped up into a frenzy over every name mentioned. While we aren't a rumour website, we are within 19 days of the deadline and there has been some legitimate talk from *actual* members of the media and evidence of three teams in different conferences scouting each other heavily that don't normally do so.
A lot can change depending on the Leafs position in the standings in the eight games before the deadline, but the Leafs figure to be, theoretically, both buyers and sellers. Granted, in a lockout-shortened season it's hard to ascertain what the nature of the landscape will be - or if there will be much movement at all - at a deadline where so many teams will still believe in the legitimacy of their playoff hopes. A buyers-heavy market could lend itself to moving out a few free agents-to-be and not so much to adding pieces at a reasonable price. [more…]
The Toronto Maple Leafs kick off a brief tour of the Sunshine State when they visit the Tampa Bay Lightning tonight before taking on the Florida Panthers tomorrow. Unfortunately for both clubs, their offensive capabilities have been absent from the hockey party as of late and each are on a losing streak (Leafs - 5 games, Lightning - 3 games). Tampa Bay has only scored four goals in their last three games, while the Leafs have recently put together a pair of shootout losses and have 8 goals in their last three games but have been unable to play a solid full 60 minutes to earn the victories. They will look to improve on that effort tonight.
[more…]
Since joining the Toronto Maple Leafs, Brian Burke has worked feverishly to distance the club from the atmosphere of mediocrity which pervaded during the years of mismanagement that came before.
While upgrading the playing staff and reducing the age demographic of the locker room are the two most apparent hallmarks Burke has placed upon the Leafs, his backstage upgrading of the administrative, coaching, scouting and medical departments have the potential to leave considerably longer legacies.
Flyers officially kick off July 1st festivities by acquiring Andrej Mezaros from the Lightning in exchange for a 2nd round pick. Rumors of Boston centre Marc Savard potentially heading out west to Calgary as well.
As for the Maple Leafs, they will have $10.5 million in cap space to play with today, though that figure does not include the possible removal of Kaberle's $4.25 million via trade or Finger's $3.5 million as a potential waiver candidate.
The Leafs have been linked to defenseman Dan Hamhuis, forwards Raffi Torres and Colby Armstrong, and will also kick the tires on sniper Ilya Kovalchuk. Darren Dreger believes the club will look at adding a 3rd line forward along with a defenseman to "stockpile for later deals". Stay tuned to this blog for updates on signings throughout the day. [more…]
The Leafs will start and end with Montreal as to be expected. The schedule includes nine back-to-backs, an increase over the seven they played last season. The Leafs will head northwest March 22-24 to play Minnesota and Colorado after hosting them last season. The most taxing travel appears to be a four game stretch from January 7 - 13 when the Buds will make stops in Atlanta, Los Angeles, San Jose and Phoenix. The Leafs will also conduct a potentially critical division tour from February 12 - 19 when they face off consecutively with each Northeast rival. From December 14-18, the Blue and White will go on a Western Canada road trip where they can visit Taylor Hall, Matt Stajan and Kyle Wellwood. The full sched after the jump:
[more…]
The draft is now just 6 days away, and here's some more draft news to whet your appetite. According to our sources, the Toronto Maple Leafs have expressed significant interest in 2010 draft prospect Brock Nelson out of Warroad High School in Minnesota.
The 6'3 power forward has an impressive on-ice skillset, is very coachable, possesses hockey bloodlines and could very well be the Leafs' target if they manage to trade into the 1st round. This is a project pick that may take a couple years to pay off, but the potential here is sky high. [more…]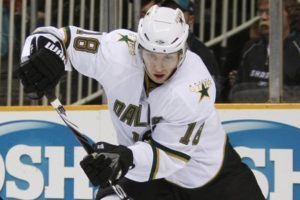 During his first full year at the helm in Toronto, you could make the case that Brian Burke was the league's most active general manager. There was the Kessel summer blockbuster with Boston and then the mega-deals on January 31st that brought in Phaneuf and Giguere. It's quite obvious that he's willing to expend assets to target any top notch premium young talent when it's made available. Both of those trades were opportunities: Kessel was a restricted free agent on a team with cap issues. Burke often spoke of inquiring on Phaneuf several times throughout the year until the "pressure points" of the cap and the struggles of the Flames pushed Sutter into making a bold move. This summer should be no different. Let's take a look at some of the young RFA's that might potentially attract Burke's interest.
I know, I know, when last we met, I promised you that the next installment in these studies in positivity would focus on Nikolai Kulemin.
Well, I lied.  Sue me.  Instead of discussing an individual player, I'm going to make some more general team-wide observations.  Don't like it?  Line up at window 106 between the hours of 1 and 1:05 p.m., fill out the forms in triplicate, be sure to bring your receipt and three forms of photo I.D. and  the counter staff will be happy to refund in full the money you paid for these charming and entertaining visits to my mind.  Really, though, following Bruce Boudreau's logic concerning the Ovechkin hit on Brian Campbell (and the obvious liability of the end boards and equally obvious innocence of Ovie), it's not my fault that I broke my promise to you;  it's your fault for reading that promise in the first place. [more…]
The Toronto Maple Leafs visit the St. Louis Blues tonight, in the Leafs' final game prior to the NHL's Olympic break.
The Leafs are coming off a narrow loss to the West-leading San Jose Sharks, a game which left the team with much to feel good about. Â Tonight, the team will look to resolve their road woes and enter the break on a high note, by capitalizing on what has been an inconsistent and underachieving Blues squad.
A shining example and further proof of New Jersey's dominance recently. Even when blanked for the first time this season, the Devils still ended up with a win, the full two points, and Martin Brodeur extended his record string of shutouts.
[more…]