Staffan Kronwall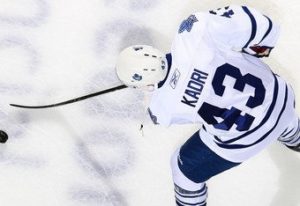 Jeff Finger returns to the line-up tonight in Detroit in what many will suggest is his Maple Leafs swan song/final pit stop en route to the Marlies. Burke is saying the right things about Finger's right to a "fair look" and the importance of respecting players acquired via free agency as it relates to organizational reputation. But the realities are this: the Leafs are sitting with both Brett Lebda and Finger on the outside of their top six, over the cap by around $300k and uncomfortably close even with Lashoff and his $550k assigned to the Marlies. And that's assuming Nazem Kadri and his $1.7 million cap hit will not be a part of the roster come opening night. If it's important to show respect to signed free agents, surely Lebda won't be Marlie-bound after his first training camp as a Leaf. Simply, something has to give, and the $3.5 million Finger, a Leaf of two seasons now, seems the obvious candidate for demotion. [more…]
It was a quiet Day One at the 2010 NHL Draft for the Maple Leafs, but the team stepped up its game in a big way on Saturday afternoon. The club wheeled and dealed its way into the 2nd round of the draft and through some crafty maneuvering in the later rounds, managed to add seven new players into the organization.
The Leafs were able to significantly upgrade their depth up front, by grabbing six forwards to go with one defenseman. Surprisingly, Leafs' Swedish scout Thommie Bergman had a big day, selecting three players from the Swedish leagues. [more…]
The rash of injuries on the Maple Leafs' blueline, coupled with GM Brian Burke's preference for physical players on the back end, have led the team to re-sign a familiar face.
Staffan Kronwall has been claimed by the Washington Capitals off of re-entry waivers in what appears to be a stroke of respect and altruism by Brian Burke. With the re-entry waiver distinction, Kronwall was pretty much trapped in the minors. Burke's hands were tied in terms of flipping Kronwall for assets as any team acquiring the rearguard would similarly have to pass him through re-entry waivers and would therefore risk sacrificing assets for a player that may be gone the next day (thanks to Spitfire for pointing this out).
[more…]
Mark Bell's career in Toronto seems to be all but over. The 28-year old from Ontario joined the Leafs along with Vesa Toskala at last year's draft shrouded under the cloud of an impending DUI sentence. With that cleared up this past summer, many Leaf fans hoped for a revival of the Mark Bell that scored 25 goals in Chicago during the 2005-2006 season. However, it was quite evident that Bell never managed to put it together in training camp or in the exhibition games that the Leafs played. [more…]
It certainly seemed like a new era tonight in the ACC as a much more motivated and industrious Leafs team took to the ice and out-played the Buffalo Sabres in a 7-4 win for the new-look Blue and White.
Neither team could honestly say they put forth the best they could offer, but that's the nature of these early pre-season games. It still can be said that there were some promising signs from a Leafs stand-point. [more…]