Stan Bowman
 As the systemic dismantling of this summer's Stanley Cup champions continues in earnest, league watchers are crying foul. Where detractors of the current, hard revenue based cap once denounced the communistic, unilateral sharing of league revenue as the prime illustration of illogic in the CBA (alongside the long-long term contract loopholes), Monday's exit of Antti Niemi from the Chicago Blackhawks has helped turn the club into the latest martyr's of the cap.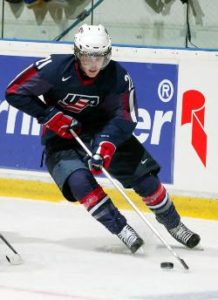 Just a month ago, the Chicago Blackhawks were the envy of the National Hockey League. Â Having finished off the Philadelphia Flyers in six games courtesy of a Patrick Kane overtime goal, the Hawks had climbed to the top of the mountain, and had risen out of what could once have been considered obscurity years earlier, to build a winning team, and break the Stanley Cup drought that loomed over the franchise for so long.
And while many general managers stood in jealousy and envy of Stan Bowman and his management team for the feat they had just accomplished, not one GM was going to envying Bowman in the days following.
For the Chicago Blackhawks, winning the Stanley Cup came at a price, and it was rather large.
Since they won the Stanley Cup, the Blackhawks have made many moves, tearing down their roster that brought them their once elusive championship. Â Fan favourites were shipped out in favour of draft picks and younger players, on cheaper contracts.
One of those trades involved Kris Versteeg, a trade Brian Burke was all too happy to accommodate.
Rough Friday night for Leaf fans, but that's in the past now. Rounds 2-7 of the 2010 NHL Entry Draft kicks off today at 1pm ET on NHL Network. The Maple Leafs are slated pick once in the 3rd round (62nd), once in the 4th round (112th), twice in the 5th round (122nd and 144th) and twice in the 7th round (182nd and 202nd).
Rumors are circulating that the Leafs will attempt to trade into the 2nd round if the price is reasonable.
This live blog will be updated with thoughts and pick analysis throughout the afternoon. [more…]