Stanley Cup Finals
Toronto Maple Leafs last 10: 6-1-3, New York Rangers last 10: 5-3-2
As the season winds down, The Maple Leafs find themselves in a position to either pull clear of the teams beneath them, or stumble and fall back into the clutches of 8th/9th place. [more…]
 As the systemic dismantling of this summer's Stanley Cup champions continues in earnest, league watchers are crying foul. Where detractors of the current, hard revenue based cap once denounced the communistic, unilateral sharing of league revenue as the prime illustration of illogic in the CBA (alongside the long-long term contract loopholes), Monday's exit of Antti Niemi from the Chicago Blackhawks has helped turn the club into the latest martyr's of the cap.
Kris Versteeg has undoubtedly been the prize pick up for the Maple Leafs thus far this offseason. You've heard all the basics by now. He's great in the dressing room, he plays all three forward positions, he produces under pressure and he's a back-to-back 20 goal scorer. At age 24, these are all impressive qualities, but now the real question is: how he will fare in the Maple Leafs' system? [more…]
The Chicago Blackhawks are just 60 minutes away from drinking out of Lord Stanley, and it will be present at tonight's game at the Wachovia Center in Philadelphia. Should the Blackhawks win, it will be their first championship in 49 years.
"It has been flashing in my head since Game 1 of the playoffs," said Blackhawks captain Jonathan Toews. "Every time you win one game, it feels like you're going all the way to the Cup. I've always said when you lose a game it feels like your season is going to be over. It just has been such a crazy ride."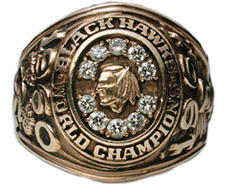 While many didn't predict the Blackhawks and Flyers to be in the Stanley Cup Finals, there are plenty of historical facts that may prove the hockey Gods have decided this would be the match-up for the Stanley Cup before the year even started.
The Dallas Stars have been mathematically eliminated from the playoffs for over a week now, but the season wasn't quite over for Mike Modano. Last night, in the last home game of the season, the Stars played host to the Anaheim Ducks in a game that will be remembered by Stars fans for a very long time.
Phew. Finally a chance to catch our breath after what was perhaps the best 2nd round of playoff hockey ever played. We were treated to three 7 game series, 9 overtime periods, and an epic showdown between the league's premier young rivals, Crosby and Ovechkin. Perhaps overshadowed by all the intensity and exciting finishes, is a fairly simple underlying theme: Youth.
November 20, 1974
Toronto's Dave Keon played in his 1,000th career NHL game, and scored his fifth career hat trick, as the Maple Leafs lost [more…]