Tampa Bay Lightning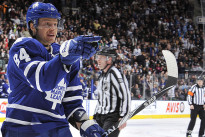 After a good comeback/confidence-building game against the Tampa Bay Lighting, the Toronto Maple Leafs  have perhaps created more questions than answers. The Penalty Kill keeps [more…]
A much needed two points put an end to a five-game winless (but not pointless) skid. Given the Leafs' three wins in their prior nine were a pair of up-and-down 5-4 wins (vs. Ottawa and NYI) and a late come from behind win over New Jersey, this could be fairly labeled the Leafs' first consistent performance over three periods since their wins over Buffalo and Philadelphia in late February. [more…]
After watching the playoffs from the sidelines for the past few seasons, the Lightning have made the most of their first post season appearance since 2007. Tampa Bay looked shaky in the first two games of the series, but has settled into the series and have given the Penguins all they can handle.
Head coach Guy Boucher, one of the most promising young coaches in recent memory, has had a calming influence on his team. He has prepared his team to overcome back-to-back elimination games and fought back to tie the series at three games apiece. Led by Steve Downie's game winner and a series of terrific saves from veteran backstopper Dwayne Rolson, the Lighting earned a 4-2 win to force game 7.
With all of their momentum of their side, Tampa looks to secure a spot in the second round when they visit the Pens in a do-or die situation on Wednesday.
The Toronto Maple Leafs and the Tampa Bay Lightning have made some minor league moves this afternoon, with the Leafs sending Marlies' forwards Alex Berry and Stefano Giliati in exchange for minor league defenseman Matt Lashoff.
In Lashoff, the Leafs are getting a young, depth guy who will likely play out the year for the Marlies.  A former 1st round Bruins draft pick, Lashoff has some size and offensive skill, but couldn't translate his ability beyond the AHL level for any extended period of time.  In 63 NHL games between Boston and Tampa, he's tallied 1 goal and 14 assists and is a career -15.  Still young at 23, he'll have stiff competition for a spot on the Marlies blue line and a chance at a fresh start after showing promise in both Norfolk and Providence.
The Leafs lose two foot soldiers on the forward ranks in Berry and Giliati.  Meat and potatoes type of players with little NHL upside, they will be missed for the leadership and experience.  However, the move offers more opportunities for up and coming forward prospects such as Jerry D'Amigo, Marcel Mueller and Brayden Irwin.
In part six of his 12 burning questions series, Derek Harmsworth takes a look at Leafs sniper Phil Kessel, and whether he can hit the 40 goal plateau.
While January 31st 2010 will go down as a day Leafs fans will never forget as the Leafs acquired Dion Phaneuf, Keith Aulie, Fredrik Sjostrom, and J.S. Giguere in the span of about two hours, the date of September 18th, 2009 will also be remembered, yet highly debated, and much scrutinized.
It was on that day in September, following a preseason game against the Pittsburgh Penguins, that Maple Leafs GM Brian Burke got his man. Â After lots of rumours throughout the year, including one that involved Tomas Kaberle going the other way, Burke signed off on a deal with the Boston Bruins that landed him American born sniper Phil Kessel. [more…]
The Tomas Kaberle trade watch is now in effect with only 36 hours to go until this situation concludes. The rumor mill is running rampant with some high profile names and some future fan favorites, but let's dive into who is being mentioned as possible blue and white sweater bearers.
The Chicago Blackhawks have decided to walk away from Antti Niemi's arbitration awarded $2.75M contract, and have instead signed veteran free agent Marty Turco to a one-year $1.3M contract. With the Blackhawks decision not to retain him, Niemi is now a free agent goaltender on the market and should attract some immediate attention.
[more…]
The book has (finally) closed on the Ilya Kovalchuk saga, as the Russian winger elected to remain with the New Jersey Devils. Â This ends weeks of mind-numbing speculation and rumour-rehashing, including a recent explosion of news in the hockey world that had all signs pointing towards Los Angeles. Â Thus, while there will be some surprise that Kovalchuk did not head down south, the overwhelming feeling amongst hockey fans today will be relief. Â A side-effect of Kovalchuk's prolonged decision-making has been the absolute cessation of any other hockey activity. Â The dam should finally burst as the remaining free agents and possible trades will now be explored further by the league's general managers.
In case you haven't already heard, the Maple Leafs have broken off negotiations with prospect Bill Sweatt, acquired in the Versteeg trade from the Blackhawks. In a statement to the Toronto Sun, Burke explained that the club would rather keep a spot on the 50 contract limit open than continue discussions with Sweatt. As the talks continued to stall, the Leafs likely turned and upped their offer to Marcel Mueller, whose ELC contract value sits at $1.12 million. Sweatt is likely looking for a figure close to Blake Wheeler's $2.825 cap hit as a 4-year college free agent, which is a steep price to pay for a player with speed but limited offensive upside. [more…]
In what could yet again prove to be a shrewd, prudent move, Maple Leafs GM Brian Burke has once again added another name to his [more…]
It will be confirmed during a 3PM press conference, but the Tampa Bay Lightning will announce their newest general manager as Steve Yzerman today. Yzerman will replace Brian Lawton who was fired last month. Yzerman worked for four seasons as Vice President and Alternate Governor for the Detroit Red Wings after retiring as a player in 2006.
The news that the Tampa Bay Lightning have Dave Nonis at the top of their shortlist for general manager candidates was perhaps an instance of the inevitable. If Tampa or Nonis deem it not a right fit, we can only expect more of the same from other owners looking to fill vacant general manager positions.
It was reported at the time of Nonis' signing that a one-year clause was included to assure Nonis' services belonged to the Leafs for 2009-10 at a minimum. When Nonis' contractual obligation ends is unclear, but from Joe Nieuwendyk to Steffan Kronwall to Justin Pogge, it's clear Burke will never step in the way of an employee's desire to advance professionally.
But not all hope is lost. First, let's look at what the Leafs have in Nonis, and hopefully what they don't end up losing.
[more…]