TAMPA BAY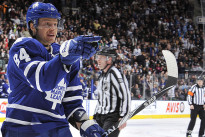 After a good comeback/confidence-building game against the Tampa Bay Lighting, the Toronto Maple Leafs  have perhaps created more questions than answers. The Penalty Kill keeps [more…]
Darcy Tucker has officially called it a career. "After spending the whole summer anticipating I would play, it got to a point where I knew it was time."
"I just knew, during workouts I didn't have that same feeling," Tucker told TSN, "and I needed to be fair with my family."
[more…]
Okay, so my math may be a little off. Â It's Canada Day weekend, there shouldn't be any arithmetic. Â Unless, of course, you are an NHL general manager, than you better hope you have your math hat on. Â A quick note to say I hope our fellow Canadian readers, as well as our loyal readers situated the south had an enjoyable holiday weekend.
Now, let's divulge into what has so far been a somewhat reserved free agency period, One timer style.
--The big news coming out of free agency this hour is this report out of the L.A. Times that indicate the Los Angeles Kings are quite far apart on signing Ilya Kovalchuk. While they may not be out of the running entirely, Helene Elliott suggests the prospects are quite dim. Â So where does Kovalchuk go? Â The Islanders reportedly seem to be the only team willing to offer him the term he is looking for (rumoured to be 10 million for at least 10 years) but are there other suitors? Â What about New Jersey? Â Toronto? Â One would think that although Burke would love to pull off the major move of free agency, the reasons Kings GM Dean Lombardi is balking about bringing in Kovy (term) is likely the same reasons Burkie has reservations. [more…]
The Leafs will start and end with Montreal as to be expected. The schedule includes nine back-to-backs, an increase over the seven they played last season. The Leafs will head northwest March 22-24 to play Minnesota and Colorado after hosting them last season. The most taxing travel appears to be a four game stretch from January 7 - 13 when the Buds will make stops in Atlanta, Los Angeles, San Jose and Phoenix. The Leafs will also conduct a potentially critical division tour from February 12 - 19 when they face off consecutively with each Northeast rival. From December 14-18, the Blue and White will go on a Western Canada road trip where they can visit Taylor Hall, Matt Stajan and Kyle Wellwood. The full sched after the jump:
[more…]
According to TSN's Darren Dreger, Leafs vice president of hockey operations Dave Nonis is on the verge of agreeing to terms with the organization on [more…]
Note: With the playoffs being the focus of the hockey world right now, there isn't a whole lot of big stories breaking in Leafland these days. As such, I'll be helping out Alec with his "Bits & Pieces" articles, touching briefly on various topics, and providing the occasional draft primer for the Entry Draft this coming June.
This session's topics include the Phoenix Coyotes, Mike Komisarek and 2010 draft prospect Joey Hishon.
The news that the Tampa Bay Lightning have Dave Nonis at the top of their shortlist for general manager candidates was perhaps an instance of the inevitable. If Tampa or Nonis deem it not a right fit, we can only expect more of the same from other owners looking to fill vacant general manager positions.
It was reported at the time of Nonis' signing that a one-year clause was included to assure Nonis' services belonged to the Leafs for 2009-10 at a minimum. When Nonis' contractual obligation ends is unclear, but from Joe Nieuwendyk to Steffan Kronwall to Justin Pogge, it's clear Burke will never step in the way of an employee's desire to advance professionally.
But not all hope is lost. First, let's look at what the Leafs have in Nonis, and hopefully what they don't end up losing.
[more…]
As you are no doubt well aware, the NHL draft lottery will be held tonight in New York to determine the order of the 14 non-playoff teams heading into the June 25-26 draft in Los Angeles. You can catch coverage of the lottery at 8pm on TSN.
Update
And the winner is ... Edmonton. Â Leafs fans, prepare yourselves to endure "Kessel Trade" debates for the better part of the next decade.
* aka "Operation: Basement Breakout"
With last night's loss, the Maple Leafs were mathematically eliminated from playoff contention for the 5th straight year. This was not really news - even the most optimistic of Leafs' fans pretty much knew this to be the case since early into the New Year, if not sooner.
However, a more prevalent question regarding the season standings remains: is getting out of last place in the Eastern Conference still possible?
Pride, youthful enthusiasm, new contracts and job opportunities for next season continue to provide more than enough hop in the Leaf step as they look to make it eight wins in their last ten and seven in their last eight at home when they play host to the Rangers at the ACC tonight.
[more…]
Submitted by Michael Stephens (a.k.a.  Baumgartner)
Apparently Sidney Crosby still lives with Mario Lemieux. Anyone else find that weird? Dude, you're almost 23. You've got a Stanley cup ring, an Olympic gold medal, an 8.7 million dollar per year salary (to say nothing of the endorsements). Damn man, move out already. But I digress...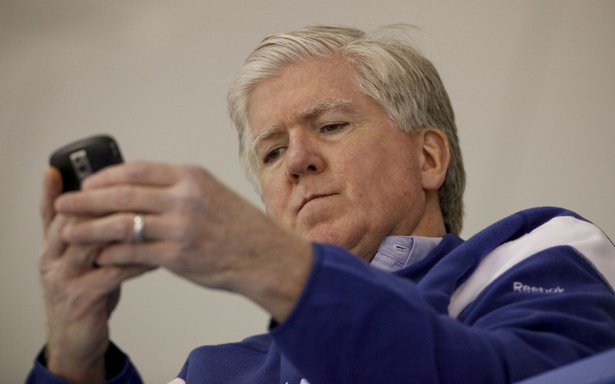 From USA Today - 3/1/2007:
Anaheim Ducks general manager Brian Burke has always been among the NHL's most colorful wheeler dealers. In 2005-06, he overhauled his [more…]