The Monster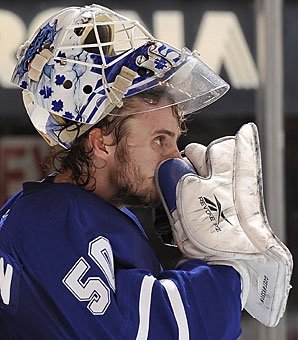 One of the more enigmatic problems facing Brian Burke in an summer that will see much of the contemporary Buds negligible talent headed for the door, is the impending contract crunch of now go-to starter Jonas Gustavsson. Touted by many as the best netminder outside of the NHL last season, Gustavsson has shown exciting, if fleeting moments of the form that earned him widespread acclaim backstopping last season's Elitserien champions Farjestads BK.
Unfortunately, Gustavsson's dominant play in the SEL has failed to translate on a consistent basis in the NHL and much of the season many saw as the coronation of a new number one has been overshadowed by a significant heart problem. Supraventricular tachycardia aside, Gustavsson's woes in the aftermath of his worrisome sidelining have seemingly stemmed from a crisis of confidence borne out of the inconsistent, Jekyll and Hyde defense, The Monster has had to deal with on a night by night basis, as well as the organizations early and now aborted attempts at blooding Vesa Toskala as trade bait.
Per Mark Zwolinski of the Toronto Star:
Jonas Gustavsson's roller coaster ride through the very early part of his NHL career hit another high Sunday [more…]
Given the early-season struggles of incumbent starting netminder Vesa Toskala, speculation is mounting that Jonas Gustavsson could receive his first NHL start as early as Tuesday night when the Leafs face their Ontario rivals, the Ottawa Senators.
Early speculation is Toskala may not be all the way back, mentally or physically, from the groin and hip surgeries he endured last season. While it is obviously far too early to annoint Gustavsson the starter for the rest of the season (he has yet to play a full game in the NHL), it is not unreasonable to expect that in the wake of Toskala's struggles he could receive an extended look, in the form of more early-season starts than were initially planned.
Jonas Gustavsson will make his much anticipated debut for the Maple Leafs in tonight's preseason tilt against Detroit.  Coach Ron Wilson has indicated that he will be in there for at least the first period, but that the staff wants to break him in slowly.  If Toronto does not get barraged in the first twenty minutes as they have in recent exhibition matches, the Monster's tenure may stretch to a period and a half.
Leafs Nation can breathe a sigh of relief.  The long wait for Swedish goalie Jonas Gustavsson's decision is over.  Reports indicate that the tender has finally chosen the Toronto Maple Leafs after a long wooing process from a number of interested teams.
The contract is a one year deal totaling $900,000.  Many expect Gustavsson to be brought in as Vesa Toskala's backup and be a constant source of competition for our Finnish goaltender.  Of course, there is the possibility that "the best goaltender outside of the NHL" exceeds expectations and steals the number one spot.