the Stanley Cup
As training camp approaches, there will be no shortage of forwards rumoured to be heading to the Toronto Maple Leafs in exchange for one or more of their excess defensemen. The two players currently being mentioned in the rumour mill, however, will command a little more than a spare part.
Those two players are Patrick Marleau, and Patrick Sharp.
Although the season prior to lockout would prove the Maple Leafs last playoff foray in half a decade, neither year that straddled the infamous labor disputes would be remembered with any particular fondness. Ushering in the reign of John Ferguson Jr., 2003-04 became, in hindsight, a defining landmark in an era of decline when overblown hype would manifest a country club malaise. Regardless, those lockout sandwiching years can also be remembered, at least in a very in a small way, for the gracing of the Toronto blue line by a cult stay at home defenseman who defied the "new" NHL dictum and refused to be culled from the game.
Jiri Tlusty.
Since the 20 year-old was drafted 13th overall in the 2006 NHL Entry Draft, Leafs fans have had high hopes that Tlusty would be a diamond in the rough, and would eventually play a crucial role in the Leafs' top-six.
However, Tlusty has struggled somewhat at the NHL level, posting a disappointing 10 goals and 20 points in 72 games played. But, it's not as if Tlusty has been given ample opportunity to shine, as he has been forced to play bottom-line minutes throughout his tenure with Maple Leafs thus far. Considering the type of game he plays, which does not include a robust defensive style, it's no wonder he hasn't progressed.
I had the opportunity to catch Kurtis McLean at Hockey Heritage North in Kirkland Lake, Ontario and ask him a few questions about his career and his future in the NHL. The 28 year old NCAA and AHL star has been nothing short of a hard worker and the type of player every team wants in their system for strength and leadership. Kurtis talks about his career, his first NHL goal, and who he thinks the Islanders are going to select with their 1st overall pick.
[more…]
Rewind a year to Ottawa, when interim GM Cliff Fletcher was preparing to make his last great splash. Trading up to secure hard hitting blueliner Luke Schenn, a player unto which the Leafs hoped to bank their revival, set in motion a summer of upheaval paving the way for Brian Burke to step in mid-season. For many the draft of 2008 marked an era of realization, that change was required and perhaps finally the Leafs were going to commit to a full scale rebuild based on the youth model in Pittsburgh.
Rumours continue to swirl about the possibility of Brian Burke landing both Henrik Sedin and Daniel Sedin should the pair opt for unrestricted free agency this off-season. My take on the rumour? Don't do it, Burke!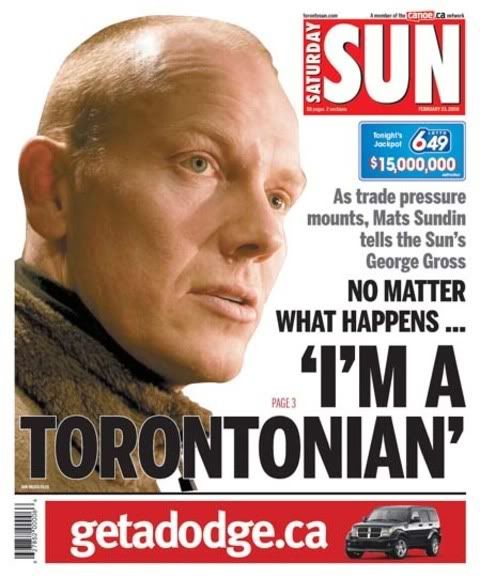 Mats Sundin's season with the Vancouver Canucks, his chase for the 2009 Stanley Cup that brought him out of pseudo-retirement, and possibly his NHL career, ended tonight with the Canucks' elimination from the playoffs at the hands of the young Chicago Blackhawks.
And now the "future of Sundin" questions, and subsequent "will-he-or-won't-he" Favrian (or is it Favresque?) soap opera will surely begin anew.
Excitement abounds these days in the streets of Toronto, as a long-overdue rebuilding effort for the Toronto Maple Leafs, and the prospect of a revitalized franchise, moves into high gear.
Arguably the last successful revitalization of the Maple Leafs franchise occurred in the early 1990s, when in the span of three seasons the Leafs went from basement-dwellers to Stanley Cup contenders.  Although many are quick to credit then-GM Cliff Fletcher's 1992 mega-deal with the Calgary Flames as the key turning point for the franchise, the groundwork for the franchise's rapid acceleration from pretender to contender actually began much earlier ... in the 1989-90 season, to be exact.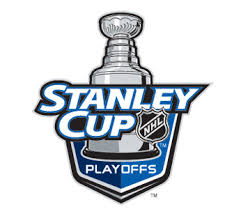 The New York Rangers, Vancouver Canucks, Pittsburgh Penguins and New Jersey Devils were all victorious in Game 1 of the NHL Playoffs. What sort of matchups will we see tonight? Will the Boston Bruins beat the Montreal Canadiens to a bloody pulp? Will the San Jose Sharks choke once again? All those questions and more… RIGHT NOW:
Random thoughts as we all prepare for the first night of the NHL Playoffs. Can't wait!
1967.
It is a number that all Leafs fans hold in such high regard. Â It means so much to so many.
Delving deeper into the hockey world, interacting with players, coaches and organizational personnel, I've learned a big lesson.
We're dealing with people.
Guess what; fans are people, too.