Toronto Marlies
Game 1 of the AHL Western Conference semifinals kicks off this evening with a well rested Toronto Marlies taking on the Abbotsford Heat. With the Marlies fresh off a sweep of division rivals, the Rochester Americans, they will need all the rest they can get. Should the series go beyond 5 games, both teams will have traveled across the country 3 times between Ontario and British Columbia. The series will be a 2-3-2 setup, with the Marlies having home ice advantage.
The Marlies went 2-1-1 against the Heat this season, but the Heat have won the team's two most recent meetings.
But Toronto Marlies head coach Dallas Eakins says he won't make too many changes to the team's gameplan. [more…]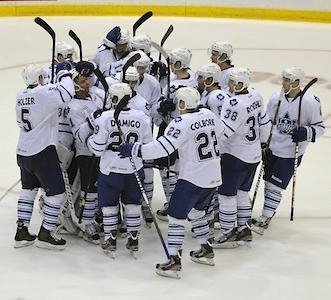 For the first time ever, the Toronto Marlies have swept a playoff opponent.
Give the players and coaching staff full credit, too. Sometimes when a team mounts a big lead in a series it rests on its laurels, relaxes a little, and takes the pedal off the gas just a tad, enough for the opposition to maybe take a game or two. But the Marlies came out like a team who had no interest in playing any more games than they had to against Rochester. They clearly wanted to end the series last night and were very business like in their efforts to do so.
Here are some notes from the game, which I watched online via AHL Live.
- With Carter Ashton hurt, Jerry D'Amigo was bumped up to the second line to play with Joe Colborne and Matt Frattin, while Marcel Mueller slotted in D'Amigo's old spot with Nicholas Deschamps and Phillippe Dupuis. Otherwise, the rest of the roster remained the same as it has for the first two games. [more…]
Leafs fans are showing heightened interest in the Marlies lately, and deservedly so as they have officially begun their run for the Calder Cup. While AHL success in the playoffs is always a fantastic experience for any player - especially young ones - fans of Toronto hockey at the end of the day are asking themselves one thing: How does this help the Toronto Maple Leafs?
Earlier in the year, I wrote a piece looking at Calder Cup Finalists translation to NHL success. That leads into the current edition of the Marlies as we look at who on this team is being counted on to help the Leafs moving forward and which players are likely to become productive NHLers and part of the long-term solution here.
Now, I want to stress that there is a difference between a long-term NHLer, and a fringe AHL-NHL tweener. A player like Darryl Boyce is an AHL-NHL tweener, meaning he's a very good American league player, but struggles to get into a National league lineup consistently. Usually players that struggle to translate their games are missing one key ingredient that they can get away with in the AHL, but not the NHL - Be that a lack of speed, size, vision, strength, shooting ability, defensive ability, and so on.
So, inevitably, when someone says "where is Greg Scott," well, Greg Scott brings a lot to the table, and hey, he could potentially make the Leafs as their 12th or 13th forward, but he is not a long-term solution to anything for the Toronto Maple Leafs. Thus, when we are looking at the players below, we aren't just looking at players who may or may not crack the Leafs next season, we are looking at players who are being counted on to be contributing Toronto Maple Leafs for years to come in the ongoing quest to make the playoffs. [more…]
It was another 4-3 game in which the Marlies gave up a two goal lead and Jerry D'Amigo scored twice, including the game winner in the final minutes. In many respects it was like watching the same game as Thursday night's. Did we mention that Zigomanis scored and Foligno, Verone and Brennan were the same Rochester goal scorers from Game 1? All that matters from the Marlie perspective is that it was the same result and they now hold a commanding 2-0 lead in the best-of-five series.
An announced sell out crowd of towel wavers provided a good atmosphere, particularly in the final moments following the D'Amigo winner. Onto the notes:
-For whatever reason the Marlies have let up on those - cliched, but true - always dangerous two-goal leads, but you can tell when it comes down to it, and when the Marlies need to score the next goal, they seem to believe in the game plan and that they're capable of pulling it out. Winning a game despite giving up a two goal lead - and giving up leads in the third on both occasions - is not as easy as the Marlies have made it look the last two games. That type of resilience and abiding belief in their abilities should help take them deep in these playoffs. [more…]
With the quirky best-of-five quarterfinal arrangement in the AHL playoffs, holding serve at home puts the higher [more…]
Short post, as a supplement to Anthony Petrielli and his fine Marlies roundup from Game 1, here is a downloadable .pdf depicting the Toronto Marlies players [more…]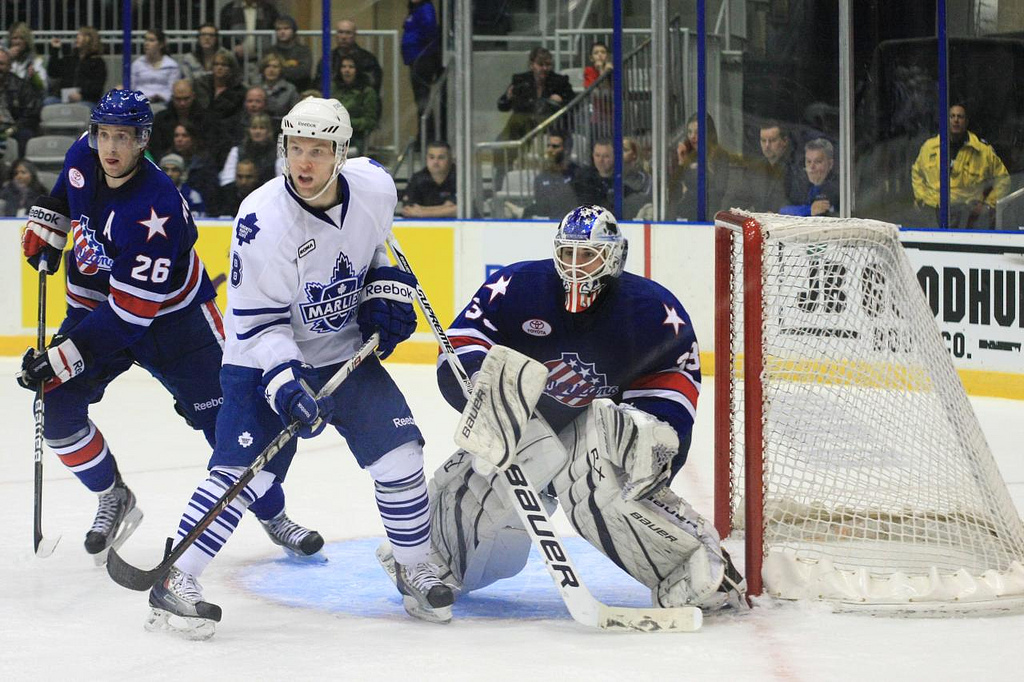 In case you haven't heard, the Toronto Marlies beat the Rochester Americans last night 4-3 to take a 1-0 lead in their first round best of five playoff series.
The game story and video highlights can be found here on the Marlies website. The readers digest version goes like this: the Marlies took the play to Rochester in the first, yet it was Rochester who finished the first period with a 1-0 lead. The Americans' goalie, David Leggio, was peppered with shots throughout the game and the Marlies D'Amigo finally broke through in the second period as the two teams went into the third period tied at one. The Marlies then scored two goals to take what looked like a commanding lead, only for Rochester to storm back and tie the game. D'Amigo scored once again with under five minutes to take a final 4-3 lead as the Marlies held on for the win.
I linked the game story because I don't plan on writing them. Below I have some game notes, interesting tidbits and takeaways from conversations I was lucky to have with the players. I want to supplement the standard game stories that can be found on numerous websites rather than duplicate them. So here it goes: [more…]
The Maple Leafs have signed 23-year-old left winger Spencer Abbott of the Maine Black Bears, according to reports.
[Abott] had his best season offensively and was named this week one of 10 finalists for the Hobey Baker Award that goes annually to the top player in U.S. college hockey.

Too small to play major junior, Abbott played Junior A with the Hamilton Red Wings. He had a late growth spurt to reach 5-foot-10 and 175 pounds. He was an alternate captain on the Black Bears.

Abbott's offensive numbers rose each year with Maine — he led the team in scoring this year with 61 points (20 goals, 41 assists). He believes he's ready for the NHL.

"When I came into this league, I was more of an offensive guy. I've been trying really hard to get better on the other side of the puck, defensively. It's tough to do, especially at the next level. I hope to be a two-way player."

Abbott worked out last summer with Gary Roberts at his high performance training institute and the plan is to go back this summer to get ready for life in the pros.

"Speed, skill and strength is what I've been trying to implement in my game. I've been working hard in the off-season. (I've got to) put on more weight, get faster, bigger, stronger. I think I've done that consecutive years."
Christian Hanson, Tyler Brenner and Brayden Irwin taught us all too well not to get too excited about these college free agent signings. The small but speedy and skilled Abbott did earn nomination as a Hobey Baker finalist, however, and seems to have much more natural talent than any of those three. This signing aligns more closely with the Bobby Butler (2010 Hobey Baker nominee) and Stephane Da Costa (2011 nominee) signings by the Senators, which is not to say those are smashing successes so far either. But at the low cost of a Standard Player Contract slot, these type of pickups are always a worthwhile experiment for an organization equipped with the Leafs' financial might.
Abbott will join the Marlies for their Calder Cup bid on an Amateur Tryout Contract. [more…]
As mentioned earlier, I had the privilege of chatting with Maple Leafs' Director of Amateur Scouting, Dave Morrison this morning to glean some his insight [more…]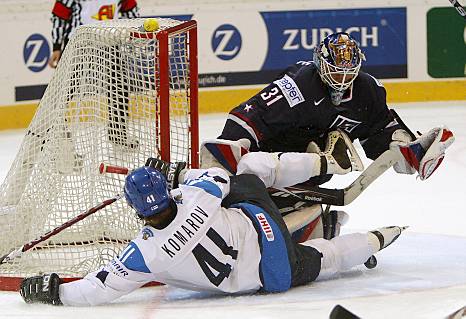 According to the Toronto Star's Damien Cox, the Leafs are expected to sign 24 year old forward prospect Leo Komarov to an entry-level contract at some point in the near future. The Maple Leafs hold Komarov's NHL rights as a 6th round selection, 180th overall back in 2006. Komarov was born in Estonia, but grew up playing hockey in Finland where currently holds a duel-citizenship along with Russia. He has spent the last two years playing in the KHL, earning himself an all-star appearance this past season. In 52 games played for OHK Dynamo Moskva, he recorded 14 goals and 12 assists, in addition to 70 penalty minutes. Komarov also impressed during a brief playoff run, scoring 4 times and adding 2 helpers in just 6 games. [more…]
It is by no means the end of his career, strictly the next step.
On Monday, Nazem Kadri, 7th overall selection in the 2009 draft, was assigned to the Toronto Marlies. The player in whom a whole city had welcomed, became enamoured with and inked into their own starting lineup will not appear at ACC at all… at least not yet. It will prove to be a powerful lesson for the 19 year old, if not the whole city of Toronto; the Toronto Maple Leafs are about winning hockey games, not necessarily selling tickets.
"Being a kid growing up just outside Toronto, you always want to play for your team you watched growing up, and Toronto's my team."
It was one of the last things Andrew Engelage said after a lengthy discussion at the Ricoh Coliseum, but it definitely resonated the loudest.
There's nothing quite like the story of the home-grown athlete. Everyone likes asking Oakville's John Mitchell what it's like to put on the Leafs sweater every day, or trying to find some way to relate to Jesse Blacker's being drafted by his local club. But when adversity is thrown into the mix, when a player has to go through some degree of hardship to make it to not only the level he wants to be, but for the team he wants to play for, that's when a story becomes a best seller.