Tyler Biggs
The CHL Playoffs are just getting underway -- unfortunately for most of the Leafs' prospects, they're also wrapping up. [more…]
Earlier this week, the Leafs director of amateur scouting, Dave Morrison, took some time out of his schedule to talk to me.
We ended up speaking for nearly an hour and we went over so much that I decided to break it down by section and quote him where appropriate. So with that, please do not misconstrue anything said below and contact me for clarification if you are unsure about anything.
With all that out of the way, here are the highlights from our chat: [more…]
As trade rumour season heats up and the Toronto Maple Leafs slip in the standings from 5th to 8th in the past week, Leafs Nation will almost certainly be whipped up into a frenzy over every name mentioned. While we aren't a rumour website, we are within 19 days of the deadline and there has been some legitimate talk from *actual* members of the media and evidence of three teams in different conferences scouting each other heavily that don't normally do so.
A lot can change depending on the Leafs position in the standings in the eight games before the deadline, but the Leafs figure to be, theoretically, both buyers and sellers. Granted, in a lockout-shortened season it's hard to ascertain what the nature of the landscape will be - or if there will be much movement at all - at a deadline where so many teams will still believe in the legitimacy of their playoff hopes. A buyers-heavy market could lend itself to moving out a few free agents-to-be and not so much to adding pieces at a reasonable price. [more…]
Among certain members of the mainstream media covering the Leafs, there seems to be this idea that won't go away where Tyler Bozak will name Mikhail Grabovski's $5.5 million as his starting point if he is going to negotiate a new contract with Dave Nonis.
You don't need me to tell you it doesn't make any sense. [more…]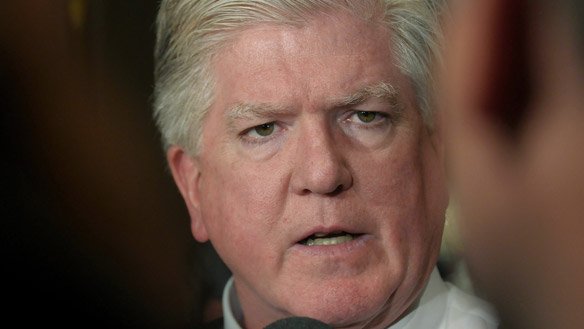 It's been too long since the last Brian Burke interview. [more…]
After a taking a 2-0 lead in the first period, Malcolm Subban (36 saves) was the story the rest of the way for Team Canada as they edged Team USA 2-1 and moved to 3-0 on the tournament. [more…]
Welcome back, Josh Leivo.
After missing time with a concussion, Leivo returned to the Sudbury Wolves lineup last week and he did so with a vengeance.  The Wolves had 3 games in 3 nights this weekend and Leivo put up 2 goals and 5 assists.  Leivo now has 34 points in 29 games on a pretty weak Sudbury team. [more…]
LeafsTV continue with their mini-documentary on two Leaf prospects: Tyler Biggs of the Oshawa Generals and Stuart Percy of the Mississauga Steelheads. Enjoy. [more…]
Forget all that I've said about Tyler Biggs to date because he's decided that he's a completely different player. Â It's almost as though he read [more…]
Brought to you by Blue Chip Prospects
With Sportsnet televising Tyler Biggs' Friday night showdown with Matt Finn (also: Garret Sparks will likely man the pipes for Guelph), I thought it would be a great opportunity for me to share some things that I've noticed about the two Leafs prospects in the early stages of the year. Â Think of these points as some things to watch for or consider while taking in the game -- I'd love to hear where you agree, disagree, or if you'd just like to talk things out. [more…]
Brought to you by Blue Chip Prospects
Strong statistical night for Leafs prospects on Wednesday as both Biggs and Percy put up a pair of points while Rielly and Brown each managed a goal of their own. [more…]
MarliesTV is running a really cool feature on the Leafs' two first round picks from 2011, Tyler Biggs and Stuart Percy. Here is part 1: [more…]