Tyler Bozak
It's official. The Leafs will face the Bruins in round one.
I'd be lying if I said I wasn't hoping for the Habs on Tuesday. As much as the last four games against the Habs have been a mixed bag, the Leafs have been able to play their game and play to their strengths against Montreal. The Leafs have played the Bs much more competitively this season, but the Bruins have still been effective at negating the Leafs speed and skill up front, slowing them down and forcing them to grind for every goal. While the Bruins have backed into the playoffs, their forecheck is still top notch. For a Leafs team that struggles to diffuse a forecheck with efficient breakouts, that's a scary prospect. The Bruins have experience, the core of a past Stanley Cup winner and play a tough playoff brand of hockey. [more…]
A couple of days ago, I had a pretty interesting conversation with @Dudgee (solid MLHS guy, give him a follow) when he first stated that he thought the Leafs brass should withhold judgement on Kessel and Bozak until we see them in the playoffs. This got me thinking, because Bozak is due for an extension and Kessel is going into the final year of his contract, ultimately with the prospects of a massive raise from his current $5.400mn salary. So I wondered - is Bozak destined to simply be a rental player for the Leafs during the playoffs, or is there anything he can do to solidify himself as a key cog in the organization?
Judging from most of the stuff I've heard on Twitter, if seems like the  masses are ready to dispose of Bozak, and I wanted to reach out to our writers to see what they thought. From my side, regardless of whether Bozak stays, or not, the situation at centre will change - with Kadri's ascension and Grabovski's sub-optimization - and this summer could mark the beginnings of the organization's intense search for a #1 Centre, which is key to turning the Leafs into a better possession team. [more…]
After looking at potential trade targets in last week's preamble, it only makes sense to look at the Leafs potential trading chips for the deadline that's two days away.
Around the trade deadline, eyes always gravitate towards pending UFAs and the Leafs currently have five. It's safe to say UFA to be - Colton Orr, Mike Kostka and Ryan Hamilton - aren't going to bring Toronto anything via trade so we can cut them off the list of names to discuss. The other two UFAs to be are Tyler Bozak and Clarke MacArthur. [more…]
Last 10: Toronto 4-2-4; Ottawa 7-1-2
The Toronto Maple Leafs are looking to earn at least a point in an eighth straight game Saturday night as they visit the Ottawa Senators, who have been on a decent run of their own.

In what is the most meaningful "Battle of Ontario" in the last few years, it's more than just pride on the line; it's home-ice advantage and two teams sizing each other up as potential first-round matchups. Toronto is trying on their new look as a playoff team for the first time in 8 years and Ottawa is revelling in their depth as a team that has been able to stave off huge injuries to Jason Spezza, Erik Karlsson and Chris Anderson with seemingly no drop-off in performance. [more…]
What an impressive showing by Joffrey Lupul last night. Re-united with 2011-12 running mates Tyler Bozak and Phil Kessel after an in-game audible by coach Carlyle, he led the Leafs to a not-always-convincing 3-2 win over the lowly Florida Panthers with goals five and six in his last four games. [more…]
With the boats now foolishly burnt and the season 31 games old, the Toronto Maple Leafs sure look like they're reeling into form.  Since starting the season with a record of 15 – 9 – 0, the Leafs have gone 1 – 3 – 3 in the past seven games, collecting only five points in the standings and now sitting precariously in sixth place in the Eastern Conference.
Through the good graces of the Hockey gods and the incompetence of their direct competition (the Jets, Hurricanes and Rangers all lost in regulation last night), the Leafs are just barely keeping their head above water. [more…]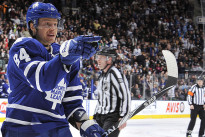 After a good comeback/confidence-building game against the Tampa Bay Lighting, the Toronto Maple Leafs  have perhaps created more questions than answers. The Penalty Kill keeps [more…]
Among certain members of the mainstream media covering the Leafs, there seems to be this idea that won't go away where Tyler Bozak will name Mikhail Grabovski's $5.5 million as his starting point if he is going to negotiate a new contract with Dave Nonis.
You don't need me to tell you it doesn't make any sense. [more…]
With just over three weeks to go until the trade deadline, I feel as if I can get away with a rosterbation post without too much scrutiny. I'll do my best to not go full HFBoards with my ideas, but certainly have a few players in mind that I'd like for the Leafs to target, and a few that I'd like Nonis to jettison. While I'm sure this won't be the most intelligent post you'll read this morning, hopefully it will at least spark some Monday morning conversation. [more…]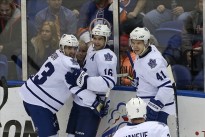 Since we are almost at the halfway point, I thought now would be a good time to write some notes on each individual player thus far. Here is the close-but-not-quite-halfway Leafs Notebook: [more…]
Despite a late third period rally with quick goals by Phil Kessel and linemate Tyler Bozak, the Leafs weren't able to mount a comeback over the Devils in their final road game of the season. The Leafs looked a team understandably disheartened by the realization they were no longer playing meaningful hockey. Hopefully the final game against an arch rival on Saturday provides a better send off in front of the home crowd.
James Reimer had a strong start to the night, with several impressive stops through the opening frame, but appeared to show signs of fatigue after surrendering three straight goals, including a snipe by Ilya Kovalchuk on the powerplay. Reimer was replaced by Giguere to open the third period, who fared much better in his first appearance in several weeks.
As the Leafs prepare for their final game of the regular season on Saturday against Montreal, Ron Wilson and the rest of the coaching staff will evaluate the roster and likely recall a forward from the Toronto Marlies. All signs point to Joe Colborne, who was expected to replace Armstrong in the lineup after he went down to injury, but was sidelined with a head injury of his own. It will be an excellent stage to audition for a full time spot on the Leafs next season.
The Marlies will get a new arrival of their own in near-50-goal-man Greg McKegg after the elimination of his Erie Otters from the OHL playoffs was followed quickly by a three year entry level contract with the Maple Leafs. McKegg is eligible to play out the season in the AHL given his junior season is finished but as an 18-year-old he cannot play there until the same juncture next season.
Week one of the Toronto Maple Leafs schedule is in the books, and while it only featured two games, there is plenty to talk about as far as the season goes. Â The Maple Leafs are off to a 2-0 start, having won their second game of the season nearly one month ahead of the time they got win two last season.
Through week one of the season, here are the Maple Leafs player power rankings, as seen by me. [more…]