ufa
Don't shoot the messenger when you read this.
I had the opportunity to catch Kurtis McLean at Hockey Heritage North in Kirkland Lake, Ontario and ask him a few questions about his career and his future in the NHL. The 28 year old NCAA and AHL star has been nothing short of a hard worker and the type of player every team wants in their system for strength and leadership. Kurtis talks about his career, his first NHL goal, and who he thinks the Islanders are going to select with their 1st overall pick.
[more…]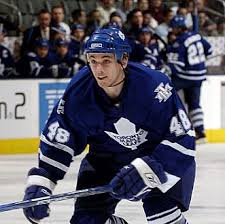 I'll be answering a question or two every few days to fill time and space while we wait for the dog days of another playoff-less spring to wane away. It should also give each topic it's due deliberation as opposed to throwing a series of topics at you guys at once. Today's topic: The UFA-eligible Jeremy Williams.
[more…]
Slow times in Leafland these days, so let's have a crack at a couple of those questions. [more…]
Now that the 2008-09 regular season has officially ended, it's time to take a look back over the roster to assess each of the Maple Leafs' players.
Note that I'm only including players who finished the season with at least one game played for the Maple Leafs, and am excluding those traded away during the course of the season.
Statistics for those who were acquired mid-season reflect games played as members of the Maple Leafs only.
Sorry Leafs Nation, Brian Burke didn't splurge on a deal to give Leafs Nation the false hope of a playoff spot. What a shame…
Instead, Burke traded Nik Antropov, Dominic Moore and the Toronto Marlies' Richard Petiot for two 2nd-round picks (CAR and NYR), a 4th-round pick (TBL), a conditional pick (NYR), Olaf Kolzig (our next savior), Jamie Heward and Andy Rogers. Also, he picked up Martin Gerber (who was sensational tonight in Washington) and Erik Reitz from waivers.
Tomas Kaberle will be traded on March 4th. I guarantee it.
Kaberle, who's donned the Leaf uniform for a decade, would be wise to waive his no-trade clause at the NHL Trade Deadline. This would allow him to control his fate, rather than have Burke decide it for him when his contract nullifies his NTC in the off-season due to the Leafs' failure to make the post-season this year.
As the Trade Deadline approaches, speculation will continue to grow over which Maple Leaf players may be moving on to new NHL destinations.
The following is my own personal estimation of the likelihood of regular roster players actually getting dealt, based upon contract status, playoff/stretch drive impact potential, comments from players/coaches/management, and of course the metaphorical smoke & fire (the amount of repetition in the rumour mills).   To quote the great Chazz Palminteri, "a rumour's not a rumour that doesn't die".
The reputable Eklund is reporting with an always reliable "e4" rating that the Maple Leafs are closing in on a deal with the Vancouver Canucks that will involve Nikolai Antropov heading west in exchange for a first round pick and a prospect. To no one's surprise, Brian Burke and Mike Gillis have been carrying out negotiations for some time now, primarily on the subjects of Antropov and Tomas Kaberle. A deal is not as imminent as Eklund's reporting, but there appears to be deal potential in Vancouver and potentially of the blockbuster variety.
As the trade deadline looms ever closer, the Ottawa Senators have just completed the second major trade in the last few days, by sending San Jose's 2009 1st round pick acquired from Tampa in the Andrej Mezaros trade along with center Dean McAmmond to the New York Islanders in exchange for center Mike Comrie and defenseman Chris Campoli. [more…]
Most recent Leafs trade talk in the mainstream media centers largely around Pavel Kubina and Tomas Kaberle. Just about enough has been mentioned on those fronts; Brian Burke will not compromise in his return demands for either of his coveted blue-liners and it appears that only time will tell. Here are three other interesting to trade or not to trade scenarios:
Here's an interesting little excerpt from Eric Smith's (Columbus Blue Jackets Blogger) blog over at Hockeybuzz, (props to TML35 for the heads up) that might spur a little armchair GM fantasizing:
"With the 2-0 start to the season hinging road trip, Howson looks like he is sharpening his pencil and putting the wheels in motion for a trade. The Jackets have 2 scouts in Toronto tonight [more…]