University of Denver
- Among the youngsters impressing at the Leafs' prospect camp is 2006 NCAA draftee Tyler Ruegsegger. Tyler is a smart, skilled winger whose size and [more…]
The big club's off until a Friday night date with the struggling Hurricanes, so let's take this opportunity to review the progress of several Maple Leafs' prospects across various levels and highlight upon the season's surprises and disappointments thus far. The verdict: fairly encouraging results early on across the board. [more…]
Jonas Gustavsson's unofficial debut performance is bound to generate some buzz after the Monster stopped 35 of 36 shots in backing the Maple Leafs' prospects to a 3-1 win over the Pittsburgh Penguins' youngsters in the opening game of the rookie tournament inside the Kitchener Memorial Auditorium this evening.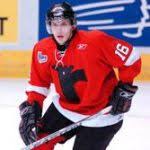 Hockey's Future, the renowned hockey prospects website, announced their Spring Organizational Rankings today and the Toronto Maple Leafs found themselves in the bottom tier of the league at #23. The ranking is based on an assessment of a team's farm system, which takes into account the amount of star power and depth that is likely to be produced. For a team in "rebuilding" mode, that's not a flattering number to see. [more…]
The Leafs have finally won something!
As Per Sportsnet.ca
The Toronto Maple Leafs have won the race to sign highly-touted free agent forward Tyler Bozak from the University of Denver Pioneers, sources tell Sportsnet.
[more…]
The Tyler Bozak "Sweepstakes" are nearly coming to an end and according to Bob Mckenzie, the talented young forward from the University of Denver may make his decision as early as today after much speculation that he was supposed to sign yesterday. Apparently, the 23 year old Regina, Saskatchewan native has narrowed down his list to 3 or 4 teams, with Toronto and Ottawa believed to be among the finalists. [more…]
On the topic of spin-o-ramas, here's a highlight reel play from Leafs' 6th rounder in 2006 Tyler Ruegsegger during recent collegiate action. [More after the jump, including an update from U of D head coach George Gwozdecky].
#9 - RW Jimmy Hayes, 18, Boston College (NCAA)
Drafted: 2nd round, 60th overall in 2008
Strengths: Superb size and strength (6'5 210 lbs). Good skater for a player his size. High end offensive talent with quick hands around the net. Can be a very intimidating presence along the boards and in front of the net. Tons and tons and tons of potential. [more…]