USD
The winless Ottawa Senators visit the undefeated Toronto Maple Leafs tonight at the ACC. With a victory this evening, the Leafs would have their best start to a season since '99-00 when they won three straight out of the gate. It's just two games, but the symbolism of a return to the pre-lockout days - let alone a chance to put the Sens at 0-2 and gain early points on another division rival - would be nothing but sweet. [more…]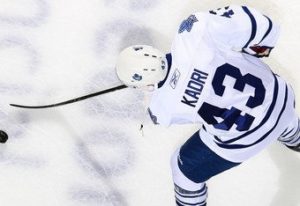 Jeff Finger returns to the line-up tonight in Detroit in what many will suggest is his Maple Leafs swan song/final pit stop en route to the Marlies. Burke is saying the right things about Finger's right to a "fair look" and the importance of respecting players acquired via free agency as it relates to organizational reputation. But the realities are this: the Leafs are sitting with both Brett Lebda and Finger on the outside of their top six, over the cap by around $300k and uncomfortably close even with Lashoff and his $550k assigned to the Marlies. And that's assuming Nazem Kadri and his $1.7 million cap hit will not be a part of the roster come opening night. If it's important to show respect to signed free agents, surely Lebda won't be Marlie-bound after his first training camp as a Leaf. Simply, something has to give, and the $3.5 million Finger, a Leaf of two seasons now, seems the obvious candidate for demotion. [more…]
The speculation after the Matt Lashoff trade a few days back was that it was a precursor to another move for the Leafs. Sure enough, Clarke MacArthur was announced as the newest Maple Leaf. At a cap friendly $1.1 million, MacArthur is being paid like a 3rd liner. Burke has other things in mind, recently stating to the Toronto Star that MacArthur will spend "significant time" on the top two lines this coming season. With that in mind, let's take a look at the kind of role we can expect from MacArthur. All stats not specifically referenced are borrowed from BehindtheNet.ca.
According to LeafsTV, the Maple Leafs have signed unrestricted free agent forward Clark MacArthur to a 1-year contract worth $1.1 million. MacArthur has been a [more…]
The Atlanta Thrashers (Maxim Afinogenov) and Montreal Canadiens (Marc-Andre Bergeron) can attest to it: unrestricted free agent signings deep in the off-season could pay dividends.
Yes, those two particular players may not play for those respective teams anymore, but they both provided their clubs with offensive boosts (Afinogenov scored 61 points; Bergeron 13 goals and 34 points in 60 games). The point is that there are plenty of quality players available in free agency if the contract terms are reasonable. Luckily for the Toronto Maple Leafs, they have some breathing room, and options, to maneuver around the salary cap.
In part one of his 12 burning questions series, Derek Harmsworth takes a look at whether the Maple Leafs new captain can return to form.
January 31st will forever be a day that will have historical significance for the Toronto Maple Leafs franchise, and all its fans. Â How large of a significance it will have in the grand scheme of things has yet to be determined, but in many ways, it could be argued that it was the day the franchise turned the corner. [more…]
Although many Toronto Maple Leafs zealots would've had me believe it, the sky did not fall when I awoke this morning, despite the outcome of the latest entry in the Tomas Kaberle saga.
And guess what? Kaberle's future with the Leafs does not dictate whether or not the team's short-term goals will be fulfilled. In fact, retaining the veteran defender may prove to strengthen the Leafs' chances at making the playoffs for the first time in the post-lockout era.
Brett Lebda has barely registered on the radar for Leafs fans and with good reason. This offseason is yet again centered solely on Tomas Kaberle, while Lebda toils away on the bottom pairing in many fans' minds. Expectations are understandably low for Lebda, so it now becomes important to gauge proper expectations. All stats not specifically referenced are found on BehindtheNet.ca.
Lebda primarily played with two people in 2009-10. Those players are Jonathan Ericsson and Brad Stuart (courtesy of DobberHockey.com). Lebda registered the fewest points in the trio at 8, with Ericsson amassing 13 and Stuart putting up 20. Lebda's -2 rating is by no means a good stat to have, but it is significantly better than Stuart's -12 and Ericsson's -15. So in looking at these basic stats, we find that Lebda is average defensively and sub-par offensively. However, do advanced statistics shed any more light on his overall play? Let's find out. [more…]
It's been rumored for a few days now, but on Wednesday afternoon, prospect Jerry D'Amigo has finally put pen to paper to sign a 3 [more…]
Now that the NHL has won the arbitration award based on "salary cap circumvention" with the Kovalchuk situation, they are ready to tackle the rest of the league. A year (and perhaps in a few occasions more than a year) ago, specific contracts were approved by the league and now the league has decided to reevaluate those contracts to determine if they too circumvent the salary cap.
As many of you are now aware we received this post from one of own Amoroq last nite:
I lost a nephew today, he was 20 years [more…]