Vancouver Canucks
Amid all the speculation surrounding Roberto Luongo that's starting to snowball, and will continue to do so in the coming weeks, it seems as though one of the most overlooked parts of it all is the fact that he will have to waive his no-trade clause to where he wants to go.
Luongo stirred up the hockey world quite a bit yesterday by announcing that he would indeed allow the Canucks to trade him if that's what their plan is. But he's under no pressure to take a less-than-good situation at this point, and to think he'll just go anywhere to help the Canucks out is false.
The Roberto Luongo speculation found another gear yesterday with the revelation from the 33-year-old himself that he would accept a request to waive his no trade clause. The big questions that surround any possible move to Toronto remain whether or not Brian Burke would trade for a contract he wouldn't sign himself  (backsliding and by his definition cap circumventing), and whether or not Luongo sees Toronto as a desirable destination. With Schneider in need of a new deal, Luongo will surely be actively shopped, and the market can't be huge considering it's narrowed by two parameters: 1) not every team is in search for a goaltender, certainly not one with Luongo's price tag, and 2) the fact that Luongo controls his own destiny. Should the Leafs be a desirable destination of Luongo's, the price shouldn't be unreasonably steep considering those various factors.
I've talked about this before, but Luongo is made a much more attractive option for the Leafs if Burke believes an amnesty provision is a likely addition within the new CBA. An amnesty provision similar to the NBA's that is, which allows the purging of one contract from the cap at any point during the duration of the 10-year CBA. You could certainly argue that, given the lack of options, Luongo should be a target regardless.
Links after the jump. [more…]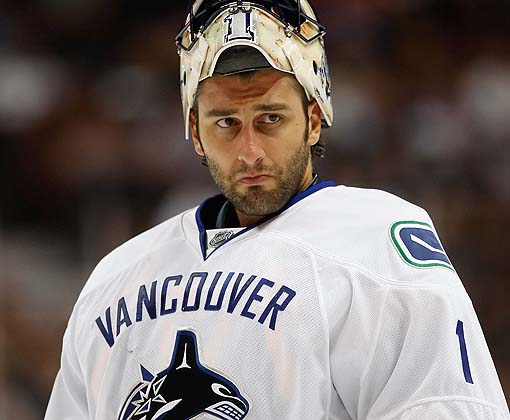 With Cory Schneider starting his second straight game in goal for the Vancouver Canucks last night, and winning, there are some in the Vancouver media who are saying Roberto Luongo may have played his last game as a Canuck. They also suggest  that the Leafs, of all teams, should take a run at him.
Connecting the dots, it's easy to see a fit. Toronto is in desperate need for a veteran, bona fide #1 goalie and there aren't many that are available that meet the criteria. Luongo has impeccable pedigree and a lot of hardware—save for a Stanley Cup—which makes him even more attractive than the current crop of available goalies. Cory Schneider has performed very well for the Canucks and in spite of all odds managed to wrestle the #1 position from Luongo. With Schneider's contract expiring, the Canucks find themselves at a cross roads when it comes to the goaltending situation, and in light of recent events it could well be Luongo, not Schneider, Mike Gillis opts to move.
There are a few things that stand in the way of that: #1. Cap hit (5.33 million, in itself, not too bad). #2. Length of term (10 more seasons). #3. Value of (young) talent going back the other way. #4. The fact that Luongo's contract, with his salary dipping to $1 million for the 2020-21 and 2021-22 seasons which the 33-year-old will never play, is clearly a cap-circumventing deal by Burke's own rules, insofar as he spoke out against them and suggested he wouldn't ever sign one. The key question here being "would he trade for one?" [more…]
There was a lot at stake last night, with two game sevens on the docket, and several second round berths still up for grabs. With four teams already securing spots in the conference semi-finals, the anticipation leading into last night's game was even greater because of the uncertainty.
The Vancouver Canucks came to play in Game 7. Alex Burrows scored early inthe first period to give the Canucks an early one goal lead, which they held well into the third period. Two players on particular - Robero Luongo and Ryan Kesler competed hard and both had strong performances. Kesler was all over the ice and getting to the dirty areas to generate scoring chances. Although he wasn't as flashy as goaltending counterpart Corey Crawford, Luongo was poised between the pipes and avoided his trend of crumbling under pressure. Unlike the previous three games of the series (all Vancouver losses), the Canucks managed to bring a physical element to the game, out hitting the Blackhawks 37-14 midway through the third.
After last night's outcome, the second round of the Western Conference playoff picture has been determined. The Eastern Conference wraps up tonight, with Game 7 of the Boston/Montreal and Pittsburgh/Tampa Bay series.
What are your thoughts on the matchups on the West and who which teams will win tonight in the East?
According to Paul Hunter of the Toronto Star, it appears as if the Maple Leafs could be exploring all options in order to bring in [more…]
During an appearance on London radio's "The Hook" with Norman James last Friday, our conversation at one point took an interesting turn toward the notion of player personality, and how it affects fan perception and the manner in which fans relate to the players.
It's an interesting subject – the trichotomy of fan/player/team identity, and not one the majority of fans spend much time pondering. What is it, beyond star power, that draws fans to feel they have formed certain bonds with specific players they have never met? What is it that keeps others at arms' length? Is it the nature of the players themselves, is it our own as fans, or is it perhaps both?
Even with news breaking this afternoon of Ilya Kovalchuk's new $60 million contract extension (potentially) with the New Jersey Devils, this 2010 free agency period has been one of the most uneventful and slow-developing offseasons in recent memory. The reason being? Despite a mediocre at best free agent group, there simply isn't enough money to pay these guys what they're probably worth. As one unnamed NHL General Manager put it last week: "The teams with cap don't have cash and the teams with cash don't have cap". The Maple Leafs however, are fortunate enough to have both, and have the opportunity to exploit the market to their advantage. [more…]
Okay, so my math may be a little off. Â It's Canada Day weekend, there shouldn't be any arithmetic. Â Unless, of course, you are an NHL general manager, than you better hope you have your math hat on. Â A quick note to say I hope our fellow Canadian readers, as well as our loyal readers situated the south had an enjoyable holiday weekend.
Now, let's divulge into what has so far been a somewhat reserved free agency period, One timer style.
--The big news coming out of free agency this hour is this report out of the L.A. Times that indicate the Los Angeles Kings are quite far apart on signing Ilya Kovalchuk. While they may not be out of the running entirely, Helene Elliott suggests the prospects are quite dim. Â So where does Kovalchuk go? Â The Islanders reportedly seem to be the only team willing to offer him the term he is looking for (rumoured to be 10 million for at least 10 years) but are there other suitors? Â What about New Jersey? Â Toronto? Â One would think that although Burke would love to pull off the major move of free agency, the reasons Kings GM Dean Lombardi is balking about bringing in Kovy (term) is likely the same reasons Burkie has reservations. [more…]
Considering we were hearing word of $3 million + demands from Nik Kulemin's camp, this is pleasantly surprising. It gives Kulemin a deserved $800k raise [more…]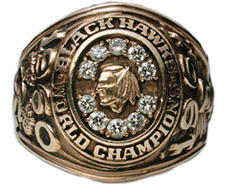 While many didn't predict the Blackhawks and Flyers to be in the Stanley Cup Finals, there are plenty of historical facts that may prove the hockey Gods have decided this would be the match-up for the Stanley Cup before the year even started.
Things may be relatively quiet in Leafs Nation these days, but that doesn't mean there has been a lack of excitement elsewhere in the NHL.
As such, here are a few quick takes on some of the headlines dominating the NHL landscape these days (including the Phoenix Coyotes situation, the Patrice Cormier charges, and Willie Mitchell's controversial comments),  as well as a quick glance at the nearly-completed 2nd round of the NHL playoffs.
According to TSN's Darren Dreger, Leafs vice president of hockey operations Dave Nonis is on the verge of agreeing to terms with the organization on [more…]