Washington
News broke last evening that Corey Perry had signed an 8 year deal totalling 69 million dollars to stay with the Anaheim Ducks and his newly signed centerman (also of 8 years), Ryan Getzlaf. [more…]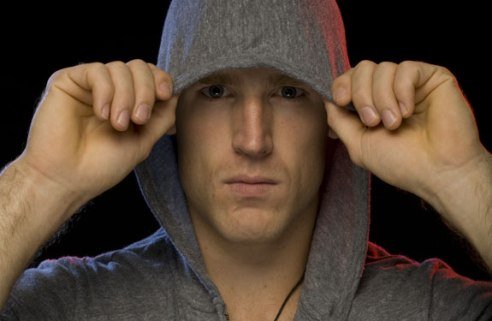 The Leafs need a first line center. Misconception or truth? Watching this team throughout the season I'd say it's need is right. But, if the golden goose in the form of Brad Richards lands in a city not named Toronto, how do we get that top end skill at center? Is there a free agent out there that could help this team without having that top end offensive skills?
Seemingly, Kessel always needed that first line center. I say seemingly because he preformed at his best playing with a legitimate No1 skilled passing center in Marc Savard. While that may be the case, what's also undoubtedly true is that Kessel is still a developing player, even more so when playing in Boston. A sniper like Kessel does indeed need a more skilled center than Bozak but I think that skill is more likely to come from the draft or inside the organization (Kadri, Colborne) than via this year's free agency. What I'm aiming for in this article is looking at a more balanced approach.
This is a sad night for Leaf fans everywhere. We knew it was a long shot for a while now, but knowing it really is over always feels like a different kind of dagger.
Alexander the Great comes to Toronto with a win in mind. In our case tying the season series against the Capitals means prolonging what little is left of our playoffs hopes. However, even a win tonight can't win the war against numbers. If Buffalo manages to beat Tampa, or even if that game goes into overtime the Leafs will officially be eliminated from the playoff race. Grab your voodoo paraphernalia, tarot cards, whatever other mumbo jumbo you might have and hope, just hope.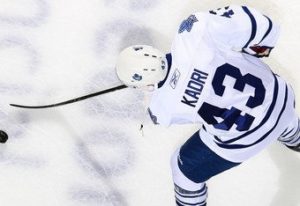 Jeff Finger returns to the line-up tonight in Detroit in what many will suggest is his Maple Leafs swan song/final pit stop en route to the Marlies. Burke is saying the right things about Finger's right to a "fair look" and the importance of respecting players acquired via free agency as it relates to organizational reputation. But the realities are this: the Leafs are sitting with both Brett Lebda and Finger on the outside of their top six, over the cap by around $300k and uncomfortably close even with Lashoff and his $550k assigned to the Marlies. And that's assuming Nazem Kadri and his $1.7 million cap hit will not be a part of the roster come opening night. If it's important to show respect to signed free agents, surely Lebda won't be Marlie-bound after his first training camp as a Leaf. Simply, something has to give, and the $3.5 million Finger, a Leaf of two seasons now, seems the obvious candidate for demotion. [more…]
In the final part of his 12 Burning Questions series, Derek Harmsworth takes a look at the Maple Leafs chances of getting back to postseason hockey this year.
May 4th, 2004.
Both teams, tired and weary from what had already been a long, arduous road, a journey that had left both teams battered and bruised. Â The teams went back and forth, showing tremendous heart and determination, showing what it takes to win hockey games at this time of year.
Up the ice they went, rewarded with a good scoring chance, but stopped by a goaltender who was up to the task. Â Then down the ice the other way, another good chance, this time for the other team. Â The goalie in this net, equally up to the task of making the save and preserving life, for at least another moment.
Quickly, and in a whirlwind of emotion, it was over. [more…]
In part 11 of his 12 Burning Questions series, Derek Harmsworth takes a look at one of the hottest topics in Leafs Nation today: just how long of a leash does Ron Wilson have?
In the summer of 2008, the Toronto Maple Leafs were in the midst of a major overhaul. Â Much maligned general manager John Ferguson, Jr. had been relieved of his duties with the organization, and as nice a man as JFJ was when I met him at the Leafs rookie and orientation camp a year prior, there is no solid argument that can be made for him as a good GM.
Ferguson Jr, to his credit, can take solace in the fact that a few of his draft picks are now cracking the Leafs as legitimate players, Kulemin and Gunnarsson among them, although even that fact can be debated  - how much was scouting and how much was general managing?
In a word, John Ferguson Jr. left the Toronto Maple Leafs in shambles, and some of the moves he made, continually sacrificing youth for a quick fix solution (or at least something he thought was a quick fix) have very well set the Maple Leafs back at least an additional few years in the rebuilding process. [more…]
In part ten of his 12 burning questions series, Derek Harmsworth takes a look at the importance of a good early start, and if the Leafs can avoid another disastrous start.
There really isn't any other way to put it. Â No matter how you slice it, no matter how you try to spin it, or how you try to put a sugar coating on it, the cold hard fact still shines through.
The Toronto Maple Leafs were not a very good team last year.
Although their stats, and their general play, improved dramatically following the late January trades that saw them overturn nearly half their lineup, the fact remains that the 2009-2010 edition of the Maple Leafs fought inconsistency, as well as young inexperience that had them struggling most of the year.
But it could be argued that never were they worse, than in the first month of the season. [more…]
Rough Friday night for Leaf fans, but that's in the past now. Rounds 2-7 of the 2010 NHL Entry Draft kicks off today at 1pm ET on NHL Network. The Maple Leafs are slated pick once in the 3rd round (62nd), once in the 4th round (112th), twice in the 5th round (122nd and 144th) and twice in the 7th round (182nd and 202nd).
Rumors are circulating that the Leafs will attempt to trade into the 2nd round if the price is reasonable.
This live blog will be updated with thoughts and pick analysis throughout the afternoon. [more…]
The Leafs will start and end with Montreal as to be expected. The schedule includes nine back-to-backs, an increase over the seven they played last season. The Leafs will head northwest March 22-24 to play Minnesota and Colorado after hosting them last season. The most taxing travel appears to be a four game stretch from January 7 - 13 when the Buds will make stops in Atlanta, Los Angeles, San Jose and Phoenix. The Leafs will also conduct a potentially critical division tour from February 12 - 19 when they face off consecutively with each Northeast rival. From December 14-18, the Blue and White will go on a Western Canada road trip where they can visit Taylor Hall, Matt Stajan and Kyle Wellwood. The full sched after the jump:
[more…]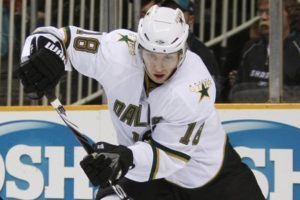 During his first full year at the helm in Toronto, you could make the case that Brian Burke was the league's most active general manager. There was the Kessel summer blockbuster with Boston and then the mega-deals on January 31st that brought in Phaneuf and Giguere. It's quite obvious that he's willing to expend assets to target any top notch premium young talent when it's made available. Both of those trades were opportunities: Kessel was a restricted free agent on a team with cap issues. Burke often spoke of inquiring on Phaneuf several times throughout the year until the "pressure points" of the cap and the struggles of the Flames pushed Sutter into making a bold move. This summer should be no different. Let's take a look at some of the young RFA's that might potentially attract Burke's interest.
We will do an extended Torontosaurus Rex after preparing for the playoffs is over, later on in the week. But since the regular season is over, it's time for some numbers. It's also interesting to note how the two teams Flyers and Rangers with the lowest amount of shootout games with six, decided their playoff fates with a shootout.
[more…]