Wayne Primeau
Courtesy of the Globe's James Mirtle, the Maple Leafs trimmed the camp roster from 47 down to 30 on Sunday afternoon, as the team's opening [more…]
An intriguing top line of Kris Versteeg, Tyler Bozak and Phil Kessel will feature in tonight's rematch with the Flyers following the Leafs' 11-round shootout win over Philadelphia last night at the John Lebatt Centre in London. The trio is the most skilled iteration of forwards the Leafs' roster has to offer, and combined with Dion Phaneuf and Tomas Kaberle on the blueline (who will also dress) represent an interesting potential powerplay option for coach Wilson. The results with the man advantage tonight, then, will be well worth monitoring. [more…]
In part nine of his 12 burning questions series, Derek Harmsworth looks at the Maple Leafs special teams, and why it must improve in order for the team to have success.
When it came to doing this 12 burning questions series, I discovered a lot of things about the Leafs, and how I will be looking for different things this year. Â And even though I already knew the fact, it was all the more confirmed to me that there really are no definitive answers to these burning questions, at least not in August anyway.
However, as we reach part nine of the series, I can confidently say that I can, for the first time this series, give a more defined answer. [more…]
In part seven of his 12 burning questions series, Derek Harmsworth takes a look at how the new faces will fit in with the Toronto Maple Leafs.
Brian Burke has always argued the fact that July 1st is his draft, the time where he does his best work in bringing in key pieces that will push his team to that next level. Â While he isn't inept on the draft floor, it isn't his strength. Â To his credit, it's something he doesn't necessarily hide either.
And while this summer's free agent frenzy is more calm than in the previous years, there is no doubt that through free agency, and the days leading up to it, that Burke took steps towards continuing to shape this team in his vision. Â The moves have been made, and barring any sort of changes, this may well be the team we see enter training camp in under a month. Â With that in mind, it's time for Leafs Nation to ask, exactly how will the new faces fit into place in Toronto? [more…]
One of the key questions surrounding the upcoming 2010-11 Maple Leafs season is whether they will be able to score enough to compete for a playoff spot in the Eastern Conference.
An optimist will point to the Leafs' record following the acquisitions of Dion Phaneuf and J.S. Giguere as evidence that the Maple Leafs can compete. The cynic will suggest that although the Leafs played well over the final third of the season following those moves, there just simply isn't enough proven offensive production to buoy hopes for post-season play.
A closer look at the Leafs performance over their past 26 games following the January 31st trades for Phaneuf and Giguere, in comparison to their first 56, might shed some light on whether or not the Leafs' need for more offense in order to compete is fact or fiction.
We've partnered up with Pension Plan Puppets to bring to you a Player Review series, where we will be evaluating and grading the 2009-10 season for every Leaf who featured in a significant number of games for the Blue and White last season, with an eye towards 2010-11. Today we feature Wayne Primeau, profiled by Garrett Bauman.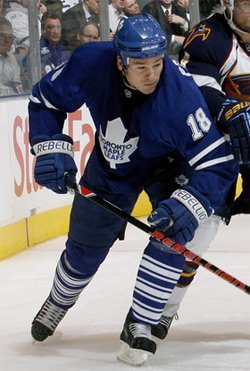 Summary:
Acquired via trade, Primeau was brought in to provide a veteran presence to a young locker room, add grit to the fourth line and fill the role of defensive faceoff specialist.
Although he did not particularly stand out during his 59 games, Primeau was relativley effective in his limited (albeit important) role. An unrestricted free agent, he is unlikely to return barring a substantial paycut from the $1.4m he earned last season.
In case you missed it, here's a brief summary courtesy of Naz:
- Burke has let it be known to the 29 other NHL teams [more…]
The year was 2005. Â George W. Bush was still in office (yes, somehow Americans voted for him, twice), Hurricane Katrina was doing catastrophic damage to New Orleans, and the vatican was naming a new pope after the passing of John Paul II.
In the sports world, the New England Patrios would win yet another Super Bowl, this time against the Eagles, the Washington Nationals would begin operation as Major League Baseball's newest team, Danica Patrick became the first woman to lead a lap at the Indy 500, and the Chicago White Sox ended a lengthy championship drought, winning the world series in four straight over the Houston Astros.
Oh, and there was this one other thing too. Â NO HOCKEY.
Embattled in a bitter labour dispute, the NHL shut down operations for an entire year in search of cost certainty, something they would eventually get, although the opinion on whether the design is flawed or not is still out to be deliberated.
For fans of the NHL, the June 2005 entry draft was more than just a weekend in June in which young players would be drafted, making their way into the beginning of their National Hockey League careers. Â It was a new beginning for the world of the NHL. Â A new season was about to kick off in earnest.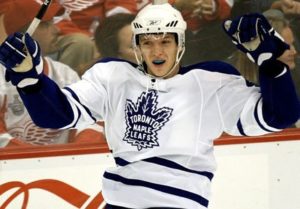 Now that the Leafs' most important pending free agent -- goaltender Jonas Gustavsson -- has been signed to a two-year contract extension, it is time to take a look at their remaining free agent players.
Notably, the list of expiring contracts includes pending RFAs Nikolai Kulemin, Christian Hanson and John Mitchell. Pending UFAs on the Leafs' roster include Wayne Primeau, Rickard Wallin, Jamie Lundmark, Garnet Exelby and Mike Van Ryn.
With the final bell about to ring season most fans would be happy to forget - although the impending draft all but dictates they most assuredly will not - the Maple Leafs will officially enter the offseason five campaigns removed from the playoffs at the conclusion of Saturday night's game in Montreal.
Unlike previous years, however, this season has revealed to fans -- amidst the rubble of far too many losses -- a silver lining of sorts: the promise of youth.
Pride, youthful enthusiasm, new contracts and job opportunities for next season continue to provide more than enough hop in the Leaf step as they look to make it eight wins in their last ten and seven in their last eight at home when they play host to the Rangers at the ACC tonight.
[more…]
It was a light day practice wise as the optional skate drew only a handful of players to the MasterCard Centre for Hockey Excellence.
[more…]