windsor spitfires
"Being a kid growing up just outside Toronto, you always want to play for your team you watched growing up, and Toronto's my team."
It was one of the last things Andrew Engelage said after a lengthy discussion at the Ricoh Coliseum, but it definitely resonated the loudest.
There's nothing quite like the story of the home-grown athlete. Everyone likes asking Oakville's John Mitchell what it's like to put on the Leafs sweater every day, or trying to find some way to relate to Jesse Blacker's being drafted by his local club. But when adversity is thrown into the mix, when a player has to go through some degree of hardship to make it to not only the level he wants to be, but for the team he wants to play for, that's when a story becomes a best seller.
The NHL Draft is less than 18 days away...can you feel the excitement? The Leafs won't be landing Taylor Hall, but it doesn't mean they can't grab another talented young forward from the Windsor Spitfires, today's feature player: Justin Shugg. Justin's a local kid from Niagara Falls who has been a key cog in for the most powerful offense in Canadian Major Junior, enjoying a 39 goal, 79 point breakout season in the Ontario Hockey League. Word around the scouting circles is that the Leafs are deeply interested in his services, as are the Atlanta Thrashers. [more…]
After stockpiling up on picks during the past couple drafts as well as cornering the European and college free agent markets, the Maple Leafs' farm system is beginning to reap the rewards of unprecedented depth and talent. In the first installment of our MLHS "Prospect Season in Review" series, I'll be taking a look at three of the team's top prospects: Kenny Ryan, James Reimer, and Joel Champagne. [more…]
Last night, the London Knights - and Leafs prospect Nazem Kadri - were eliminated from the OHL playoffs in a Game 7 blowout at the hands of the Kitchener Rangers.
For his part, Kadri makes his playoff exit as the OHL's post-season scoring leader with a remarkable 9 goals and 18 assists in 12 games.
The Kitchener Rangers will now move on to face the defending-champ Windsor Spitfires, whose own lineup features a couple of Leafs' prospects: forwards Dale Mitchell and Kenny Ryan (pictured).
Naz Tracker. Kadri Nation. Kaptain Kadri...
... Kadri, Kadri, Kadri!
Who would have guessed that with all the attention surrounding the Leafs 2009 1st round pick, it would actually be the Toronto kid selected in the 2nd round that would be first to string some games together on a pro club. Though not officially announced, Jesse Blacker has left the OHL and joined the Toronto Marlies for the remainder of the season.
It appears that the players on the on the Maple Leafs' NHL roster aren't the only ones in the organization stirring up news. Both of the Leafs' 2nd round selections from the 2009 NHL Entry Draft this past June, winger Kenny Ryan and defenseman Jesse Blacker are reportedly on the move, ironically in different directions out of the revolving door that is the Windsor Spitfires. [more…]
Yesterday's trade with Calgary sparked a lot of immediate negativity amongst many of our readers at the loss of Stralman. Today we try to view it from another perspective as we clarify an important CBA related issue that may have been a key motivation for the departure the young defenseman. In other news: Burke speaks to Foxsports about prospective changes to the CBA, Leaf prospect Kenny Ryan is being recruited by the Memorial Cup champs and Vaclav Prospal bought out by the Lightning. [more…]
Add International Scouting Services to the list of scouting organizations that are starting to put together the Matt Duchene bandwagon. In their latest rankings, following a the shocker from Redline report, ISS has followed suit and finally shuffled the top 2 of the draft. Unlike Redline, Tavares remains at #1, but ISS now has Duchene at #2 and Hedman at #3. Looks like the "Big Two" just became the "Big Three". [more…]
Even though the Maple Leafs season is officially over, it doesn't mean that there's no playoff hockey here in Toronto. The Marlies just started their Round 1 series of the AHL playoffs last night against the #1 ranked Manitoba Moose. [more…]
John Tavares has emphatically put a stamp on what will likely be his last season of junior hockey by netting a hat trick today, including the game winner to propel the London Knights to a 4-3 victory over the powerhouse Windsor Spitfires. [more…]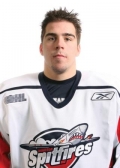 Dale Mitchell (#71) - RW
Player Facts
Birthdate: April 9, 1989
Stargazing: Aries
Hometown: Mississauga, ON