winger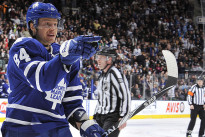 After a good comeback/confidence-building game against the Tampa Bay Lighting, the Toronto Maple Leafs  have perhaps created more questions than answers. The Penalty Kill keeps [more…]
Week one of the Toronto Maple Leafs schedule is in the books, and while it only featured two games, there is plenty to talk about as far as the season goes. Â The Maple Leafs are off to a 2-0 start, having won their second game of the season nearly one month ahead of the time they got win two last season.
Through week one of the season, here are the Maple Leafs player power rankings, as seen by me. [more…]
Day Two of on-ice participation is now in the books .. the sessions all had a purpose, as camp not only winds down, but clear decisions need to be made on who will remain with the main roster and who will be going to the Marlies or back to their original junior team.
A breakdown of the drills and more observations from the intra squad game after the jump.
Sunday Training Camp Day 2 practice
Teams A and B practiced with Team A on the main ice. (Breakdown of teams is here.
The drills weren't very different from the previous days, they all focused on a real-game situation and the coaching staff made variations along the way. [more…]
The Toronto Maple Leafs held their on-ice portion of training camp today. Players have been split into three squads to accommodate the 63 players invited to camp.
Among the contingent of fans outside the ice surface at the MasterCard Centre for Hockey Excellence was a throng of media and of course, Leafs staff.
As much as I tried to just sit back and enjoy the game as a fan last night, I couldn't help but take a few notes (this might have been because we ended up sitting among the scouts). So without further ado, here are a few additional observations from last night's tournament opener to supplement Derek Harmsworth's excellent coverage.
In part seven of his 12 burning questions series, Derek Harmsworth takes a look at how the new faces will fit in with the Toronto Maple Leafs.
Brian Burke has always argued the fact that July 1st is his draft, the time where he does his best work in bringing in key pieces that will push his team to that next level. Â While he isn't inept on the draft floor, it isn't his strength. Â To his credit, it's something he doesn't necessarily hide either.
And while this summer's free agent frenzy is more calm than in the previous years, there is no doubt that through free agency, and the days leading up to it, that Burke took steps towards continuing to shape this team in his vision. Â The moves have been made, and barring any sort of changes, this may well be the team we see enter training camp in under a month. Â With that in mind, it's time for Leafs Nation to ask, exactly how will the new faces fit into place in Toronto? [more…]
Toronto Maple Leafs General Manager, Brian Burke should have uttered one phrase to explain the situation, one simple little phrase to envelope the reasoning for the Phil Kessel trade;
"Our picks in our vision of where we ended up are overvalued in accordance to the available crop of prospects."
But in Toronto, to admit that in what's deemed as a 'rebuild' would have been a PR disaster.
Despite popular opinion, he wasn't wrong.
The world is no longer flat, it's round .. like a full-cirle
In case you missed it, here are some of the key points from Burke's interview on the Fan590 this morning:
There have been some legitimate [more…]
by Michael Cuttell
Put your hand up if you think the Leafs are only one or two pieces away from winning a Stanley Cup this year. OK, I admire your enthusiasm, but put your hands down! There's actually a good reason I've posed this question and I'll come to it again in just a minute. With the long awaited Kaberle trade still looming, many in Leafs Nation have asked the question: If he could be had so cheaply, why didn't Burke sign Frolov? The answer is that he didn't want him; and trust me Leafs' fans, you don't want him either! [more…]
It was no less than two months ago that I was pondering this same question, that of captaincy, and examining the same factors. Thinking of all the tangibles – speed, talent and scoring – along with attributes that are harder to judge – the ability to command the respect of the team, lead with strength of character and handle the Toronto media through success and failure. The lone difference is that last time, it was the Leafs.
- If the TSN reports that Frolov could sign a 1 year deal comparable to that of Afinogenov last season ($800,000) are true, then why weren't the Maple Leafs heavily involved in discussions with Frolov's agent? He's a big guy who can win some pucks, plays a well-rounded game and would fit perfectly in the top line left wing role at a bargain basement price. Remember a few weeks ago when I talked about a deteriorating market? This potential signing may just be the beginning.
- The Toronto Sun reports that the Maple Leafs' Rookie tournament will take place at the John Labatt Centre in London from September 11th-14th this year.
- The Hockey News makes the case for the Maple Leafs as a surprise playoff team this coming season.
- On to the FanPosts. Andrew Edwards (AKA Crazyaces) proposes a solution for these ridiculous long-term contracts, while Michael Cuttell continues his preseason synopsis by evaluating the Leafs' current forward group. [more…]
The book has (finally) closed on the Ilya Kovalchuk saga, as the Russian winger elected to remain with the New Jersey Devils. Â This ends weeks of mind-numbing speculation and rumour-rehashing, including a recent explosion of news in the hockey world that had all signs pointing towards Los Angeles. Â Thus, while there will be some surprise that Kovalchuk did not head down south, the overwhelming feeling amongst hockey fans today will be relief. Â A side-effect of Kovalchuk's prolonged decision-making has been the absolute cessation of any other hockey activity. Â The dam should finally burst as the remaining free agents and possible trades will now be explored further by the league's general managers.