winger
So let's get this straight: Burke wants a top six winger with some size who can score. Ideally, that player is young enough to fit [more…]
We've partnered up with Pension Plan Puppets to bring to you a Player Review series, where we will be evaluating and grading the 2009-10 season for every Leaf who featured in a significant number of games for the Blue and White last season, with an eye towards 2010-11.Today we feature Luca Caputi, profiled by Garrett Bauman.
One of the Penguins' highest-ranked prospects, 21-year old Toronto native Luca Caputi was acquired by the Maple Leafs on the eve of the Trade Deadline in exchange for long-serving winger Alexei Ponikarovsky.
Caputi's acquisition was another in a long line of moves by GM Brian Burke designed to (a) clean house, and (b) add young players with upside who can contribute immediately.
To Caputi's credit, the early returns have been positive the 6'3, 200lb winger can develop into a regular contributor, although with only 28 NHL games under his belt (19 with the Maple Leafs), it is difficult to gauge on what his ultimate role, or impact, will be. The 2010-11 season should provide a crucial indication of his NHL future.
According to TSN, it's looking like the 2010 free agent class could get a boost this summer when Hurricanes' winger Ray Whitney hits the market on July 1st. Carolina GM Jim Rutherford is less than optimistic about his chances at re-signing the talented playmaker:
"I think it will be difficult with where he will be at, contract-wise. I expect him to go into July. It appears that's the way it's going to go."
Could Whitney provide an interesting fit for the Maple Leafs?
According to LA Kings beat writer Rich Hammond, it appears as if Kings winger Alexander Frolov is set to become an unrestricted free agent on July 1st. Citing an interview with Kings' GM Dean Lombardi, Hammond explains that the team is "not optimistic" about their chances of retaining their young sniper. Should the Leafs be interested in his services? [more…]
In continuing with our preparation for the 2010 NHL Entry Draft, which takes place June 25th - 26th at the Staples Centre in Los Angeles, today's draft primer will profile right winger Brett Bulmer from the Kelowna Rockets of the WHL. Bulmer is quickly climbing up draftboards across the NHL after coming out of nowhere to have a very productive season out west. The intriguing combination of skating ability, size and offensive upside could see him go pretty high on draft day. [more…]
For as long as I have been reading the comments section of this site, I've been overwhelmed by the sheer volume of posts that discuss the Leafs need to obtain a 2nd round pick through a trade.  While the tenability of some trades, "Bobby Ryan, Jesus Christ (who historically has done his best work on the boards) and a 2nd pick for Tomas Kaberle, Howard Berger, and a 7th" may be questioned, there is certain validity behind the desire.  Indeed, the Leafs have had some success in the second round (Stajan and Kulemin have both become solid players, and the Leafs have three 2nd round picks in the past two drafts as promising prospects).
In the second installment of the Prospect Season In Review, we will take a look at a couple of Maple Leafs prospects who have proven a positive product of the John Ferguson Jr / Cliff Fletcher draft era.
Profiles in this segment include German DEL winger Jerome Flaake and defender Korbinian Holzer, as well as a prospect closer to home: Windsor Spitfires winger Dale Mitchell.
After stockpiling up on picks during the past couple drafts as well as cornering the European and college free agent markets, the Maple Leafs' farm system is beginning to reap the rewards of unprecedented depth and talent. In the first installment of our MLHS "Prospect Season in Review" series, I'll be taking a look at three of the team's top prospects: Kenny Ryan, James Reimer, and Joel Champagne. [more…]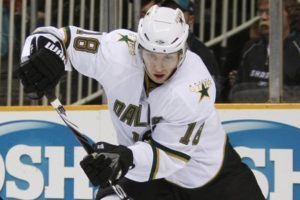 During his first full year at the helm in Toronto, you could make the case that Brian Burke was the league's most active general manager. There was the Kessel summer blockbuster with Boston and then the mega-deals on January 31st that brought in Phaneuf and Giguere. It's quite obvious that he's willing to expend assets to target any top notch premium young talent when it's made available. Both of those trades were opportunities: Kessel was a restricted free agent on a team with cap issues. Burke often spoke of inquiring on Phaneuf several times throughout the year until the "pressure points" of the cap and the struggles of the Flames pushed Sutter into making a bold move. This summer should be no different. Let's take a look at some of the young RFA's that might potentially attract Burke's interest.
While the NHL Stanley Cup playoffs are in full swing and continue to provide us with some fantastic moments of triumph, the fans of the Toronto Maple Leafs are now forced to once again shift their focus to off ice activities.
And so too has Leafs brass.
Despite his team sitting on the sidelines, Leafs GM Brian Burke made quick work of two signing he was keying in on, signing goaltenders Jonas Gustavsson and newcomer Jussi Rynnas to contracts. Â Continuing with the in-house theme, Burke will now certainly turn his attention to Nikolai Kulemin, if he hasn't done so already.
And while we are seemingly quite far away this point, it won't be long before the draft and subsequent free agency period rolls around.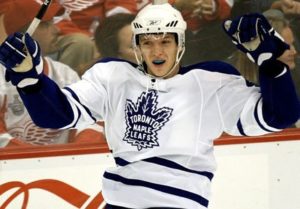 Now that the Leafs' most important pending free agent -- goaltender Jonas Gustavsson -- has been signed to a two-year contract extension, it is time to take a look at their remaining free agent players.
Notably, the list of expiring contracts includes pending RFAs Nikolai Kulemin, Christian Hanson and John Mitchell. Pending UFAs on the Leafs' roster include Wayne Primeau, Rickard Wallin, Jamie Lundmark, Garnet Exelby and Mike Van Ryn.