Winter Classic
A couple of days ago, I had a pretty interesting conversation with @Dudgee (solid MLHS guy, give him a follow) when he first stated that he thought the Leafs brass should withhold judgement on Kessel and Bozak until we see them in the playoffs. This got me thinking, because Bozak is due for an extension and Kessel is going into the final year of his contract, ultimately with the prospects of a massive raise from his current $5.400mn salary. So I wondered - is Bozak destined to simply be a rental player for the Leafs during the playoffs, or is there anything he can do to solidify himself as a key cog in the organization?
Judging from most of the stuff I've heard on Twitter, if seems like the  masses are ready to dispose of Bozak, and I wanted to reach out to our writers to see what they thought. From my side, regardless of whether Bozak stays, or not, the situation at centre will change - with Kadri's ascension and Grabovski's sub-optimization - and this summer could mark the beginnings of the organization's intense search for a #1 Centre, which is key to turning the Leafs into a better possession team. [more…]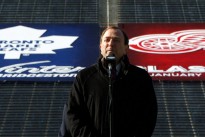 With no negotiations taking place in the past week-plus and a $250,000 payment due to the University of Michigan Friday, the Winter Classic officially got the axe today.
For me, the Winter Classic was spoiled the moment it became apparent the two sides were willing to cancel games and use the fans as a pawn in their greedy game. Say the season came back in time to save the Classic - would it have felt right jumping right back on board and supporting the league in its biggest event of the regular season?
Down Goes Brown nails it with this series of tweets: [more…]