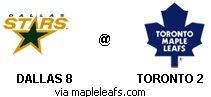 Hmmm.. I just watched as a kid my brother used to beat in minor hockey lit up Toskala/Joseph for a hat-trick. Oh, and Wilson didn't pull Toskala after the first because Joseph's no better.
Thank god Pogge didn't play. Toskala did himself no favours, but the Leafs didn't show up to play. That simple.
If you a) actually opted to suffer instead of utilizing the obvious alternative on TSN (check out Aldred's blog) and b) actually want to discuss this game, use this thread.