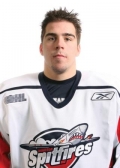 Dale Mitchell (#71) – RW
Player Facts
Birthdate: April 9, 1989
Stargazing: Aries
Hometown: Mississauga, ON

Size: 5-9 200 lbs (team listing)
Shoots: Right
Acquired: Drafted by Toronto in 2007 (3rd round, 74th overall)
Cap Hit: N/A (plays in OHL); $780,000 if recalled to NHL
Signed Through: 2010-11
FA Status: RFA after 2010-11 season

You May Not Know This, But

Was a die-hard Leaf fan growing up
Is a Rick Astley fan
Is more easy-going with the media than most players, and loves to talk hockey with reporters (in Windsor he is quoted in the majority of articles about the team)
Openly supportive of OHL and NHL attempts to remove headshots from the game.

Scouting Profile
Strengths
Built like a fire hydrant, Mitchell's wide frame, low centre of gravity, and above-average straight-line speed allow him to be an excellent forechecker.  He is an energetic player with a ton of heart, who is aggressive both in the corners and in pursuit of the puck.  Once he has the puck it is difficult to take it away as he is an excellent stickhandler.  He is reliable at both ends of the ice (+18 in 53 games to date this season) and is more than willing to throw the big hit.  He is difficult to move from in front of the net, and many of his goals come from rebounds and re-directions just outside the crease.
Weaknesses
Due to his stocky build, Mitchell will never be known as the most agile skater on his team, and can be beaten in one-on-one situations.  His playmaking vision in the offensive zone is average.  The majority of Mitchell's point totals tend to come from aggressive play in the corners, and in front of the net.  The question is, will he be able to produce in that manner in the professional leagues, where the opposition is bigger and stronger than their OHL counterparts?

Career Notes
2005-06:
Recorded 43 points (20 G, 23 A) in 65 games during his rookie campaign with the Oshawa Generals of the OHL.
2006-2007:
Mitchell's second OHL season was a breakout campaign, during which he exploded for 43 goals in 67 games (43-37-80). During the offseason, he was drafted by the Maple Leafs in the 3rd round.
2007-08:
Following his excellent previous season, Mitchell endured an early slump, and as a result, his output declined substantially (24-36-60 in 64 games).   He caught fire in the playoffs, however, recording 10 goals and 16 points in 15 post-season games.   He was later recalled to the Toronto Marlies, joining the AHL squad for 2 playoff games.
2008-09:
Traded to the Windsor Spitfires during the off-season, Mitchell has continued to impress with 54 points (25 G, 29 A) in 53 games to date.

From The Grapevine
Mitchell is known for his passion and energy on the ice, above all else.  He never gives up on a play, never takes a shift off, and leaves it all on the ice every game, no matter what the score.   Fans describe him as a "heart-and-soul" type who will do whatever it takes to help his team win, be it a solid hit, a blocked shot, or even dropping the gloves.   Mitchell's energy and enthusiasm made him a fan favorite during his three years in Oshawa, and it took him only a handful of games to attain that status in Windsor.

Notable Quotables: Cliff Fletcher, Interim GM/Consultant, Toronto Maple Leafs
On signing Mitchell to an entry-level contract …
"[Mitchell] had an exceptional run with the Oshawa Generals in the OHL playoffs and we look forward seeing his rugged style and scoring touch with the Toronto Marlies." (Toronto Star)

Notable Quotables: Warren Rychel, GM, Windsor Spitfires
On trading for Dale Mitchell …
"He's going to help us.  He's got a good shot and he's a guy that can put the puck away. He's not just a goal scorer, but he can forecheck."

Notable Quotables: Dale Mitchell
On being drafted by Toronto …
"It's an honour to begin my professional career with the Toronto Maple Leafs.  This is the team I grew up watching and I couldn't be more excited to one day have the opportunity to wear the Blue and White." (mapleleafs.com)
"Being from Mississauga, you grow up watching Hockey Night In Canada every Saturday night, and to one day be a part of that … It's up to myself to work to get there, but if I am ever a part of that, it would be amazing." (Bleacher Report)
On his strengths and weaknesses as a player …
"My strengths I think are my speed and my offensive abilities, scoring goals and creating offensive chances in the offensive zone … I do need to work on my lateral movement and defensive positioning. That would be good." (The Star)
On his improved defensive play this season …
"I came into this season with the same mindset, not worrying so much about points and just making sure my game is well adapted to the overall team play, things like making sure I am not getting scored against, and making sure I've got my defensive check down low and things like that.  When you do that the offense will come [on its own]." (Bleacher Report)

Video Highlights
Dale Mitchell talks to Leafs TV during the 2008 AHL playoffs
http://mapleleafs.nhl.tv/team/console.jsp?&id=17426
Dale Mitchell talks about learning the pro game at the 2008 Rookie Tournament
http://mapleleafs.nhl.tv/team/console.jsp?&id=20681

In My Humble Opinion
Dale Mitchell's strong work ethic, positive attitude, and passion for the game will earn him his shot at cracking an NHL roster.  What he lacks in raw skills, he more than makes up for with the intangibles which cannot be taught: leadership, drive, and courage.   Mitchell may never develop the offensive skill set to be a front-line player in the NHL, but a successful career as an effective checking-line/energy winger is certainly realistic.   A good comparison might be Scotty Upshall.