In a recent lunch interview with the Toronto Star, GM Brian Burke finally conceded what many fans and media types have been saying the last couple of weeks: change is needed. While it has been quite popular to lay most of the blame at the feet of the head coach, Burke reiterated for the umpteenth time that the players have not quit on Ron Wilson and that they "are not even contemplating, considering or discussing a coaching change at this point."
Burke did state however: "I think this group has established to my satisfaction that we're not going to come out of this without some outside help. We're not looking at a coaching change. So we have to see if we can make a player personnel change."
What kind of change?
"We need a big forward. Everyone points to the center position. But I think if we had a Top 6 forward with size, center or wing, it would help us. Right now we're not getting to enough loose pucks in front of the net. We're not creating enough traffic in front of the net. So that to me is our biggest need."
—
Keeping in mind this is a purely speculative exercise, here are some of the names that could potentially be intriguing trade targets for the club:
Dustin Penner, EDM: While it's nearly impossible to see Burke swallowing his pride and trading for a player whom he called overpaid, a Penner makes a lot of on-ice sense on a variety of levels. He's a huge presence in front of the net who plays with exact kind of power forward mentality that the Leafs sorely need. He's only 28 years old, has averaged 25 goals a season over the past four years and is once again on pace for a solid 26 goal campaign. At a $4.25 million cap hit for this year and next, the dollars and contract length are more than reasonable when compared to contracts around the league for similar players (David Backes, Ryan Malone). However, Edmonton has likely very little motivation to move Penner considering their relatively diminutive forward corps, but this is a team that is relying on Theo Peckham and Jason Strudwick for 18 minutes/night so there could be fit if Toronto were to offer up a package centered around a young defenseman.
Rene Bourque, CGY: Bourque has made the steady progression from high level grinder to dangerous two-way forward over the past couple of seasons. Although he's battled with a few minor injuries, he's produced 61 goals over his past 164 games played (30.5 goals/82 games) and has consistently been an impact player on a struggling Flames team. Much like Kulemin, Bourque's game is built around his tremendous ability to win pucks, play the boards, and willingness do some of the trench work for rebounds around the net. At 29 years of age and signed for 5 more seasons after this one at a bargain basement $3.33 million cap hit, the cost to acquire Bourque could be substantial. The Flames and Leafs have matched up via trade before so you can bet there's been plenty of dialogue and that both organizations have scouted each other extensively, so there could once again be a fit here if Toronto is willing to expedite Calgary's rebuilding process with some quality young assets.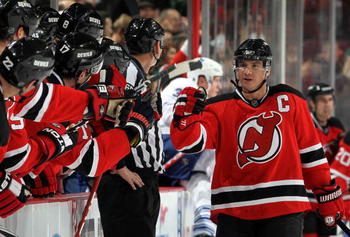 Jamie Langenbrunner, NJD: Although he doesn't fit the traditional definition of a power forward, the Leafs have been linked to the Devils' forward in trade talks over the past couple of weeks. This shouldn't be surprising considering Langenbrunner's connection to Burke and Wilson as captain of the American Olympic hockey team. The attractiveness here would be centered around tremendous leadership ability for the NHL's youngest team to go along with excellent two-way play, specialty teams contributions and secondary scoring. Though currently mired in a down year, Langenbrunner has averaged 24 goals and 65 points over the past two seasons. However, Jamie is 35 years of age and his impending unrestricted free agent status at the end of the season could implore him to look for a job with a more veteran-laden contender this summer. Similar to the other names on this list, the offer likely needed to persuade the Devils to trade away their captain would have to be fairly substantial and unless the Leafs are absolutely convinced that Langenbrunner can provide them with 3-4 seasons of "Grade A" intangibles,they may be wise to not get too involved in these talks.
David Booth, FLA: This could be an interesting one. From the Phaneuf deal, we've seen that Burke is not afraid to gamble on a struggling young player with a sizable cap hit and Booth falls into both of these categories. Although he is probably best known for his 31 goal, 60 point campaign back in '08-'09, Booth has had a tough time with both injury and consistency issues recently. He played  only 28 games last season and has only 8 goals through 33 games played this year, fresh off signing a brand new contract that will see him earn $4.25 million per season through 2014-2015. However, as a 26 year old armed with a power forward's build and a nose for crashing the net, you can bet that Booth will at least draw some exploratory interest from the Maple Leafs. If Florida GM Dale Tallon were willing to part with Booth at a discount in exchange for financial relief, then the odds of a deal getting done are more likely.
Martin Hanzal, PHX: Hanzal hasn't quite lived up to what was once expected of him after an impressive 35 point debut season as a 20 year old back in '07-'08, but this still a 23 year old power forward with considerable upside. From an on ice perspective, Hanzal is an excellent fit for the Leafs on a multitude of levels. To begin with, his powerful 6'4 frame would be quite an asset parked in front of the net on the power play and his size down the middle would be a welcomed addition to a team lacking the ability to match up against the league's larger, stronger centremen. Although the offense isn't quite where the Phoenix brass would like it to be, Hanzal makes up for it with strong specialty teams play, a healthy 52.1% success rate in the faceoff circle and shutdown centre potential, consistently lining up against the opposition's top lines and shouldering the most ice-time of any Coyote forward. He's young and affordable impact player, so it would take a significant offer to even tempt GM Don Maloney.
Other Names: Scott Hartnell (28 years old, signed through 2013 @ $4.2 million), Tuomo Ruutu (27 years old, signed through 2012 @ $3.8 milion), Patrik Berglund (22 years old, last year @ $1.25 milion).