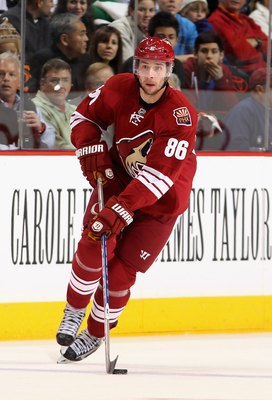 According to the Hockey Night in Canada panel, the Maple Leafs have received a significant offer for forward Kris Versteeg Although they had not planned on moving the 24 year old, the offer was supposedly impressive enough to make Leaf management "pause". The multi-purpose winger has not posted overly impressive numbers overall but has been heating up after a slow start, producing at nearly a point-a-game pace since the beginning of November (23 points over his last 26 games played).
While the panel did not mention any specific names, it is interesting to note that the Leafs have been heavily linked to the Coyotes, who recently sent two members of their senior management to scout the Buds on Thursday night. Purely speculative, but one intriguing scenario could see both teams flip a pair of talented young forwards with Wojtek Wolski going back to Toronto as the main piece in exchange for Kris Versteeg. For an organization with a rather modest budget, Phoenix may be inclined to part with the underachieving Wolski who is set to earn $3.8 million per season through 2012 in exchange for a more affordable alternative (Versteeg has a $3.0 million cap hit through 2012). At just 24 years of age and coming off a 65 point campaign split between Phoenix and Colorado, it's easy to see why the Leafs could be interested in adding Wolski's 6'3 frame alongside Phil Kessel on the club's top line.
Advertisement
Download the most comprehensive draft guide from hockeyprospect.com! In total, the 2017 NHL Draft Black Book is 595 pages (380,372 words), which is an increase over the 2016 NHL Draft Black Book. The Team Edition of our Black Book 740 pages and over 478,000 words, an increase of 43,000 words over last year! Click here to download.