When the Maple Leafs moved on from GM Kyle Dubas a few weeks ago, the next question was obvious: Who else of significance might follow him out the door?
After all, Dubas stood by his core of players through thick and thin. With Dubas gone, it stood to reason that anything was on the table.
Those rumours were quickly squashed when Brendan Shanahan reportedly informed the team's core players that they are unlikely to be moved. 
In Brad Treliving's introductory press conference, the new GM echoed similar sentiments: 
"I want to stress strongly [that] I am not about coming in and making a statement. You can throw a body under the tarmac, and it might look good for a headline, but are you getting any better? At the end of the day, it is about getting better. Just being different doesn't necessarily make you better."
These are very difficult trades to make, and unless they are somehow able to trade one of Auston Matthews or Mitch Marner in the next few weeks, both will have no-trade clauses kicking in that the Leafs would have to navigate. John Tavares has a full no-movement clause and a salary that most teams in the league couldn't accommodate. William Nylander is signed to a good contract, but he has only one year left on it before he is set to cash in.
The Leafs could still fetch value of significance in return for players like Matthews, Marner, and Nylander – they are still young and very good – but there are circumstances surrounding all of them that would impact the size of the return. As Treliving said, a team needs to be really careful when it's contemplating moving impact players.
The Florida Panthers acquiring Matthew Tkachuk after winning the President's Trophy is a recent example that has been constantly bandied about, but it's important to note that they didn't just change up core players for the sake of a change – they acquired a legitimate superstar who was the best player in the deal. Could the Leafs accomplish the same while moving any of their top four forwards? It's not impossible, but colour me skeptical. 
The one player we can make the case for genuinely improving the team by trading him – even if it's by clearing cap space to use in other ways – is captain John Tavares. That makes him a good player to start off with as we break down the situations of each of the team's big four up front over the weeks to come.
Is a Tavares trade remotely realistic?
---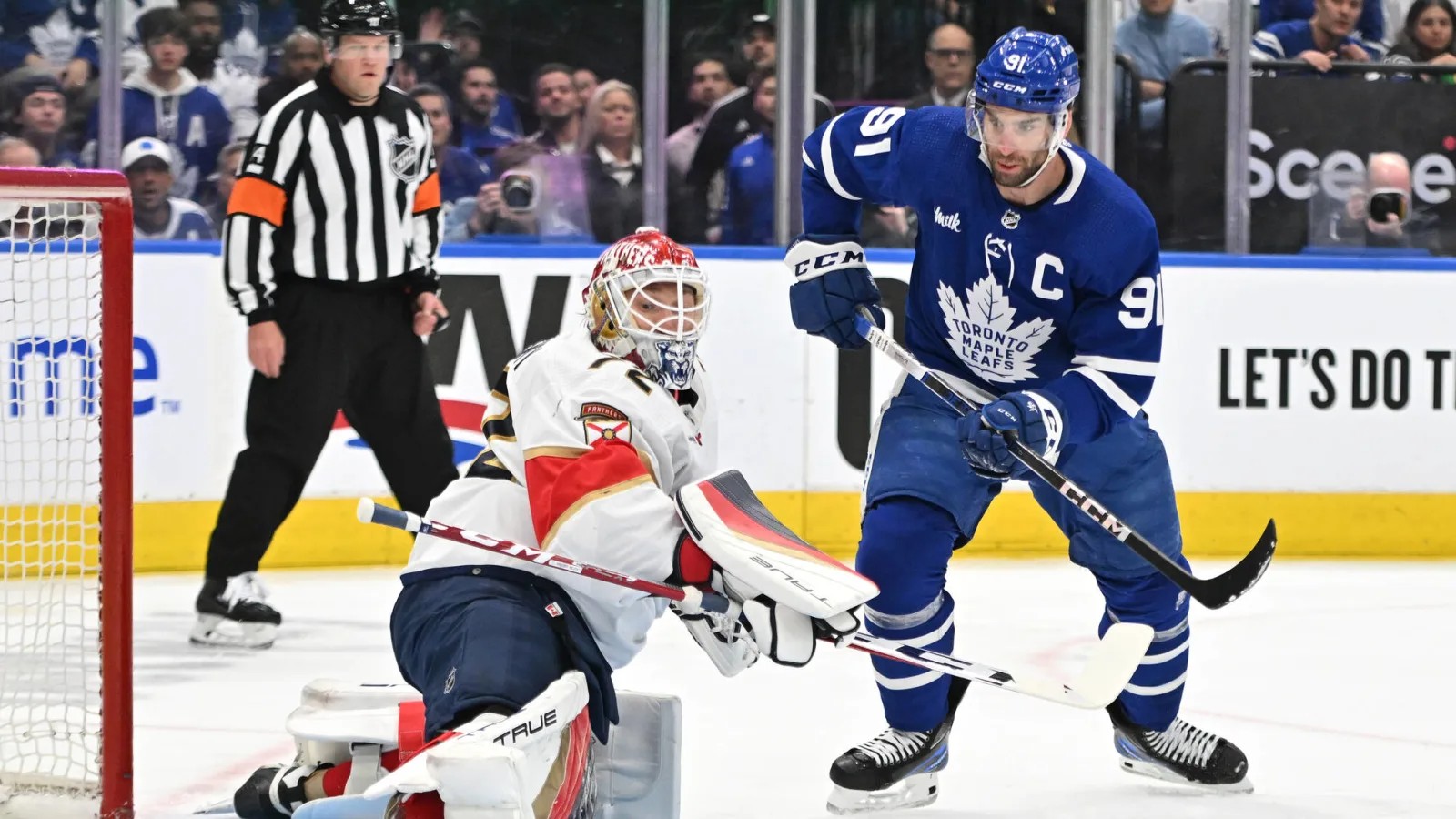 It is easy to single out Tavares for a few reasons. His game doesn't leap off the page (if anything, it is a little understated). He has a massive contract, and he is a quiet personality (which doesn't matter in terms of the actual hockey, but it doesn't win him favour with fans). Ever since his days in the OHL, Tavares was always the type of player who you wouldn't necessarily notice on a shift-by-shift basis, but at the end of the game, the scoresheet showed production next to his name.
Since the Leafs signed him in free agency in the summer of 2018, Tavares is tied for 23rd in points with Sebastian Aho and tied for 17th in goals with Matthew Tkachuk across the NHL. It's great production, but the second reason Tavares is singled out is his $11 million cap hit, which is currently tied for the seventh-highest cap hit in the league. 
The simple reality is that he has done well enough to produce at a top 15-25ish rate in the league – which is fantastic, generally speaking – but he's getting paid as a top-10 player in the league, and outside of the production, he doesn't drive play particularly well. If anything, the Leafs need to somewhat shelter – or to some degree protect him – at five-on-five. 
We could keep this conversation simple and straightforward by declaring that Tavares is not going to waive his NMC under any circumstance anyway (which is almost certainly the case). He is from Toronto, he chose to be here as a UFA, he's been the captain since 2019, and he's been productive as a Leaf. The Leafs have been inside the top five or 10 in the league every single season since Tavares arrived, and while the playoff success hasn't materialized, they have been a good team, he has produced, and their once-young group of stars is now in the prime-age window in which many in the league experience their playoff success. Why would Tavares leave? He holds all the power, and there's no compelling reason for him to move on.
But let's entertain the idea, for half a second, that the Leafs could convince him to waive his NMC (for argument's sake).
According to CapFriendly, there are 16 teams in the league that already don't have enough cap space to acquire Tavares straight up without sending back salary the other way –- and all of those teams still need to acquire multiple players to fill out their rosters. Add in the Leafs to make it 17, and it leaves us with 15 teams with enough cap space to straight-up acquire the Toronto captain. This list includes teams like the New York Rangers with $11.7M in cap space, the Winnipeg Jets with $12.9M in cap space, and the Colorado Avalanche with $13.3M.
Unsurprisingly, most of the teams with an abundance of cap space are bottom feeders, be it Anaheim, Arizona, or Chicago. None of those teams are looking to trade assets of note for a player turning 33 in September with term remaining on a big contract. Carolina has over $24M in cap space, but they want to re-sign Jordan Staal, are eyeing an extension for Sebastian Aho, and are penny pinchers at the best of times. New Jersey has cap space, but they are looking to sign Timo Meier and Jesper Bratt to extensions, which they will clearly prioritize over acquiring an expensive, aging center.  
If the Leafs are retaining salary to move Tavares, how worthwhile is the move going to be? They can't just move him for the sake of moving him; he scored 36 goals and 80 points last year (and yet you'd swear he was David Clarkson 2.0 with the way he is discussed in the market at times). This is very good production that the team can't magically replace.
Interestingly, the teams that would make the most sense as a hypothetical trading partner – in terms of cap space and an intention to move up in the standings – would be the Detroit Red Wings (over $30M in cap space) and Buffalo Sabres (almost $17M in cap space). They are both close to Toronto geographically as well. But what kind of return are the Leafs realistically fetching if they manage to thread the needle on finding the right trade partner?
Last summer, an aging Brent Burns (signed to a big contract) netted San Jose Eetu Makiniemi, Steven Lorentz, and a conditional third-round pick in the 2023 draft. The Sharks essentially cleared the cap space and turned the page. That's justifiable for a rebuilding team, but this type of trade would obviously make the Leafs actively worse as they try to contend for Cups. 
The Flames needed to attach a first-round draft pick to Sean Monahan to clear his salary. Vegas traded Max Pacioretty away for future considerations, but the difference is that they already had a roster in place by and large; their issue was that they couldn't afford it. By comparison, the Leafs have seven forwards under contract (including Tavares and Matthew Knies). Pacioretty also didn't even play half a season for the Golden Knights, so it's much easier to move a liability versus an everyday player who regularly produces. 
Simply opening the cap space doesn't exactly cut it for the Leafs for a couple of reasons: A) They would have to replace the player (it is very difficult/costly to acquire point-per-game players); B) They would likely be turning around and dishing out a contract to an overpaid UFA. 
For example, even if the Leafs won the Tyler Bertuzzi sweepstakes, his career high is 30 goals and 62 points (in 68 games) – a .91 points per game rate that significantly eclipses the second-highest rate of his career at .68 points per game. He's 28 years old. Tavares' worst season with the Leafs was .89 PPG in the COVID-bubble season. 
In this type of swap, the Leafs would have to turn around and find a second-line center, too. The best center on the open market is arguably Ryan O'Reilly, and Toronto doesn't need to clear Tavares' dollars to sign ROR anyway. There is a path to making those numbers work while retaining Tavares, and that's probably the smartest way of looking at the situation.
Optimizing John Tavares' remaining good years
---
Ultimately, it appears futile to discuss trade options, so the Leafs need to make the best of the situation – and it's not a dire one. This is a good, productive player, and they need to do a better job of optimizing his utility within the roster.
Look at the Cup Finalists this year. 
Vegas runs three pairs of Jack Eichel – Jonathan Marchessault, Chandler Stephenson – Mark Stone, and William Karlsson – Rielly Smith. Florida spreads out three of their most talented forwards in Aleksander Barkov, Matthew Tkachuk, and Sam Reinhart across three lines.
When Tampa Bay won their Cups, they rolled Brayden Point – Nikita Kucherov, Anthony Cirelli – Steven Stamkos, and Yanni Gourde – Blake Coleman. When Stamkos barely played in their first Cup year, Cirelli was flanked by Alex Killorn and Tyler Johnson.
In Tampa's Stanley Cup Final series, they played a Dallas team that rolled Jamie Benn – Tyler Seguin on one line, Joe Pavelski – (a then promising) Denis Gurianov (who produced 17 points in 27 games that playoffs), and Roope Hintz – Corey Perry on another line. The Habs ran the Philip Danault – Brendan Gallagher shutdown line, the Nick Suzuki – Cole Caufield line, and Jeperi Kotkaniemi – Josh Anderson on their third line.
In 2019, Boston trotted out the "perfect" line followed by Jake DeBruk – David Krejci and Charlie Coyle – Marcus Johansson. They lost in the finals to the Blues, who ran Jaden Schwartz – Brayden Schenn – Vladimir Tarasenko on one line, Ryan O'Reilly and David Perron on the next, and Tyler Bozak and Robert Thomas (or even Ivan Barbashev and Alex Steen).
The only notable outlier is the Colorado Avalanche, who we could argue have similarities to the Leafs on the surface in terms of their top-heavy construction. However, once we dig in deeper, there's no real comparison to be made.
Colorado's top-six forwards played between 21:25 per game (Nathan MacKinnon) and 17:07 (Artturi Lehkonen). JT Compher was next at 13:40, and his five goals and eight points led their bottom six in scoring.  The Avalanche truly rode their horses in big minutes, and they delivered. The difference is that they have always shown themselves capable of it whereas the Leafs' stars haven't come close to matching that level so far. None of the Leafs' top four players are over a point per game in the playoffs. The closest is Mitch Marner with 47 through 50 career playoff games.
In Colorado, Nathan MacKinnon has 100 playoff points in 77 career games. He has never paced below a point per game through seven playoff appearances. Other than four points in six playoff games in his first playoff appearance, Mikko Rantanen has been over a point per game in every playoff appearance of his career. He has 87 playoff points in 70 career playoff games. Even still, Cale Makar was the one leading their team in playoff scoring when they won the Cup, and he's arguably (almost certainly) the best defenseman in the league.
We can't compare the Leafs to this Avalanche model; they don't have the top-end talent on defense, nor has their top-end forward talent come close to producing at the playoff rate of Colorado's stars. 
Maybe one day the Leafs' top players will unequivocally prove that they can log monster minutes while playing together and deliver big in the spring, but they haven't proven it to this point, and the Leafs need to look at the situation with fresh eyes.
Again, Tavares receives a lot of criticism for a multitude of reasons, but it often ignores that he is still a very useful player who can be part of the solution as a key cog in the creation of "pairs" across their top three lines. 
We've already noted how productive Tavares remains – 36 goals and 80 points on a modest 13% shooting percentage – and among the 121 players that took at least 500 faceoffs during the season, Tavares ranked ninth in faceoff percentage. He was consistently productive even as his ice time fluctuated throughout the year:
| Month | GP | Pts | TOI |
| --- | --- | --- | --- |
| October | 10 | 10 | 18:04 |
| November | 15 | 16 | 16:51 |
| December | 12 | 8 | 17:10 |
| January | 14 | 17 | 18:09 |
| February | 9 | 10 | 17:25 |
| March | 13 | 14 | 18:23 |
| April | 7 | 5 | 17:38 |
Tavares is still very good in front of the net and is a high-end finisher. He struggles to create his own offense, so he needs facilitators and forecheckers on his line. He's not bad defensively, but he's not exactly Michael Peca back there, either. Skating will always be an issue, but he has made it work for years. 
There is some thought that Tavares should move to the wing full-time, but that creates a bigger hole for the Leafs down the middle. This is a point-per-game center we're talking about; the team can find a place for him among their top three lines. 
If the Leafs were to re-sign Ryan O'Reilly, as an example, they could put together three "pairs" and build a three-line attack:
Auston Matthews – William Nylander
John Tavares – Mitch Marner
Ryan O'Reilly – Matthew Knies
You can quibble with the pairings, but there is a potential framework of three lines that can drive offense, allowing them to use a player like Calle Jarnkrok for what he is: a support player who shuffles between lines. That's a far better approach – and generally consistent with what wins Cups in this league – rather than trying to awkwardly load up the top six while creating a default third line of Alex Kerfoot – Noel Acciari – Calle Jarnkrok as a result. 
This past playoff was the first time that the Leafs could really spread it out, and Sheldon Keefe instantly elected not to. He did run those pairings at points in the playoffs, and the team looked good doing so. A full season of that type of deployment – and of keeping their stars fresh by shaving some ice time from each of them – should make the team better over time.
This isn't to suggest that the Leafs should definitely keep Tavares, but realistically, moving him likely isn't going to be on the table, and they need to figure out the best approach to optimizing their captain moving forward, particularly at playoff time. He's a good, productive player – the conversation about him has probably swung a little too far away from reality in the negative direction – and it's always worth repeating: It's very difficult to find quality centers in this league.