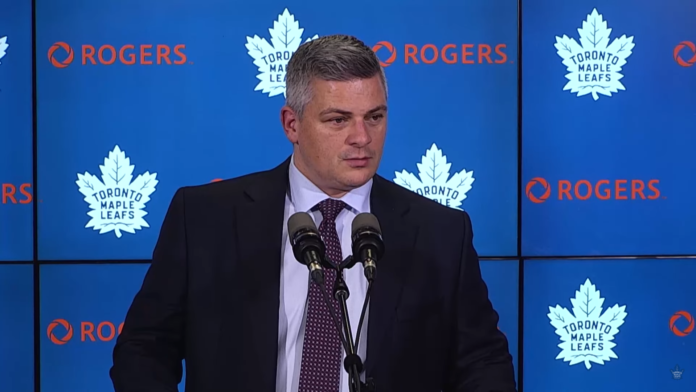 Sheldon Keefe addressed the media after the Maple Leafs' 6-5 overtime win over the Tampa Bay Lightning which improved the team's record to 6-4-2.
---
On the team's response after falling 4-1 down:
I thought it was excellent and required. We have responded well all season in those moments. There are a lot of things that haven't gone well for us this season, but we have responded in those moments a lot and kept going.

I was really proud of the way the guys stepped up in that second period.
On the message to the team after 20 minutes:
When you come off the bench, you are feeling pretty shitty about how the first period went, of course. Everybody is. When you come back in between periods and you start reviewing some video and looking at some of the stats of the period, it was sort of a reflection of how I felt on the bench. It wasn't that bad of a period. The puck just kept going in the net. That makes it really hard. You start to think about everything else that is outside of your control.

I thought we did good things. I thought we had a great start. We scored a goal to get ourselves going. I thought we sagged after they started scoring. We made some mistakes there that I was a little more focused on, but I was positive. I just felt that was what we needed at that moment.

I thought we did some good things. We just had to win a period. We have been in this situation a few times here where we have found our way back. We needed to build some positivity. The guys went out and earned it.
On Matthew Knies' three-point game:
He was great. Moved his feet. Scored a great goal, but he made a number of great little plays that really helped.

I thought with all of the lines today — and this includes the first period — it was the best I felt about the rhythm of our group. I thought Robertson brought lots. I thought Domi in the middle helped. Jarnkrok still did what he does for us. Knies…

I thought there were a lot of good things. We just had to stay with it and win a period there. We were able to do that, which gave us a chance.
On his concern level about a step back for Ilya Samsonov:
You don't like the game. You don't like how it goes. But you have confidence in that he has had nights like this — not just tonight but even last season — and he has responded. He played a tremendous game for us out in Boston. Let's focus more on that. Feel good about the fact that our team came back and got two points, so it is easier going home. Just get back to work.
On Joseph Woll stepping up after the Samsonov pull:
He made some saves. He didn't let them score the next one. That is really what it is about. When you go in relief like that, you can't let in the next one. It is one of the harder things in sports — or certainly in our game — coming in off the bench cold with the pressure of knowing you can't give up the next one.

He was obviously tremendous in that fashion down in Tampa. I am sure he is leaning on that to a degree. Another guy who responded beautifully tonight and was excellent.
On the importance of the comeback win after four straight losses:
Quite honestly, the result helps, of course, but if we fell short here tonight, I am leaving here feeling good.

That second period, to me, was the best period I think we have played all season. In the third period, we stayed with it. I don't love that we allowed them to get the point and score to tie the game, but I thought we were playing a good third period up until that moment.

I was leaving here feeling good about that. We have gotten good results at different times, but our process hasn't felt great all season. I was starting to feel really good about how things were going and how we were playing. That is a win for me and for our team. If we continue to play like that, I am confident that we will win our fair share of games.
On Ryan Reaves playing only four minutes and change:
In the first period, I thought he did a good job for us. That line had some good shifts and good moments for us.

It was a positive game for them. It is just the way the game goes. You are losing him. As we started to come back in the game, they were using their fourth line less. I don't know what Watson's minutes ended up being, but it was kind of a tradeoff with how the game was going.

When I was using Reavo in a regular rhythm, I thought he did a good job. I just had to shorten things up and try to win the game. That was the decision I made tonight.
On Nick Robertson getting the puck off quickly prior to Calle Jarnkrok's 4-4 goal:
That might've been his only shot of the game, but the way he got it off through traffic under pressure, it came off the goalie hot as well. Jarny does what he does by being in the right spot. It was a great goal.

I thought it was great to see Robetson rewarded with that assist tonight. He gave us something tonight. His feet were moving. When the puck came on his stick, he made a play.

I thought he helped get Domi going as well. Max was really skating today. Having another guy to play off of really helped him. Wherever I have put Jarny this season, things have gone well, which is not unlike last season.

It is tough for me to go to Jarny — the day after his line had a great night against Buffalo offensively — and tell him I am moving him down. He was a pro about it. He actually said to me, "We are not winning games, so I get it. We have to make changes."

He did it. He went and did his job tonight. For him to get rewarded is tremendous. Another one of the long list of positives to come out of the game tonight.
On Auston Matthews producing another multi-goal game:
I thought it was terrific. He is scoring in bunches for us, obviously, and helping us win games. Tonight, in particular, with what is going on in the game with the score, you can see him getting the crowd going, back on our side, and feeling good about the team. It was a small moment in the game there, but that is the kind of stuff you love to see from a leader like that.