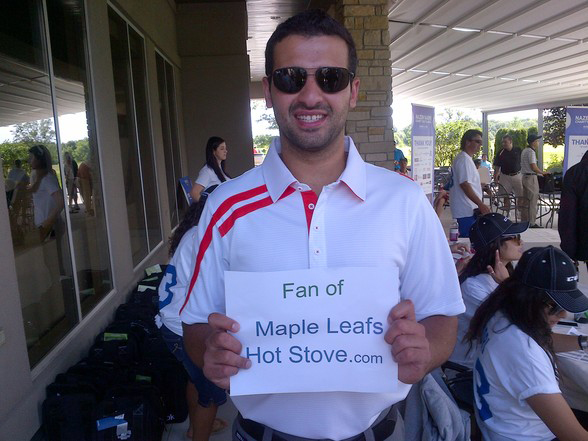 Join our community of die-hard Leaf aficionados; let our writers—and commenters—increase your knowledge; learn more about hockey and your favourite team, the Toronto Maple Leafs.
Maple Leafs fans are the most loyal and passionate in pro sports, and MLHS is where the most dedicated among them seek asylum. All Leafs fans (and respectful rival fans) are encouraged to join in on the discussion on our forums and acquaint themselves with the site's many passionate and knowledgeable 'fanalysts.' Before you do, here's a little about us:
Founded on September 3rd, 2008, Maple Leafs Hot Stove (MLHS) specializes in high-level, wide-ranging, around-the-clock independent Leaf coverage. With over 12 million annual page views, Maple Leafs Hot Stove is one of the largest team focused hockey sites online. The site was founded by Alec Brownscombe, editor of the 2010, 2011, 2012, and 2013 Maple Leafs Annual magazine, and is co-owned by Declan Kerin. The site has become renowned for its fervent Leafs fan community and insightful writers. Its staples include the emotionally-turbulent Game Day Threads, its thorough post-game breakdowns, and weekly Leafs notebooks.
In 2011, the site introduced writer Anthony Petrielli as a weekly columnist. Petrielli has been writing the highly-regarded Monday Leafs Notebook for several years running.  The Notebook features a thorough analysis of the games and news of the previous week.
Its writers also conduct a summer interview series with Maple Leafs management and coaches, where MLHS has become known for asking the right questions and engaging Leaf brass in high-level hockey discourse on the topics most pressing to Leafs fans. The interviews provide great insight into how the organization is run and an informative peek into the minds of those making the decisions in the Leaf front office.
MLHS has been cited by: ESPN, Sports Illustrated, CBC News, USA Today, Fox Sports, Yahoo! Sports, NBC Sports, TSN, Sportsnet, Grantland, CTV News, CBSSports, The Globe & Mail, The National Post, The Toronto Star, The Toronto Sun, Global News, Huffington Post, Refdesk and many more.
To contact Alec or Declan—or for general site inquiries—see our contact page.
Testimonials
Best Team-Specific Blog – Maple Leafs Hot Stove: Whether you are a Maple Leafs fan or not, there's no doubting the quality of the content consistently pumped out by Maple Leafs Hot Stove. Led by editor Alec Brownscombe, MLHS specializes in the latest happenings in Leaf land through a balance of in-game analysis and investigation. Where the blog has seen its presence felt is its initiative to create an annual publication with over 100 pages of analysis, statistics and predictions from a host of talented hockey writers, ranging from the mainstream media to the diehard fan that isn't afraid to voice his support for the team. Since launching in 2008, the blog has rapidly increased in popularity, rivaling all of the top specialty blogs available.
– TheGoodPoint.com
---
The dedication of the owners to provide the very best experience they can for all like minded Leafs fans looking to stay informed about our team. Alec and Declan are die hard fans whose sole objective is to provide the very best Leafs site on the web for its members and believe me, they don't disappoint. MLHS is like a a five star restaurant and I highly recommend this site if you're looking for the very best internet experience in Leafs Nation.
– MLHS reader, Burtonboy
---
MLHS is the definitive site for any true Leafs fan. It is the best Leafs site to which no other come close.
– MLHS reader, CanuckintheUK
---
"MLHS provides some of the most balanced analysis of the Toronto Maple Leafs on the net. The writers contribute a high level of insight about the game that helps fuel a community of well informed diehard fans. Greatest Leafs fan site around, one I am very proud to say I am a part of." – MLHS reader, Dangle_My_Berries
---
"The single best Leafs-focused site today! "- MLHS reader, LeafsForLife
---