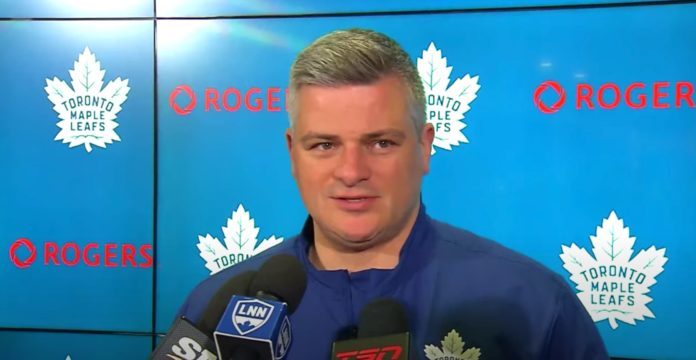 Ahead of Friday's game against Calgary, Sheldon Keefe discussed John Klingberg's injury situation, Nick Robertson's performance since his call-up, his work relationship with Brad Treliving, and the message to his new players as the team looks to find its groove following a mediocre start.
---
What is the challenge like for Jake McCabe playing on the right side of the pairing with Mark Giordano in his first game back?
Keefe: Six left shots, so there are some challenges playing the offside. McCabe has done it at different times. He spent a good portion of his time in Chicago playing on the offside.
I suspect the D will move around here, but with the six left shots, either way, we are going to have some guys playing on not their natural side. Lagesson has done it a bunch since he has been up here and he has done a good job of it. We are trying not to overthink that one.
For Caber, it is just nice to have him back.
How long has John Klingberg been working through injuries?
Keefe: Quite a while. It's nothing that has kept him out of the lineup, but it is something that we want to give him an opportunity to work through and get a better sense of exactly what is going on and where he is at.
Has that had an impact on Klingberg's play?
Keefe: We think so. It certainly hasn't helped him. It is part of what we are talking about when I talked the other night about protecting him better. It is about our team play and about the other guys on the ice. It is also just knowing what he has been working through and trying to help him with that.
What is the biggest difference you have noticed in Nick Robertson's game during his call-up stint this time compared to prior seasons?
Keefe: If I focus on his first game, his first game was as polished of a game as he has played in terms of how he managed the puck and the decisions that he made with it. He has always had great energy and great pace, but the game has always been a little bit scattered. He looked really good and organized despite playing with Max Domi in his first game at center.
I thought the second game the other night didn't have the same level of polish to it, but I just think there is a level of maturity there in terms of knowing when it is time to make a play, find a play, or find a spot where you have to work to get it back but also take care of it. That is all part of being an NHL player: knowing those pieces.
It looks to me like he has not come in focused on putting his offense first. It is more about the game. We have talked a lot over the years about that. It is a big part of the NHL game. You are not going to be able to score and make your game offensively every day, but on every single shift, you will have multiple opportunities to affect the game positively. To me, he has done that well here in the early going.
What has it been like working with Brad Treliving through issues this season? Ryan Reaves mentioned that he is very calm with no sense of panic to him.
Keefe: He is a very experienced guy, so he has seen a lot of it through the ups and downs. Whatever the league can throw at you, he has dealt with it. He communicates very well. He is very engaged. He is very involved. He is around. He asks questions. He communicates his observations.
I have really enjoyed it. I think everybody in the organization — players and staff alike — feel cared for but also feel that he is there and knows what is going on so that he can really try to give us what we need to do our job.
What has your message been like to the new players joining the team over the first month, Tyler Bertuzzi, John Klingberg, and Max Domi, in terms of not taking on too much pressure and finding their way?
Keefe: It is just about trying to get out of their heads and focus on the things that we are talking about.
We keep flip-flopping here in terms of some of the narratives, right? First, it's that we need more secondary scoring. We start to get more secondary scoring. Now it's that we need to keep the puck out of the net.
Let's just focus on having good shifts, playing good games, and being more efficient. I think Max and Bert are trending up. I think Bert is coming off of his best game. Max has had his two best games while playing center. It has really helped our third line.
We have started to have our team trend up. It is a matter of focusing on the things we are talking about that can help our team. We have come back in the last couple of games, and we have given up a lot of goals. Defensively, at times, it hasn't been great, but I feel like our game is trending up.
We are close. When I really look at it and say we are trending up, with the number of goals we are giving up, it doesn't sound like it makes much sense. But when you go through the video and the stats, if you look at what we have given up in the last two games… If those two games were what we had done all season, we would be the number four team in scoring chances against. That is the model.
When our attention to detail is consistent shift to shift and we don't have the big lapses, and that play is matched with solid goaltending, this is going to flip, the puck is going to stay out of our net, and our team is going to get rolling.
We are just going to continue to focus on minimizing our mistakes and trying to recognize, through some of the chaos that has been going on with pucks in our net, there are good things happening. The model of what we have been in the past is not as far away as it may seem.
Ken Hitchcock will be here as part of the Hall-of-Fame festivities. He is known to be a coach who shares a lot of knowledge. What has your relationship been like with him?
Keefe: I have never spoken to him individually or anything like that, but I have attended some conferences he has been at during my work with Hockey Canada back in my OHL and Junior A days. He was heavily involved in sharing information with young coaches who were coming up through the Hockey Canada system. I was a benefactor of that.
He has made his mark all over the game and all over the league. There are many stories and many things that come with it. When you don't know him, you feel like you do. He has had so much success and he has developed and worked with so many great coaches.
For him and all of his other inductees, this is a tremendous chance for him to acknowledge their contributions. It is special that we get to take part in this every year in Toronto. I am certainly thrilled for Hitch and all of them.