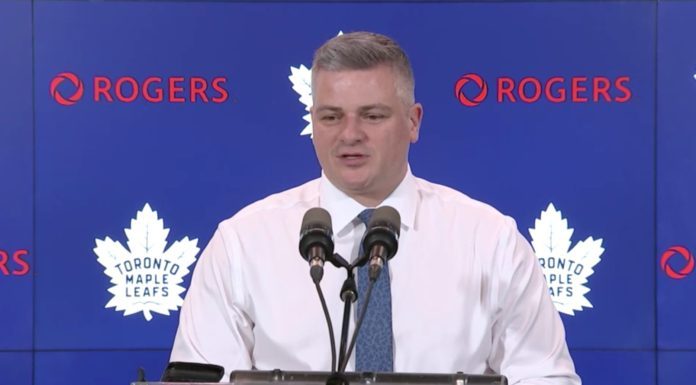 Sheldon Keefe addressed the media after the Maple Leafs' 5-4 shootout win over the Calgary Flames which improved the team's record to 7-5-2.
---
On the mindset after giving up the 4-1 lead:
Just keep playing. We played really well, so just keep playing.

I liked that we didn't get rattled. We didn't give the game away. After they made it 4-4, it might have been the best we played all game.

The third period was our best period. Sometimes things don't go your way or whatever, but again tonight, it was a good game. There were a lot of good things from us. It was the fewest scoring chances we have given up all season at five-on-five. Just keep building.
On Max Domi's shootout winner:
If I am not mistaken, it is his first career shootout goal. We had some exchanges early in the season. We were practicing the shootout, and he wasn't thrilled with where his spot was in the rotation. I reminded him that he had not scored a goal, so I was not overly excited about giving him too many chances.

We practiced it and talked about it. He reminded me that he has hit a few posts. He has been close.

He has been playing well for us. He had another really good night tonight. For him to come through in the moment is great for him. Just another thing he can continue to build on.
On what there is left to say about William Nylander's amazing start to the season:
He was excellent defensively tonight. Excellent. As good as he was on offense, he was as good defensively. On some of his shifts in the third period, he was in perfect spots, the puck came to him, he killed the play, and he got us going the other way or broke up some plays.

That is what I would say about him. His commitment defensively today was the best it has been all season long.
On William Nylander scoring a shorthanded goal late in the Flames' power play:
At the time, I was ready to call him and Auston to finish the penalty together. Jarnkrok early changed on me a little bit, and Willy happened to be right in front of me. Before I could call the two, I just called Willy first. It happened to go our way.
On Ryan Reaves playing very few shifts and whether it's due to an injury or the coach's decision:
Coach's decision. He is having some bad luck right now. I comb through and I look for every single goal against that he is on for, and I still can't find one that I can pin on him in terms of making a mistake. The puck just keeps going in our net.

Coach's decision for us. I needed to be able to use more guys. The pace of the game was high today, especially through two periods. It was up and down the ice. I needed to use more guys. I just made the decision to use 11.
On Joseph Woll's performance while allowing four goals:
He stands his ground when the game is on the line in overtime and shootout and the point is on the line. Like our team, the four go in, but we were not rattled. We just kept playing. I don't know if we gave up a scoring chance after we gave up the fourth goal. We just kept playing.

We did a good job there until overtime. I didn't love our overtime, certainly, but Joe — luckily for us — saved his best for there and in the shootout. That is really good. It is an important win for him and for our team, but once again, our process of how we are playing is improving.

You don't love that four go in and we have to shrink that number, no doubt, but we are playing the best that we have played here. It is something for us to continue to build on.
On whether he noticed Mitch Marner lose the puck before he scored in the shootout:
I certainly did. He did lose the puck in the shootout, but lucky for us, he was able to find his way out of that. I mean, what a play to turn that into a goal and save the game like that.