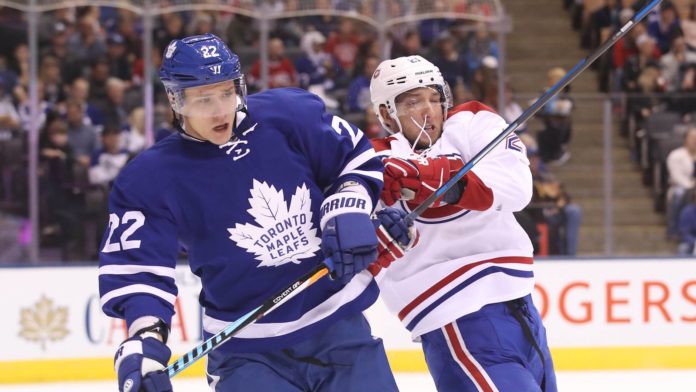 Mixed reactions to the Nikita Zaitsev contract, a look at Travis Dermott's development, Carl Grundstrom is added to the Marlies roster for the playoffs, and more in the links.
---
Nikita Zaitsev's agent, Dan Milstein, on the Jeff Blair Show
---
Leafs Links
Travis Dermott: Next in line on the Maple Leafs blue line? (MLHS)
Lou Lamoriello mentioned in his conference call yesterday afternoon that there was "one [Toronto Marlies defenceman] in particular" the organization is looking at as potentially NHL-ready for next season. We're not inside Lou's head, but anyone who follows the Marlies closely quickly thought of Travis Dermott. Earlier in the day on Leafs Lunch, Marlies head coach Sheldon Keefe suggested Dermott is the best 20-year-old defenceman in the AHL.
Sheldon Keefe on the development of Dermott, Gauthier, Johnsson (MLHS)
For a big guy, when he gets moving in the open ice, [Gauthier] can really skate. That's what he has really brought to our team here – some speed through the neutral zone. He backs the defence off and he gets us set up in the offensive end. I think that's where his success has come in terms of collecting some points.
Why did the Leafs sign a 25-year-old rookie until 2024? (The Athletic)
My sense is the answer is the Leafs believe they have a shot to win now, after the season they had and with their young players on entry-level deals. They played at a nearly 100-point pace for the last five months of the season, and they have more than $20-million cap space to play around with this summer. Overpaying Zaitsev a little now is relatively inconsequential. When it is consequential, if he doesn't perform, they likely believe they can either trade him (his no-trade clause is quite porous) or force him back to the KHL by demoting him to the Marlies.
[Paywall] Can prospect Carl Grundstrom be the Leafs' future pest? (The Athletic)
Having made the transatlantic flight from Sweden on Monday, the Maple Leafs newest prospect Carl Grundstrom would have been forgiven for feeling fatigued during his first practice with the Toronto Marlies. "I think it's going to take a couple of days to get into a rhythm here," Grundstrom told The Athletic. "But I'm sure it'll be no problem." The 19-year-old right-winger arrived in Toronto nearly a year after he was selected by the Leafs in the second round (57th overall) of the 2016 NHL Entry Draft.
Lamoriello: Maple Leafs won't deviate from 'five-year plan' (Sportsnet)
The Leafs have salary-cap space to work with, which allows them a lot of flexibility. But asked whether he might be ready to spend more money as he tries to shape his team through trades and free-agent signings, Lamoriello made clear that there's no deviating from "the five-year plan."
Cap comparables: Did Maple Leafs overpay for Nikita Zaitsev? (Sportsnet)
Zaitsev is different than many of his peers in the sense that he was an older, undrafted free agent whose first contract was a one-year entry-level deal. With that in mind, here are a handful of players around the NHL with similar contracts that Zaitsev will likely be compared to in the coming years.

Con: The Nikita Zaitsev contract probably wasn't a good one (PPP)
So there you have it. A guy who could maybe play on team's middle-four pairing. With adjustments, it appears that Zaitsev's possession impact is even quite weak for a 3-4 defenceman, but I am willing to believe that if the Leafs pushed him down the lineup, he might improve these numbers. But saying that Zaitsev is a clear number 3-4 is still somewhat speculative: he hasn't had that impact, yet.
Pro: The Nikita Zaitsev extension is just fine (PPP)
Term is the coin the Leafs had. Some players do take five-year deals at around Zaitsev's age. Gardiner did. Jake Muzzin did, Christopher Tanev did. But none of them could simply hop back to one of the top three teams in the KHL, make very good money in their hometown, and then sign as UFAs. This negotiation was different.
Zaitsev declined KHL offers to sign extension with Maple Leafs (Sportsnet)
Nikita Zaitsev's agent, Dan Milstein, describes him as "the hardest-working hockey player" you could meet and says the Toronto Maple Leafs defenceman knew hard work would eventually pay off after leaving the KHL. "He took a significant pay cut to come on an entry-level deal and play in the NHL, specifically to play in Toronto," Milstein told Jeff Blair and Stephen Brunt Wednesday on Sportsnet 590 The Fan.