After beating up on a run of mediocre opposition to start the 2018-19 season, the Toronto Maple Leafs passed their first big test of the year against the Washington Capitals on Saturday night.
Your game in ten:
1.  There was quite a bit of debate online about who was at fault for the 1-0 Washington goal on the first shift of the game. There was a lot going on there.
With the Leafs having three men deep below the goal line, it's not a great decision to pinch here if you are Zaitsev — and if you do, you have to commit and execute. That's not a hard enough play for Alex Ovechkin to make. Zaitsev's not really trying to do much of anything and is just waving his stick at him. He's stuck in no man's land — you're deep, you're beat, and you aren't getting back to save anything. He should've attacked the puck carrier or bailed out.
Rewinding it back, Marleau is looking to make a pass to the mid-slot with a space play to the right defenseman if the pass doesn't make it through. As good as he's been, Kapanen has a knack of taking himself out of the play or putting himself into a checked position. Looking for a screen/tip/jam play on this play is the wrong one; he's got a foot in the paint as Marleau is getting ready to fire a pass.
Marleau, meanwhile, needs to realize everyone is in deep and he's sending a high-risk pass to Ovechkin if it doesn't work.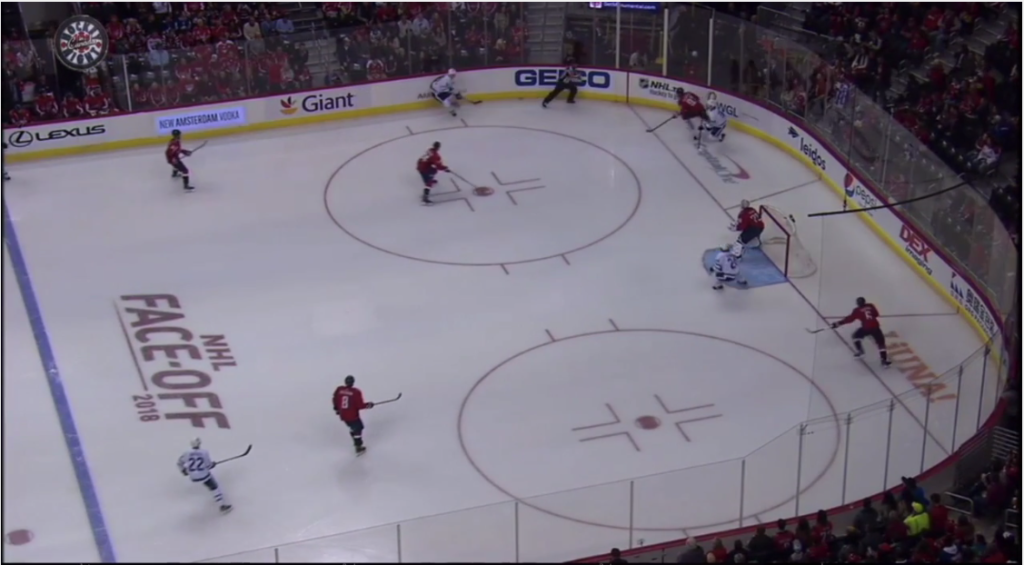 Below, Gardiner's odd trait of not being able to pivot the right way continues; he defends skating forward and then turns the long way around. Ovechkin chooses just the right moment to send the pass while Gardiner turns his back to the play. Had Gardiner been skating backward, he could have stepped up with his stick in the passing lane and might've been able to disrupt the pass properly.
There is lots of blame to go around. The Leafs play a system that tries to be aggressive generating scoring chances, and it can really fall apart if they lose their structure. That was one of those plays.
2.  Despite Toronto's high-end skill, they have struggled in recent history against "heavy" teams that are more committed to physical confrontation and can play both a skilled and heavy style. This is an area that Kyle Dubas may look to shore up ahead of the playoffs; we saw it against Washington a couple of seasons ago and again last year versus Boston.
The Leafs competed pretty well in this game — at least after the first ten minutes — in a more "playoff-style atmosphere," but they definitely don't love it when the game starts to get rough. Some of it will be learned techniques/tricks for their young players on how to play a heavier brand of hockey and how to be heavier on your stick, but it will also have to be addressed with some personnel changes on the wing, as they will be susceptible to being run off pucks by some heavier veteran teams.
On Sportsnet's intermission "headlines," Nick Kypreos spoke about Josh Anderson's possible availability in Columbus and mentioned as one of the teams showing interest. It makes sense. The Leafs should be interested in the 24-year-old as he plays with a good amount of skill, is 6'3-6'4 and 220lbs, and he plays a power game that could complement their skilled group, giving their top-nine a bit of a different look and feel.
3.  Yet another goal for Auston Matthews with the late insurance goal on a great pushback shift from his line, giving him 10 goals in six games. There is a huge deal of hype around him at the moment as he cements himself as an upper-echelon superstar not just in this market but in the league as a whole — all of it well deserved.
His scoring rates are among the best of all-time without having to resort to any manner of era-adjustments. If you want to compare what he's doing right now, think Gretzky, Lemieux, Lindros, Bossy. With the numbers he has put up since entering the league, those are the players he is pacing with right now in a league that doesn't score nearly as much as it did.
His start to this season is just a jaw-dropping run of form. He's scoring goals every possible way you can score them and it doesn't look like it's going to stop any time soon; this isn't a streaky type of goal scorer that has a trick or two that can work for stretches. He is scoring bar-down lasers, from his inside foot and outside foot, off slap shots, snap shots, wristers, wrap arounds, tips, deflections, and loose pucks/garbage around the net. It doesn't matter how, it just always seems to go in for him.
When Nylander comes back, his playmaking and goal scoring will find another level again, although that hardly seems possible right now. For as well as Kapanen has played on the top line, the puck never seems to move around in as frictionless of a manner as when Nylander is conducting play. The majority defensive zone exits, offensive zone entries, passes into the slot, cutbacks and curl-ups with Nylander on the ice always seem to happen more simply and easily.
4.  Head to head with Braden Holtby, Frederik Andersen looked the sharper of the two and was probably the best player for either team. All your teammates ask of you on this Leafs team is to keep it under three goals against and they'll do the rest most nights. He was one better than that. He made some huge saves — starting with the save on the early 2v1 while shorthanded that kept the game at 1-0, as well as some huge ones in the third with the score 3-2 — and he put himself in a position to get lucky with some posts and missed chances on Washington's part. Through preseason and the regular season, the Senators game notwithstanding, he's off to a really solid start.
Andersen's save percentage after five starts last season was .880. It's currently .899, but part of that is the nature of October hockey as he's been good in four out of five games.
5.   I couldn't help but be really happy for Josh Leivo after his first goal of the season last night.  The Leafs have given him more of an opportunity to earn his way into the lineup and he's done well to hold onto a spot on a talented and deep forward group. It was almost a full year between goals for Leivo and he's had a tough go being in and out of the lineup, but he's kept his mouth shut and head down — for the most part — while he waited for his chance, which the Nylander absence has in part afforded him.
Do goals start to come easier for him now?  Getting the game-winner from the second power play unit — especially without Nylander — is the type of thing Babcock will really relish knowing the Leafs can get production there even if the top unit doesn't have its best stuff. If Leivo can prove he's a contributor on that second unit, it's another check in the plus column that could help keep him in the lineup full-time.
Leivo is playing the Nylander role temporarily right now on the right-side halfwall as a right shot, and would likely have to be moved to the net front, with Marleau moving back into the slot role once Nylander is back (or, alternatively, Leivo as the man in the middle and Marleau at the net front).
6.  I saw some comments on Igor Oziganov's scratches in favour of Marincin being an indication he can't even take Marincin's spot on the team. The Leafs coaching and front office staffs are clearly favouring a rotation of healthy players — keeping them fresh and up to game speed, making sure they aren't getting thrown in cold and getting injured. This is a program, not a reactionary lineup decision based on play/merit.
The gap between Marincin and Oziganov is not close, in my opinion. The Leafs have found a nice bottom pairing righty in Ozhiganov who can do a bit of everything pretty well. Judging by the regular poor play of Hainsey and spotty play of Zaitsev, Oziganov is likely going to be tested in some top-four minutes down to the road to see if he can keep up against harder competition along with a quality of teammate upgrade (as good as Dermott is, this is still his first full season in the NHL and he is still figuring things out).
7.  On the topic of defence pairings, I've been thinking for a while now that Zaitsev might end up being the better partner for Dermott than Gardiner. Empirically, I see more chemistry between Zaitsev and Dermott; in the small bits we've seen, I believe they move the puck more efficiently to each other.
I also think Oziganov has the ability to be a steady defense partner for Gardiner — he won't over handle the puck, he doesn't want to jump into the play as much as Zaitsev does, and he can be deferential to his partner. The goal is to move the Leafs to something more closely resembling two second pairings rather than clear-cut second and third pairings. It may give them a more balanced look back there.
Babcock went out of his way to mention Oziganov's play in his post-game remarks when asked specifically about Par Lindholm:
"I just think he is a real good player. I thought Ozhiganov had his best game, too. Those are going to be real important pieces for us as we move ahead. Any time you can find free players, it is positive. These guys are super intelligent. Oz doesn't even speak the language but is getting better every day. They will be be a big part of things to come."
8.  Getting secondary-scoring contributions in a matchup between two deep playoff-bound teams like this is always critical. The Backstrom line played the Tavares line to a saw-off, with the edge in possession favouring Washington there. The Matthews line and the Kuznetsov line played each other 1-1, with the Matthews line taking the clear edge in possession. Those Par Lindholm and Josh Leivo goals late in the second and early in the third, respectively, were the difference makers.
9.  Par Lindholm's goal should really help his confidence, which was the aim in moving up him the lineup — playing wing has freed up his responsibilities and he's more involved offensively as he gets acclimatized to the NHL, as opposed to finding yourself in a position where you're 25 games in and still haven't scored against this level of competition while down on the fourth line. Since moving up, Lindholm's flashed some skillful moments and he rang the iron earlier in the night prior to his goal (his goal was also well taken).
You can also count Kasperi Kapanen as a secondary scorer once Nylander gets back. This was a good game for continuing to build his confidence offensively as well — a nice tip on his goal as well as his assist, in addition to his continued use of his speed to create havoc on the forecheck.
10.  He's taken a lot of heat (a lot of it deserved), so I wanted to highlight a positive in this 2v1 play by Ron Hainsey, especially in light of how poorly the Leafs defensemen have played these situations the past few years. A well-timed sweep that kills both the pass and the shot — this is how it's done.
---
Game Flow: 5v5 Shot Attempts
---
Game Highlights