The Toronto Maple Leafs defeated the Los Angeles Kings 4-1 and remain atop the league rankings in first place.
It wasn't the most skill-infused game we've seen this year. There was a lot of broken neutral zone play and there were long spells without scoring chances, but they can't all be Picassos. The Kings have stayed true to their brand of hockey, which is north-south, straight lines with deliberate movement up the ice; a little on the slow/grindy side of things.
Notes
Auston Matthews – We're not going to stop adding Matthews as a post-game talking point until he's undeserving of it and that hasn't happened yet — two assists on the night for him and obviously a big part in their win. But that doesn't tell the whole story.
Matthews has struggled up against some of the best two-way centers in the league. It was on display for all to see in the playoffs last year as Patrice Bergeron and Brad Marchand effectively neutralized he and William Nylander and last night against Anze Kopitar wasn't exactly a masterpiece by any stretch of the imagination. His possession statistics were somewhat embarrassing: 33 cf% — corsi, which is a proxy for possession — and struggled holding onto the puck through the neutral zone in his one-on-one battles with both Kopitar and Kovalchuk. In the offensive zone and defensive zone, he was better but he wasn't nearly as committed to stopping and starting on loose pucks as the former Selke winner Kopitar. On a number of occasions he was watching play looking over his shoulder rather than being committed to battling to maintain possession of the puck.
Part of this responsibility is his linemates. Kasperi Kapanen is the toast of the town because he scored twice and can apparently replace Nylander now, but he is struggling against the best players in the league in terms of maintaining fluid possession and generating two-three turns on the cycle in the offensive zone. His blazing-fast skating is obviously a thrill to watch and clearly in the realm of Larkin, Athanasiou, Eichel, MacKinnon and others as the fastest players after McDavid, but he's a player that plays with tunnel vision and things rarely go up ice without some jerkiness. He, too, hardly had the puck and was able to change the narrative on the game with a bank shot from behind the net, some rush chances, and by finishing a great Matthews pass off the rush. He's a terror on the forecheck; if he gets even one step on the D leaving his own zone, he instills panic, but his puck control skills aren't at the level of the Matthews, Marners, Nylanders, Kadris or even Johnssons on the team. He's a great weapon for the team, but he is not a replacement for Nylander.
They're scoring, they're finishing on their chances well and the Toronto Maple Leafs are winning, so this may seem like navel gazing or being unduly critical of a great start to the season for the team while Matthews is putting up historical numbers, but this is the type of play that sees you exiting the first round with your tail between your legs.
On TOR, the point is an interesting one.

In terms of adjusted even-strength shot share, they're just a slice above break-even. But they're playing "fun" and relying on their ++shooting talent to be the difference-maker. pic.twitter.com/PNOGZbC8gj

— Sean Tierney (@ChartingHockey) October 16, 2018
The Maple Leafs started last year with a 6-1 record — the exact same record they have this year — and were speed-bagging teams. They were looking unstoppable on some nights (the game against the New York Rangers stands out in my mind) but shortly thereafter, Babcock put an end to all the easy offence and tried to instill a harder checking mentality to their game with the playoffs in mind. This is a blast to watch for any hockey fan, but can you win by scoring off the rush and powerplay so much? It seems we're going to find out; a President's Trophy looks like it could be in the cards for the Leafs this season if they can maintain this form for long stretches, but it's almost a different sport in the playoffs and you're not going to see wide open neutral zones and defensive zone breakdowns so readily as we are seeing in the very early stages of the regular season.
Babcock can come across as unreasonably hard on the star players, but he also put up one of the best modern day records in the NHL with the Red Wings and had his teeth kicked in in the first round by the Edmonton Oilers. That team was so good they never had to check much throughout the year. They had the puck the whole time, they were never really in the trenches, and — no doubt — he has PTSD over letting a dominant regular season turn into big black mark on his coaching career. Perhaps this is why there is a low correlation between winning a Presidents Trophy and a Stanley Cup in the same year.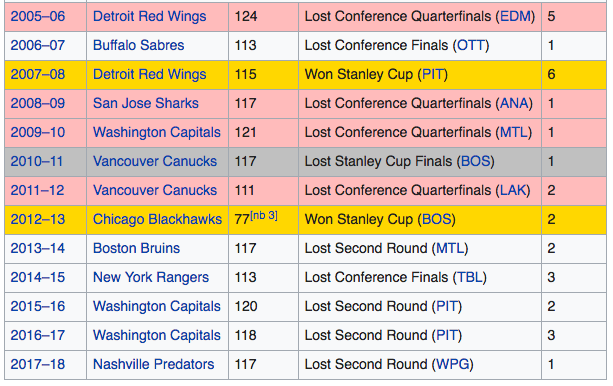 Watching Matthews rip things up on a historical level is never going to get tired, but he needs to dominate the #1 center that he lines up against each night. He can outshoot pretty well any player in the league right now (jeez… is it too early to say "ever"?) and his puck control/stickhandling requires slow motion see how he is actually beating players. He's a bull on the puck and his passing vision is really-good-and-getting-better but he needs to get better defensively. This is fun, wide-open early season hockey, but you've got to learn how to check and fight through checks, which isn't happening right now. The Leafs have been beating up on tin cans, for the most part, but the competition is going to rise and Matthews is going to have to remember what it's like playing in quicksand in the dzone and through the neutral zone like it is in the playoffs.
I don't need to tell Babcock this. The next time he seems like he's being a jerk for fun and is reticent to praise a player having a big game, in the back of his mind he knows this is one-and-done hockey in the playoffs. Last night was stick lifts and virtually no body contact in all three zones. He doesn't need to be Gary or Wendel, but he needs to dig in a bit harder.
Par Lindholm – Here's a note from the Washington Capitals review just a couple of days ago:
Par Lindholm's goal should really help his confidence, which was the aim in moving up him the lineup — playing wing has freed up his responsibilities and he's more involved offensively as he gets acclimatized to the NHL, as opposed to finding yourself in a position where you're 25 games in and still haven't scored against this level of competition while down on the fourth line. Since moving up, Lindholm's flashed some skillful moments and he rang the iron earlier in the night prior to his goal (his goal was also well taken).
Like clockwork, the goal (and the iron he rang) in the Washington game went straight to his legs and he was really flying last night. Defensively, he was taking economical routes and was able to suck in players + strip them. He was quick in transition and was skating into and through traffic well almost all night. To me, he's a center, but this is a nice way to let him feel the league out and it also helps Kadri to not have to shoulder the load defensively for the entire line by having a defensively conscious center playing on his wing. Babcock has been pumping his tires since before preseason began and with good cause. This is a great free agent signing out of Europe — historically an area that was a weakness in terms of identifying talent for the Maple Leafs organization — but with Soshnikov (a nice bottom 6 player that could never stay healthy), Zaitsev (leading the D in ice time), Aaltonen (won an AHL championship and was very close to an NHL job, just not big or strong enough for the NHL) and now Lindholm, they have been mining and finding NHL talent slowly but surely. Oh, and let's not forget…
Igor Oziganov … he was playing with confidence: gapping up to oncoming rushes in the neutral zone early and often, he made quick, reliable breakout passes, he was intelligently physical using it to separate puck from player but made sure to not take himself out of the play. He was staying tight with the play, helped support the rush and made some nice, elusive plays while holding the line. It's going to be interesting to monitor his ability to adapt to the league and to see how much he can improve once he learns the league, the (tricky) system, language, teammates, etc. He's getting matchups against soft competition (mostly 3rd and 4th liners) and it will be interesting to see how he progresses once he starts playing against harder competition.
Travis Dermott had his best game of the year last night. He was defensively and offensively dynamic, his reads were great, his ability to turn the corner and make plays up ice were great, and that really helps Oziganov when he can problem solve a not-quite-good D-to-D pass that ends up jamming him or ending up in his feet. He led the team in possession and constantly turned defence into offence.
Garret Sparks – He was shaky to start; he got beat clean on the first shot on net by Tyler Toffoli, but it hit the post. He made some routine shots look difficult but as the game wore on, he got into more of a rhythm and played better as he got more run support with the Leafs started potting more goals. The Kovalchuk goal is one he'd like back, but Los Angeles, while territorially controlling the game, generated little in the way of dangerous scoring chances.  As noted in the game preview, this was something to be expected:
The Kings aren't a high-scoring team — they've only scored 11 goals this season through five games, a year after finishing in the bottom half of the league in goals for — and they play a more methodical, straight-line, get-it-deep, cycle-to-the-point style of hockey which produces quite a bit of rubber towards the net from low-percentage areas. It's not the worst circumstance for a goalie looking to get some touches and grow his confidence antlers at this level."
Also, the LA King's powerplay has — somehow — not converted once this year and this is another area where you're putting an inexperienced, scrambly goalie learning the league in a position to succeed — at home with last change against a slower, top-heavy, struggling team while rested.
Zach Hyman – We've been beating this drum for three seasons now: this guy needs to play on the right somehow (the question is: whos position does he take? Tough call). He's constantly tasked with playing on his offhand which is the domain of highly-skilled forwards, but when you see him making plays down the right side of the ice, it's a more simplified game for him and he can start to play the game with more pace. The completed plays start happening with more regularity and he can be more than just a forechecker, net front / goal mouth crasher.
A couple of nice examples here:

Jake Gardiner, Nikita Zaitsev really fought the puck last night. Here's Zaitsev's first touch of the puck:

Ron Hainsey and Morgan Rielly got filled in from a shots against perspective. Hainsey, in particular, is looking like a beer leaguer out there with passes going through him, players going around him and the fundamentals of skating and handling the puck seemingly escaped him. To compound matters, his confidence is surely taking a hit as he realizes he can't get to spots on the ice like he used to be able to. The Leafs defence gets a bad rap, but really it's mostly the right side that is having issues. Hainsey and Zaitsev struggled with a number of facets of the game, to the point that Oziganov looks like he could be a suitable replacement in the near future. Not ideal.