I wasn't planning on writing about Timothy Liljegren and Rasmus Sandin for my second consecutive article, but they both impressed this weekend, so here we are.
On the NHL side, the Toronto Maple Leafs went 1-1 since my last piece. Losing to the Boston Bruins with a depleted lineup during the second half of a back-to-back does not concern me; this team looks like it will be awfully good when Auston Matthews and William Nylander finally return.
Now onto today's topics.
A Big Weekend for Timothy Liljegren and Rasmus Sandin
---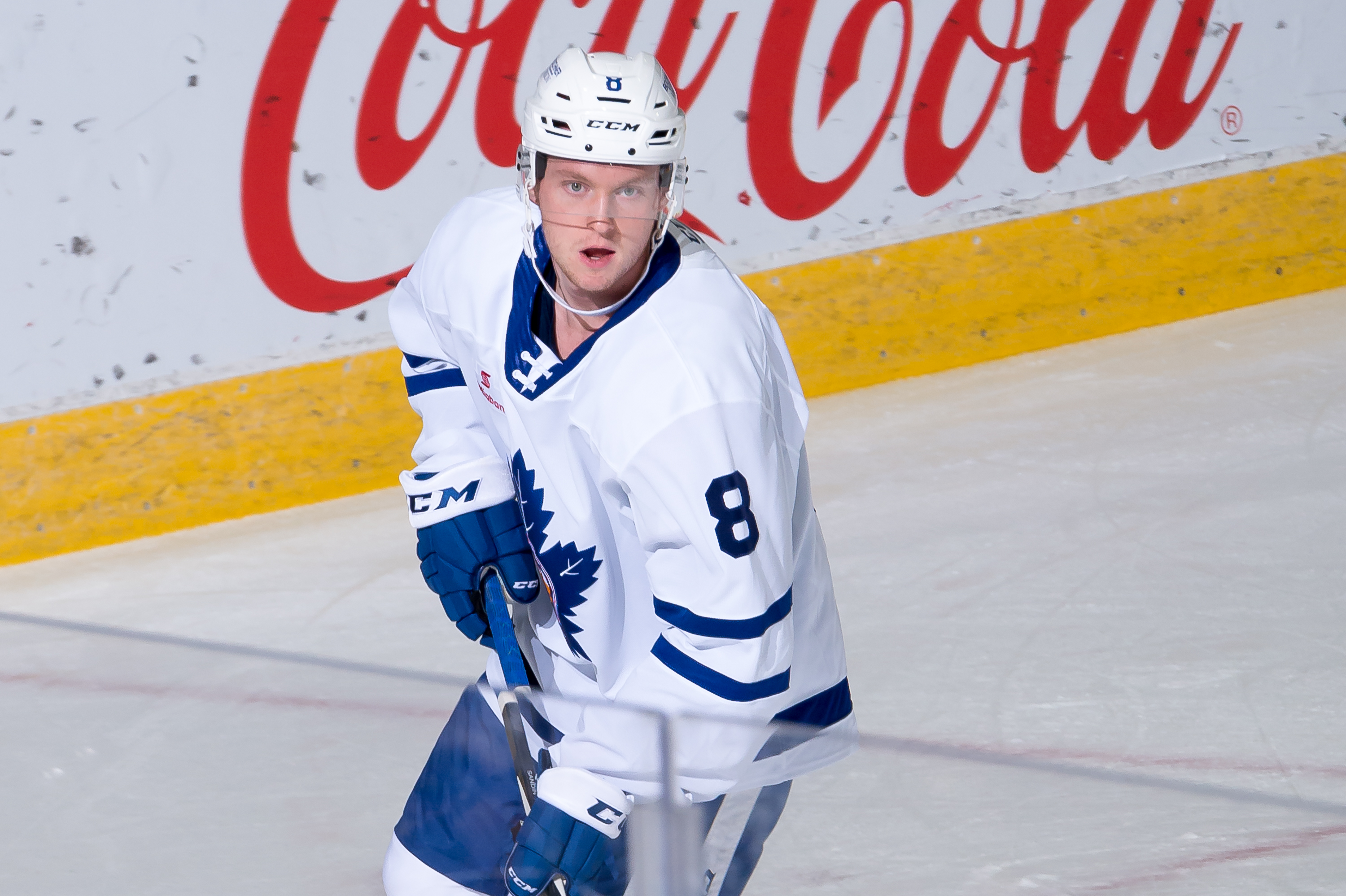 Timothy Liljegren added a goal and an assist in the two games against Belleville, while Rasmus Sandin notched an assist on Friday before hitting the crossbar on Saturday. While the offense is nice to see, it's not the box score stats that impressed me. It was their overall play.
Beautiful stretch pass from Liljegren nearly leads to a goal: pic.twitter.com/Wr3yu8t8fu

— Kevin Papetti (@KPapetti) November 11, 2018
Timothy Liljegren scores to tie the game at 1 pic.twitter.com/HisBJStKm3

— Kevin Papetti (@KPapetti) November 10, 2018
The Marlies gave up nine goals against in these two games, but most of the damage came when Andreas Borgman's pairing was on the ice. Liljegren wasn't overly mistake-prone, and he sure looked more confident as a puck carrier compared to last year. His lateral quickness allows him to cover plenty of ground, so his development will largely be tied to him improving in small spaces both as a puck mover and as a physical presence.
Liljegren played well this weekend, but it was Sandin who stole the show for me. He's not the fastest guy on the ice, and it takes a few games to fully appreciate his skillset, but boy has he been good. Sandin is not a regular on the power play or penalty kill yet, so he's not the team MVP quite yet, but he's surprisingly been one of their better defenders at five-on-five.
Rasmus Sandin wins an awful lot of puck battles for an 18-year old pic.twitter.com/nLp1qbModd

— Kevin Papetti (@KPapetti) November 11, 2018
Rasmus "Dermott of the Marlies" Sandin has a forechecker on his tail, then whoop, nevermind: pic.twitter.com/ds8SBhCEw7

— Kevin Papetti (@KPapetti) November 10, 2018
Nice entry from Sandin here: pic.twitter.com/bwb0pZB0tz

— Kevin Papetti (@KPapetti) November 10, 2018
It's easy to forget that he's 18. He doesn't back away physically whatsoever, and he consistently makes smart decisions with the puck. Sandin welcomes contact and even initiates it to slow down opposing forecheckers and create more time and space. He specializes in the five-to-ten foot breakout pass, and his strength on the puck keeps his coaches from panicking when he holds onto it and takes his time to establish a breakout.
Sandin rarely shoots from low-danger scoring areas and he keeps the cycle going with quick and smart passes. I think he's a better passer than Liljegren at this point, and he wins more battles, so he certainly has the edge in terms of his play in tight spaces.
Everyone who plays with him ends up getting the puck with tons of time and space. There was a play on Friday where he received the puck just inside the offensive blueline, weaved his way deeper into the offensive zone, and sent a no-look backhand pass back to Carl Grundstrom. Since no one was anticipating a no-look backhand pass from a defender, no one was within ten feet of Grundstrom when he got the puck back.
There was another play on Saturday where he skated over to the right-side to intercept a pass at the red line, weaved his way into the offensive zone, then sent a cross-ice, back-hand pass all the way over to Mason Marchment, who was streaking down the left wing. Once again, no one could anticipate the backhand pass, and Marchment had all the time in the world to make something happen.
He defers to his partner often, but he's enough of a threat as a puck mover to draw forecheckers towards him before he dishes it off. It's refreshing to see a defenceman who doesn't defer to the off-the-boards-and-out breakout strategy and is comfortable and effective at using the middle of the ice. He doesn't have superstar potential, but the Leafs have to be really happy with what they've seen from him thus far.
The Standout Forward Duo on the Marlies: Trevor Moore and Mason Marchment
---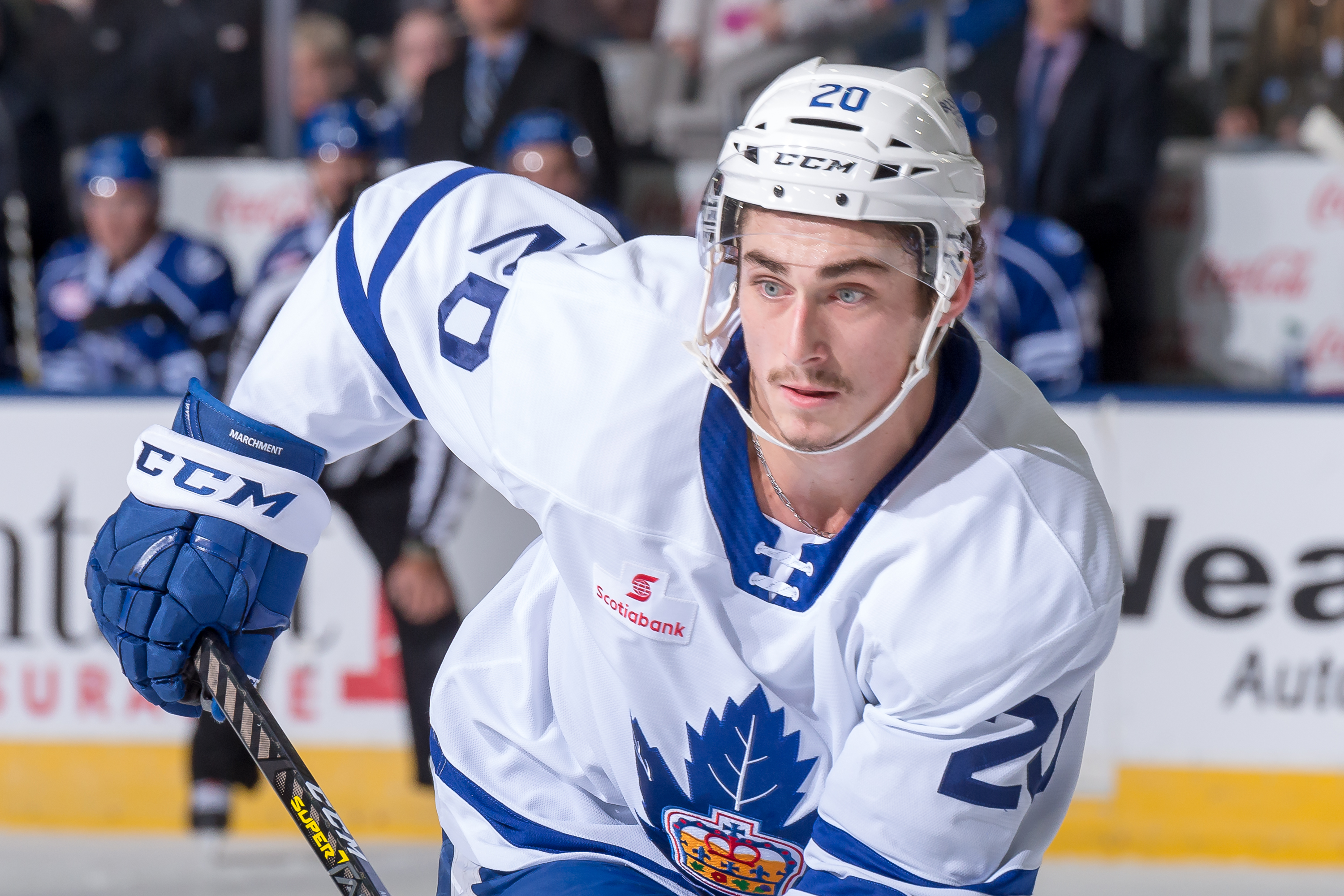 The Marlies have two high-end AHL centers in Sam Gagner and Chris Mueller, and while it's highly unlikely that either forward plays for the Leafs, it's important to note that these are two of their most valuable forwards. Adam Brooks, who did not play on Saturday due to issues with his heart rate, was the third best player on his line, so Leafs fans are probably more interested in the team's wingers.
Trevor Moore and Mason Marchment play together and the Marlies always have the puck when they are on the ice. They both generate plenty of takeaways and they work hard to force turnovers and win battles. Moore is the better transition player, is an asset at both ends of the rink, and often looks too good for the AHL. He could probably step into a fourth line role at the NHL level today and do reasonably well.
Marchment is turning into a valuable net-front presence on the power play as he's 6'4″ and a talented finisher around the net. He scored twice on the man advantage in the third period of Friday's loss to Belleville — and put six shots on goal — before recording another two-point game on Saturday, taking him up to seven points in seven games this season. The 23-year-old could potentially play in a fourth line role someday while helping a second powerplay unit. He's averaging over three shots per game and he is one of the league's best agitators.
Thoughts on the William Nylander Trade Rumours
---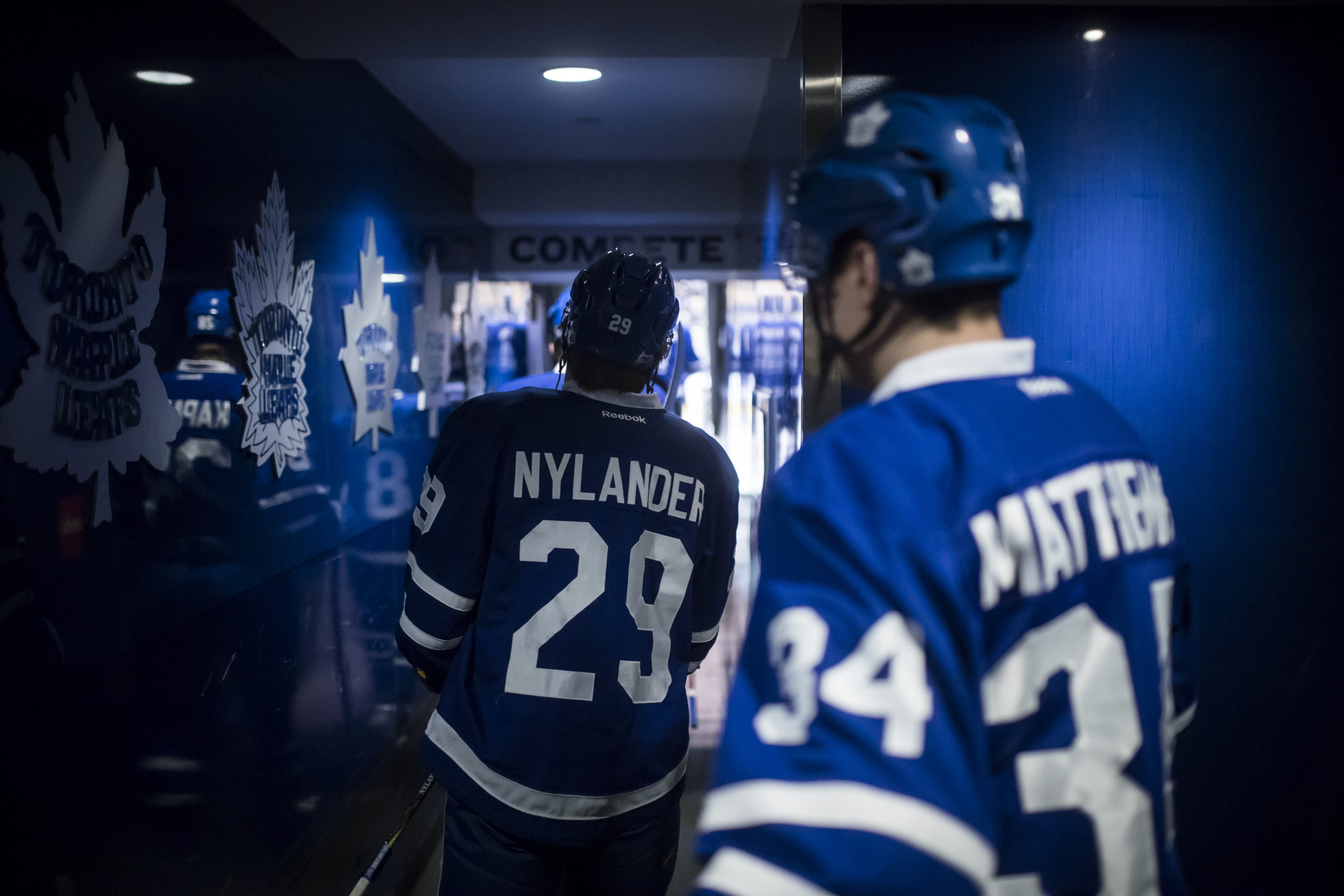 According to Elliotte Friedman, the Leafs have asked teams to indicate what they would offer, and who is off-limits, in a potential William Nylander trade. Given that we are now in the middle of November, this should come to no surprise. Kyle Dubas ought to know every option that is available to him, and the team wouldn't have much leverage heading into November 30th if there was no threat of a trade.
The Leafs will have more options if a team makes a strong offer for Nylander. For example, if the best offer is a one-for-one deal for Brett Pesce, the Leafs are more likely to cave — at least to some degree — to Nylander's demands. If this gets down to the final hours, Dubas wants to be able to compare his options.
There is a common myth that teams will only low-ball the Leafs given their situation. I do not buy this. There are 30 other teams in the NHL, and every last one of them should have at least some level of interest in Nylander. Players like him simply aren't available very often, and while some teams may low-ball you, the highest bidder probably makes a somewhat reasonable offer.
That said, I would be quite surprised if the Leafs traded Nylander, even after asking teams for their best offers. Personally, I don't get the point of complaining about rumours and speculation. The most likely outcome still seems to involve Nylander signing in Toronto, so let's wait until we know the final outcome before we yell at the Leafs.