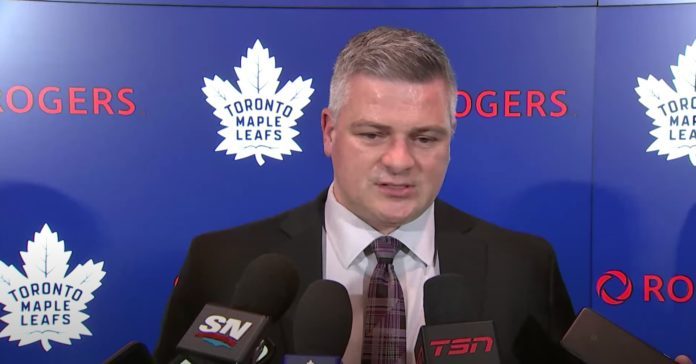 Sheldon Keefe addressed the media after his team's 6-2 win over the Florida Panthers which improved the Leafs' record to 43-19-9.
---
On the team's response after the loss to NYI:
I thought they did a good job. We went out and started like we did the other night. Tonight, we stayed with it.
On Matt Murray's performance:
I thought he looked great.

First, our guys did a really good job in front of him. I think that is important. It is a very, very dynamic offensive team that we played against. We really limited their opportunities.

Any time they did break free or look dangerous, he made it look easy. I really like that.

Even the first one that they got goes in but not really because he stays with it. He tracks it. He is there. He looked really good.
On the team's ability to close out the win against a desperate team:
Very important. We have been talking a lot about that: putting ourselves in a position to win and then finishing the job. We have had some great efforts like this one here.

Obviously, in Ottawa, not closing that one out the way that they did stung. We wanted to do a better job tonight.

Again, it is a great challenge because of the weapons that they have, how they play, and how skilled they are. I thought the guys did a really nice job of giving them nothing in the third period. Through that, you get your own opportunities to extend the lead. We did, so it was great.
On William Nylander following up a better effort in New York with some production tonight:
He was skating again, moving the puck well, and he goes to the net to get a goal.

I thought John Tavares was excellent again tonight as well. When those guys are playing well individually, the line is going to get going.

Between those two and Bunts gets one on the five-on-three, it is all three of them getting a goal. Kerfoot gets on the board. Obviously, Auston has a big night. It was a great collective win.
On why Calle Jarnkrok has been a good complement to the top line:
He has fit in really well. His skill set — he plays with poise, he can make a play, he is willing to shoot the puck, and he gets himself in good spots to shoot it. He is not afraid.

I am not going to say he doesn't care that he is playing with Auston and these other guys, but when he is in a spot to shoot and score, he is going to shoot and score. You like that.

His game is so efficient. He forechecks. He tracks. He is good on the defensive zone walls. He works. He plays a smart game.

One of the things that sometimes you don't think about is that if you are going to play with Auston and Mitch, you are going to get really difficult matchups. It is not just about being able to make a play, score, or produce. You have to be able to play against the other team's best people.

Jarny does that for us no matter where he is in the lineup. It makes sense to me that he has done a good job in that place.
On the team finally getting a five-on-three power play for the first time this season:
It has been a long wait for one for sure. We were glad to get it. It doesn't go in the way you kind of draw it up, but it is nice that the guys came through. It is an important time in the game.
On getting good depth minutes out of the lesser lights in addition to the production from the stars:
That is what you are looking for, right?

That is part of what you are looking for with being healthy. You give Rielly the night off tonight, so you are going to lean on Gus a little bit more. It is a good chance for him to get comfortable and show his skills.

I thought he moved the puck very cleanly on the power play. He played more minutes at five-on-five, too. He had the penalty in the third period, but I thought he did a good job.
On whether there could be more rest nights coming similar to the Morgan Rielly night off:
We will look at it. With this little phase of the schedule for sure, it is something we have talked about. When Kyle and I met with all of the defensemen a week or two ago and told them this was going to be coming, we have gone down the list of guys pretty much here. It has been a busy stretch of the schedule.

As I said before the game, Rielly just played five games in nine nights. This is a good break for him. We have a back-to-back coming up here, so I think you will see more of that trend continue.