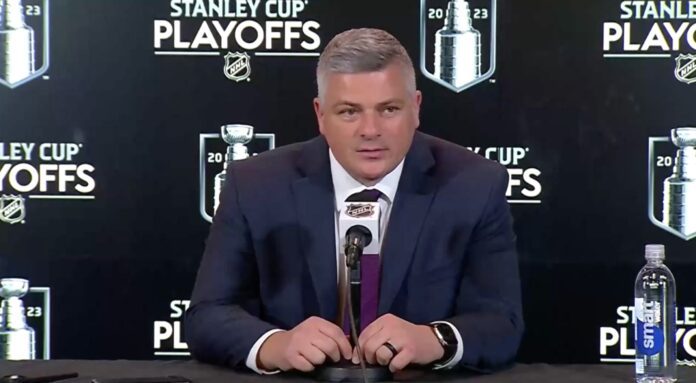 Sheldon Keefe addressed the media after his team's 7-3 loss to the Tampa Bay Lightning in Game 1 of the Eastern Conference Quarterfinal series.
---
On what led to the team's slow start:
Hard to say what led to it.

There were some uncharacteristic goals against there where we were loose around our net. That has been a strength of ours all season long, both in our goaltending and managing rebounds and in our defending on the inside. Those two tap-ins that we give there are uncharacteristic for us.

They certainly won the battles around the net tonight.
On whether there was nervousness or tentativeness amongst the team:
I certainly sensed it in the game. We were on our heels a bit early on there. It looked like Sammy was fighting the puck in net early on. He has been in such a groove that to me, it was maybe a sign of that.

I don't think nerves had anything to do with why we don't defend our net and allow a guy to walk out from below our goal line. Those are all things where we are as good as anybody in the NHL at defending that area of the ice. It didn't happen tonight.

That is disappointing, but I think it would be too easy to chalk it up to nerves at this point.
On the Michael Bunting match penalty for a hit to the head:
In terms of the call, I don't have a whole lot of things on that. Bunts, to me, is trying to set himself up to win a race for the puck. It got away on him. The guy wasn't expecting it. I am sure Bunts is expecting a battle in that situation, and he didn't get one.
On the failed goaltending interference challenge that led to Tampa's 6-2 goal on the resulting 5-on-3:
I felt that the goal that we were challenging in itself was perhaps the back-breaker and game-breaker. That would be really hard to come back from that point.

We didn't look at it as a high-percentage challenge for sure, but there is one angle that you can see clearly from the back that Sammy's foot is definitely impacted by some sticks coming in around his pad there. You can see his foot gets jarred.

We saw something there. To me, at that point, even if it's a 5-10% chance… Those are so hard to call. It's one of the hardest ones we've had to call all season. I just thought given where the game was at, if there was any chance we could get that goal back, we maybe have a chance to come back in the game.

That [5-2] goal there — now you have to get six to get back in the game. To me, I didn't look at it like we had a lot to lose in that situation.
On whether Joseph Woll is in consideration to start Game 2 or if it's too early to know:
It is too early to know.
On whether Ryan O'Reilly is a veteran voice he will lean on after a tough loss:
Yeah, sure. He was a good voice all through the game, too.

Listen, it is a playoff series. We came in here on the top of the world after Game 1 last season. We felt great about ourselves. Before you know it, you come back after Game 2, and you are asking the same kinds of questions.

It is the nature of a playoff series. It is going to be on us to respond.
On the performance from Auston Matthews and Mitch Marner:
I thought those guys were good. I thought they had a lot of jump. It was the one group in the first period that was consistently spending time in the offensive zone for us.

At five-on-five, there was really no rhythm to the game. It was really tough that way. But I thought those guys were good.

They made some plays through the game. They scored a goal in the third period. Obviously, at that time, it is too late.

Bunts had some jump early in the game, too. I thought those guys were fine.

It was almost a full period of the game played on special teams tonight. The five-on-five play was tough to judge anything on in that sense.