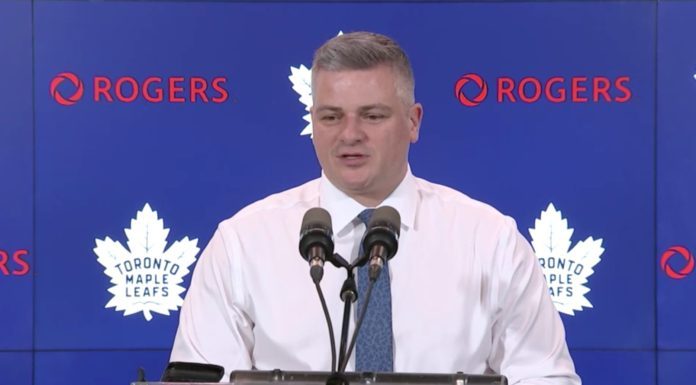 Sheldon Keefe addressed the media after his team's 5-4 loss to the Montreal Canadiens in the sixth game of the 2023 preseason.
---
On what the team can take away from the game after the lead slipped away late:
Hopefully, they leave pretty bitter with how the game finishes up. Whether it is preseason or not, if you have a lead, you have to take care of the game and win the game.

Just a sloppy game, not taking care of the puck well and being a little too cute with it. Those are things that — preseason or not — you like to think we're past a lot of that stuff. We weren't tonight.

We have time to get that fixed.
On Guy Boucher's changes to the power play:
I think they have been good. I really liked the goal. I thought we had a lot of chances today.

I thought we overdid it a little bit in terms of shift length and overextending our shifts. That ended up costing us at the end of the second period. We were flirting with danger there. That's a detail to clean up.

On that particular power play where we got scored on, if I am not mistaken, I don't think the puck left the zone the entire time until that time. Still, there is a lot to work through.

It is the second preseason game for a lot of the guys that are on that power play. It was the first time together with the four forwards, in particular. Getting back into that, in terms of the things Guy wants them to focus on… We will take away a lot of positives with the power play today except that we didn't score enough. We had some really good scoring opportunities and didn't get it over the line.
On Auston Matthews' penalty-killing shifts so far:
Second game, so he hasn't had a lot of time on it. It is a little early. He had a couple of his best scoring opportunities tonight while shorthanded. Pulling the puck out of our net while shorthanded is not a good thing. That is stuff we will continue to work through with the more reps he gets.
On Max Domi's penchant for penalties in preseason so far and the balance between playing with an edge and avoiding the penalty box:
It is a fine line. The penalty tonight — he got on the hands there with his stick, but I really liked his effort on that one coming back and moving his feet. He was all over it. That is the kind of stuff you can clean up.

I would rather have to tone a guy down than kick him in the ass to get him going.
On the Gregor – Kampf – Reaves line:
I thought that line was good tonight. They got the goal, but I thought they had some good shifts. They defended well. Not a lot went bad when they were out there. I was happy with that group.
On why the team-bonding trip to Gravenhurst this week will benefit the group and whether Fraser Minten and Easton Cowan will join the group on the trip:
We have a lot of new faces. We haven't spent a lot of time away from here together. It is one of the things that doesn't come out of preseason. The guys who went out to St. Thomas spent the night in London there, but other than that, you're here. There are just day trips [for the games].

Spending a little more time together is good. Over the couple of years that we have been here, we find it really helps guys come together and get to know each other better. There are so many new faces.

Minten will come with us on the trip. Cowan will not. However, when we come back, Cowan will join us. He is not going anywhere.
---
Toronto Maple Leafs Lineup 
Forwards
#59 Tyler Bertuzzi – #34 Auston Matthews – #16 Mitch Marner
#11 Max Domi – #88 William Nylander – #89 Nick Robertson
#23 Matthew Knies – #91 John Tavares – #28 Sam Lafferty
#18 Noah Gregor – #64 David Kampf – #75 Ryan Reaves
Defensemen
#44 Morgan Rielly – #78 TJ Brodie
#22 Jake McCabe – #37 Timothy Liljegren
#2 Simon Benoit – #84 Mikko Kokkonen
Goaltenders
#35 Ilya Samsonov
#80 Keith Petruzzelli
---
Montreal Canadiens Lineup
Forwards
Caufield – Suzuki – Anderson
Harvey-Pinard – Dach – Slafkovský
Pearson – Monahan – Gallagher
Heineman – Evans – Ylonen
Defensemen
Xhekaj – Kovacevic
Norlinder – Savard
Harris – Mailloux
Goaltenders
Allen
Primeau
---
Game Highlights: Canadiens 5 vs. Maple Leafs 4 (OT)