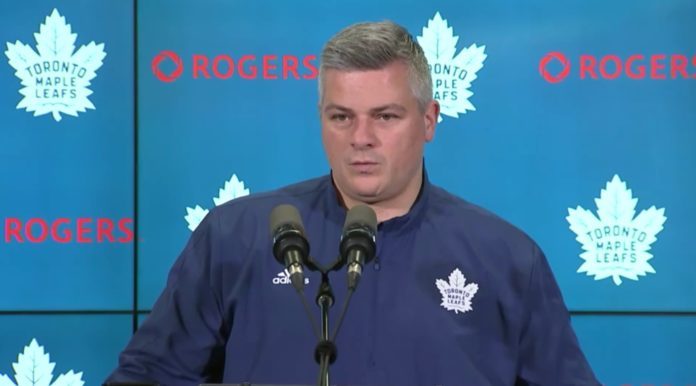 Ahead of Wednesday's game against Ottawa, Sheldon Keefe discussed Matthew Knies' successful promotion to the top line against Tampa, Max Domi's fit at the center position, the penalty kill's struggles through 12 games, and much more.
---
Practice lines – Nov. 8
Lines at Leafs skate

Knies – Matthews – Marner 
Bertuzzi- Tavares – Nylander 
Robertson – Domi – Jarnkrok 
Gregor – Kampf – Reaves 

Rielly – Brodie 
Giordano – Klingberg 
Lagesson – Benoit 
McCabe – Lajoie / Timmins

Woll 
Samsonov

Host Senators tonight @TSN_Edge

— Mark Masters (@markhmasters) November 8, 2023
---
What did you like about how Matthew Knies fit into the top line with Auston Matthews and Mitch Marner? Is there something about his personality that helps him hit the ground running with those two?
Keefe: I would just say he is a confident guy. He is not intimidated by that. That also was on display when he came into the playoffs. The moment, and everything associated with being a Leaf and playing in the playoffs, didn't seem to bother him. He is a confident guy. We have no issues there.
In terms of how it fits and why it worked, it is the most tempo and pace Knies has played with in terms of his hunger to get the puck back, move his feet, get on top of the puck, and win puck battles. That is the best we've seen him in that regard.
Maybe the responsibility of playing with those guys brought out the best in him in terms of wanting to do his part for them. He did that and then some. It is terrific to see.
Morgan Rielly was running the top power-play unit against Tampa Bay. It looks like John Klingberg was back there in practice. Why the switch back?
Keefe: As we have gone through it, we have done it a couple of times. Guy [Boucher] looks at it. We have different looks with a left-hander and a right-hander. It is less about the individual and more about some of the looks that come from a lefty and a righty based on what we want to accomplish on the power play.
We made a switch in the game the other night, too, and Klingberg was back with that group later in the game for the same reason. We just wanted to get a righty with a different look we were trying to exploit.
Those are more of the discussions we are having: What is the better fit that way?
What do you need to do to get the penalty kill back on track?
Keefe: We need to execute better. It started with some of the new guys and working them in. We have some guys who have a lot of experience with it and have made mistakes that we don't expect them to make. Part of that is that with those guys.
There is also getting more reps in the practices. We haven't had a lot of that this season. It has been a bit of a change for us. For a lot of teams in the league, it is hard to practice the penalty kill because what you are doing with your team is different than what you will see with the opposition and such.
You can work on different details and get the reps when you are going against your own team and then make the adjustments through video. We have done less of that as a group. We are going to try to rev that up and get that going.
With Guy Boucher coming in here, his preference a lot of the time is to practice our power play at 5-on-0 and not do it against defenders for the same kind of reason. Our penalty kill kills a lot differently than the opposition might. We have changed a little bit, and part of that is affecting us a little bit as we have seen.
We didn't think it would have as big of an impact, and I personally don't think it should. We have some guys who make their living because they kill penalties and do it well. We expect them to be better at it. In terms of how we can help them, that is one way. We will increase our reps on that.
Do you see Max Domi as a long-term option for you at center?
Keefe: He has played it before, right? He played an important role in Dallas at the most important time of year and played down the middle of the ice. He has done it at different times.
If I just take the one-game sample, I would say yes. If he can play like that, it can absolutely work for us. But we will take it a game at a time. If he can play like he did the other night — maybe center frees him up to skate the way that he did and have the puck on his stick as he did — it will help his overall game no matter where we use him as he finds that rhythm.
It is certainly a nice option to have. It worked the other night. We will stay with it.
What did you think about Simon Benoit's season debut against Tampa Bay?
Keefe: He was really good. A big guy who got in the way and closed space quickly. He has some good mobility and can close that space. He does it physically. He comes in, he finishes the play, and he finishes the check. He had very simple puck movement — on and off his stick and out of our zone. He moved it up.
He played a pretty simple game but did it effectively. He gave us really good minutes. He ended up helping on the penalty kill, too, and giving us minutes there. For a guy who hasn't played a lot, missed a lot of camp, and is a new guy here, I thought he did a really nice job.
Both he and Lagesson have given us lots.
Ilya Samsonov was out on the ice early today. What is the process for getting him back on track?
Keefe: Just putting in the work. It is the only way to get through it — to continue to work at the consistency. We talk about consistency in all areas of the game, but the goaltending position is inherently more technical. It requires precision, consistency, and a plan for that. It is just about continuing to work on that foundation.
How close is Conor Timmins to a return?
Keefe: I wouldn't say he is close at this point. It depends on how you describe close, I guess. He will come with us to Sweden and start to ramp up in practices there.
I don't think there is a plan for him to play anytime soon or on that trip, but that is when you will start to see him. Today, a morning skate is not a real practice. He is not ready for full practice yet, but that is the next step for him next week.