The 2023-24 edition of the Battle of Ontario kicks off on Wednesday night as the Maple Leafs look to build on the momentum of a big losing-skid-halting comeback win over Tampa Bay (7:00 p.m. EST, Sportsnet). 
After entering the year with optimism surrounding new ownership off the ice and playoff expectations on the ice, the Senators arrive in Toronto during a tumultuous time for their franchise.
Despite a 3-1-0 start, the Sens have now gone 4-6-0 in their first 10 with terrible defensive and goaltending numbers, lost Shane Pinto for 41 games due to a gambling-related suspension, lost Thomas Chabot for four-to-six weeks due to injury, forfeited a first-round pick after the league's investigation into Pierre Dorion's failure to disclose Evgenii Dadonov's no-trade list during a trade back in 2021, and subsequently fired Dorion. The home crowd in Ottawa has been vocalizing "Fire DJ (Smith)" chants for which captain Brady Tkachuk reprimanded his own fan base after the team's most recent loss to the Lightning.
Got all that?
The Leafs' 6-4-2 start hasn't exactly lived up to fan expectations in its own right, but it certainly doesn't hold a candle to the Senators' early tumult. Toronto's improbable comeback win from 4-1 down against Tampa has quieted the noise about GM Brad Treliving's offseason work and Sheldon Keefe's coaching job for the time being. Goaltending and defensive concerns aside, Keefe's shifting of Matthew Knies onto the top line and Max Domi into the middle of the third line alongside call-up Nick Robertson paid offensive dividends and gave the Leafs their best-looking three-line attack of the season to date.
In recent history, these matchups have often been high-scoring, and with neither team's defensive or penalty-killing numbers up to snuff in the early going plus the injuries on both blue lines, there is the potential for offensive fireworks tonight. Joseph Woll is playing the best of any goaltender in either organization at the moment, though, and this is a good time for the Leafs to start rediscovering the organized five-man defensive structure — and competent penalty kill — that has been a hallmark under Sheldon Keefe and Dean Chynoweth during recent seasons.
The Leafs' lineup is expected to remain the same as Monday's vs. Tampa Bay only with Woll starting in net. Defenseman Jake McCabe appears not quite ready to return from his groin injury, but expect to see him back in the mix for the weekend games.
---
Game Day Quotes
Sheldon Keefe on the challenge against a struggling Senators team:
Ottawa teams always bring their best against us. Regardless of what is happening with them, that is what we expect.

In terms of what they have been going through, it is not unlike us in that they're trying to put together a good game.

Their schedule probably couldn't have lined up any better than it has with the practice time. They haven't played games, and they can hunker down at the hotel to stay focused and ready. We are expecting their best, no doubt.
Max Domi on shifting over to center vs. Tampa:
Both [Robertson] and [Jarnkrok] were pushing the pace. When you're in the middle of the ice, it frees you up a little bit with your speed.

Naturally, I have played a lot of center in the last few years of my career. It comes a little easier in terms of being able to maintain your energy and your speed. There are a lot more puck touches and the ability to make plays from the middle of the ice.

I enjoyed it for sure. Something to build on.
Domi on the initial chemistry with Nick Robertson:
We were getting the give-and-go game going a little bit. He was giving me the puck in areas. He knows I am more of a passer and he is a trigger guy. I told him to find his spot, and I'll find him. Whenever he gets the puck, shoot it. I thought he did a great job.

When you look at the first goal Jarny scored, that is basically exactly it: find him in a soft spot there, and a great release. That is a heavy shot. He can shoot a puck. It is tough for goalies to handle that, and it popped out to Jarny. That was a big goal for us.
Matthew Knies on his role complementing Auston Matthews and Mitch Marner:
I just want to get the pucks off the wall and earn those pucks back. That is a key to success for us right now — get it off the wall, get it in the middle, and be around the net creating chaos. That is where our goal-scoring ability comes in.

Let them dance. Let them do the work. It is my role to be around the net, screen the goalie, do the little things for them, and make life a little bit easier on them.

They are really dangerous with the puck, so it is my goal to get them the puck as much as possible. They can make plays. I just have to find myself in good areas so they can find me or put it in the back of the net.
DJ Smith on the challenge defensively against the Leafs:
Their power play is really good. It always has been really good. You cannot take penalties.

They have some real offensive players. We have to be able to check it back. We have to be able to play in the offensive zone to limit the amount of time in our zone. When we are in our zone, we have to be sharp and on our toes.
Smith on the potential return of Artem Zub (game-time decision) on the Ottawa blue line:
He is a guy who has played a lot of games and can really defend. He is going to help the penalty kill. He is going to help the breakouts and the rush against.

He hasn't played in a while, but he is a guy who can eat a lot of minutes and is a very solid defender.
Brady Tkachuk on the fallout from his comments about the Ottawa fans needing to stay behind the team:
I kind of deleted my social media, so I haven't seen anything. Of course, you see it on the TV, and I guess I'll just address it now.

I said it and I moved right on. My focus has been on Toronto ever since the game. For me, it is important to move forward to the next opportunity, and you can't dwell on the past. I said what I said. You can't hold onto things. The task at hand is Toronto, who came back, had adversity and won against Tampa. It is going to be a tough task.

The belief I have with this group and how much we want to win for not only ourselves but the community and the fans… We are all in this together. That is what we want to accomplish. The best part about it is that I know we are going to do it. The confidence and belief are there. Every day we are getting better. I have all the faith in this group.
---
Head-to-Head Stats: Maple Leafs vs. Senators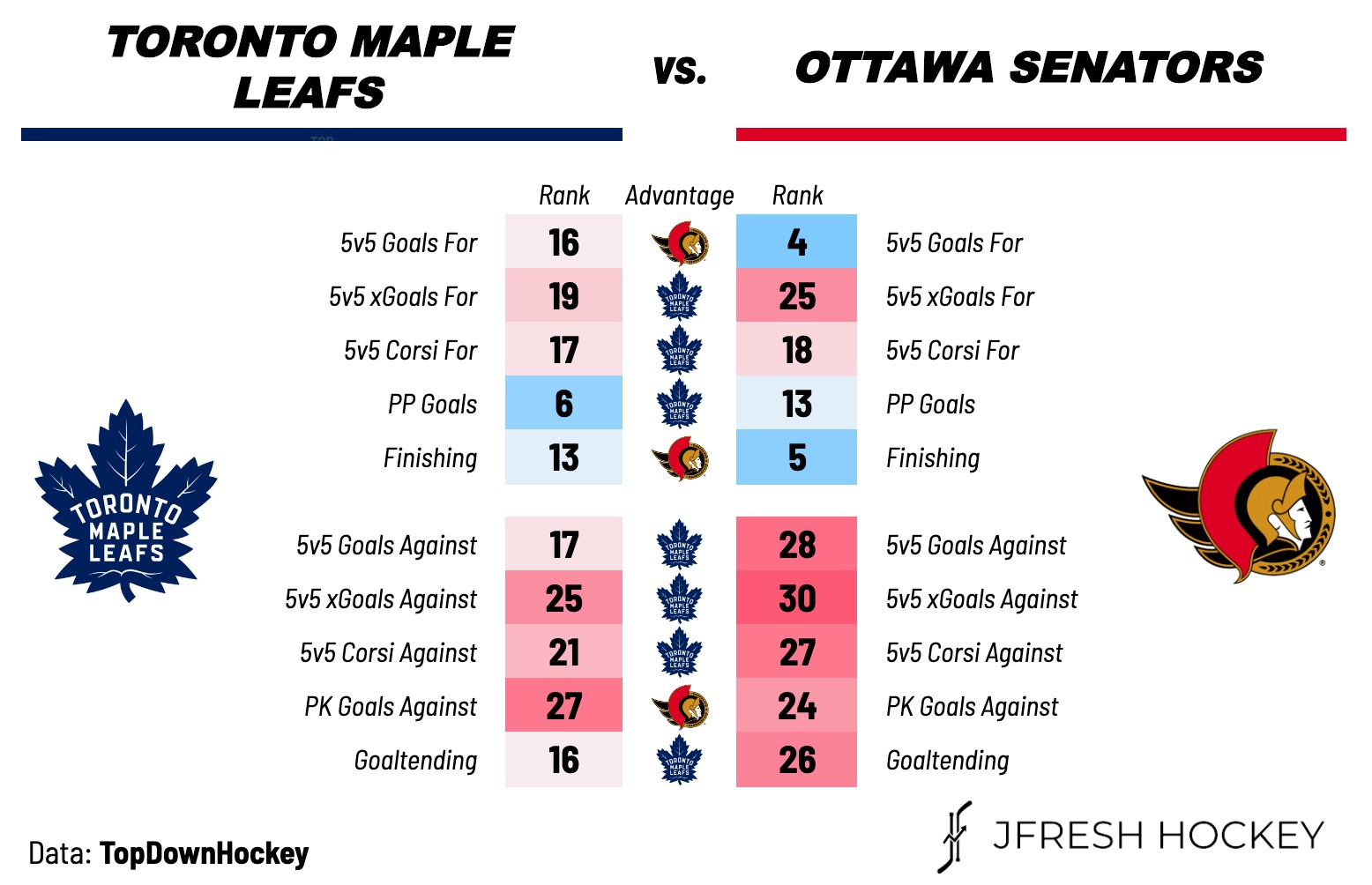 ---
Toronto Maple Leafs Projected Lines
Forwards
#23 Matthew Knies – #34 Auston Matthews – #16 Mitch Marner
#59 Tyler Bertuzzi – #91 John Tavares – #88 William Nylander
#89 Nick Robertson – #11 Max Domi – #19 Calle Jarnkrok
#18 Noah Gregor – #64 David Kampf – #75 Ryan Reaves
Defensemen
#44 Morgan Rielly – #78 TJ Brodie
#55 Mark Giordano – #3 John Klingberg
#85 William Lagesson – #2 Simon Benoit
Goaltenders
Starter: #60 Joseph Woll
#35 Ilya Samsonov
Scratched: Max Lajoie
Injured: Conor Timmins, Jake McCabe, Timothy Liljegren
---
Ottawa Senators Projected Lines
Forwards
#7 Brady Tkachuk – #9 Josh Norris – #19 Drake Batherson
#21 Mathieu Joseph  – #18 Tim Stutzle – #28 Claude Giroux
#81 Dominik Kubalik – #49 Rourke Chartier – #91 Vladimir Tarasenko
#27 Parker Kelly – #52 Roby Jarvente – #17 Zack MacEwen
Defensemen
#85 Jake Sanderson – #2 Artem Zub*
#6 Jakob Chychrun – #24 Jacob Bernard-Docker
#43 Tyler Kleven – #23 Travis Hamonic
Goaltenders
Starter: #70 Joonas Korpisalo
#31 Anton Forsberg
*game-time decision
Injured: Thomas Chabot, Erik Brannstrom, Ridly Greig, Mark Kastelic