Toronto Marlies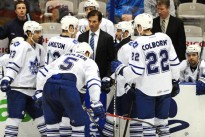 Photo: The Star
The NHL said f*ck you and dumped us, knowing we'll take it back later Who needs the NHL? The Marlies are back and with their new jerseys look more like the Leafs than ever before.
The Marlies drop the puck on their 2012-13 campaign at 5 p.m. this afternoon. Joe Bowen and the gang will be calling the game on Sportsnet One. Their opponent is the Rochester Americans, who are playing their second game in under 24 hours after beating the Syracuse Crunch 6-5 last night. The defending Western Conference champions should be fired up for their home opener, hopefully giving us an edge heading into this one.
Ten things to look out for this Marlies season, starting tonight (+ the lineup after the jump)... [more…]
From the Toronto Marlies:
The Toronto Marlies announced Thursday, the team's 2012-13 opening day roster. The Marlies, who will begin their eighth season on Saturday, open with 24 skaters and three goaltenders.
Ben Scrivens and Jussi Rynnas split a shutout in the Marlies' second and final matchup of their 2012 preseason last night. Scrivens held the Hamilton [more…]
Tonight in Cobourg, the Marlies defeated the Hamilton Bulldogs 3-1 in the first of two preseason games against their divisional rival. The Marlies battled back after falling behind in the first period; Brad Ross (who also scored in each of the intrasquad scrimmages) tipped home a Jake Gardiner point shot in the second before Greg Scott won the game late in the third with a powerplay goal set up by Nazem Kadri. Greg McKegg sealed the deal with an empty netter. [more…]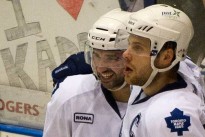 The Toronto Marlies season opens - unofficially - tonight at the Cobourg Community Ice Centre (7 p.m., am820 Hamilton) in their first of 14 meetings with the Hamilton Bulldogs this season (two primers, 12 regular season).
Competition is tough at Marlies camp due to the presence of would-be Leafs on the Marlie roster to start the season, including Jake Gardiner,  Nazem Kadri, Ben Scrivens, and depending on his health, Matt Frattin. You can also include Joe Colborne, Leo Komarov and Korbinian Holzer as names tabbed to be in the mix for spots with the big club. For the time being, around four Marlie jobs aren't available that would be accepting applications in a more ideal hockey world. That magnifies the challenge for some of the younger prospects trying to crack regular minutes in the AHL; the likes of Greg McKegg, Brad Ross, Andrew Crescenzi, Sam Carrick, Spencer Abbott and Jamie Devane.
While there is no roster size limit in the AHL, every game is still 60 minutes and it makes Dallas Eakins' task a tall one as he tries to balance the numbers, player roles and individual player development objectives. [more…]
As in, Red Dawn. Get it? Yeah, I'm not a fan of the title either. It was either that or "Dallas", but I don't have the time tonight to write a complicated and funny Marlies metaphor piece that ends with Bobby Ewing appearing and telling us the Leafs' disastrous previous season was all a dream. Much as I'd like to. [more…]
Dallas Eakins:
Ben Scrivens:
Paul Ranger:
Leo Komarov:
Korbinian Holzer:
[more…]
Toronto Marlies - On Tuesday the Toronto Marlies announced the team's 2012 training camp roster as they enter their eighth season in the American Hockey League. The Marlies have invited 34 players to training camp including 20 forwards, 10 defencemen and four goaltenders. Below is a list of the players attending camp.
Forwards: Spencer Abbott, Will Acton, Carter Ashton, Keith Aucoin, Tyler Brenner, Sam Carrick, Joe Colborne, Andrew Crescenzi, Jerry D'Amigo, Nicolas Deschamps, Jamie Devane, Ryan Hamilton, Adam Hughesman, Nazem Kadri, Leo Komarov, Greg McKegg, Brad Ross, Kenny Ryan, Greg Scott and Mike Zigomanis
Defencemen: Jesse Blacker, Mark Fraser, Jake Gardiner, Ryan Grimshaw, Simon Gysbers, Korbinian Holzer, Mike Kostka, Paul Ranger, Corey Syvret and Dylan Yeo
Goaltenders: Andrew Engelage, Mark Owuya, Jussi Rynnas and Ben Scrivens [more…]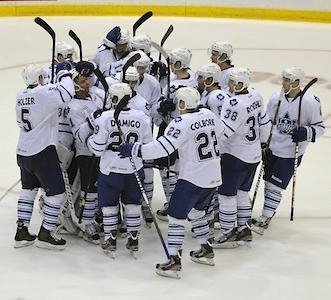 Whether or not there is any sort of NHL season this year, there is one thing we do know: there will be an AHL season.
The Toronto Marlies will go into the season looking to defend their regular season division championship and their Western Conference playoff championship. The online odds at canada.betfair.com show they are among the firm favourites, but at this stage it's based on last season's glories, so there is still a lot to prove this year and a long way to go yet.
Even with that kind of target on their back this season, the Marlies will be well-primed to at the very least win their division yet again.
They are set to return most of their core from last season but there will also be some significant changes. [more…]
After adding Dylan Yeo and Keith Aucoin last week (who have three Calder Cup championships between them), the Marlies have brought back Mike Zigomanis on [more…]
I wanted to start this question and answer blog by addressing some debate that came about in my previous post.
I'm sure many of you remember the top-six bottom-six article detailing the Leafs roster and where players currently fit in (read it here). A lot of people messaged me on Twitter or wrote on the board here in response to Grabovski being the shutdown center and I want to respond to that with a really simple answer.
Simply put, I didn't build this team.
This isn't my roster and we all know that. I simply took the information at hand and applied it as best I could. How Carlyle and Burke have combined to formulate their roster is pretty specific. I tried to root that in evidence and express that to all of you. After that, I used my own opinion to slot players into specific roles. The only debate to be had was whether Grabovski, Bozak or Steckel (or Connolly/Lombardi) were best suited for that role. If either Bozak or Steckel become the Leafs shutdown center, well, it's going to be one interesting season. Does that mean Grabovski will be the shutdown center once training camp begins? No. It just means he's currently the best option on the roster. [more…]