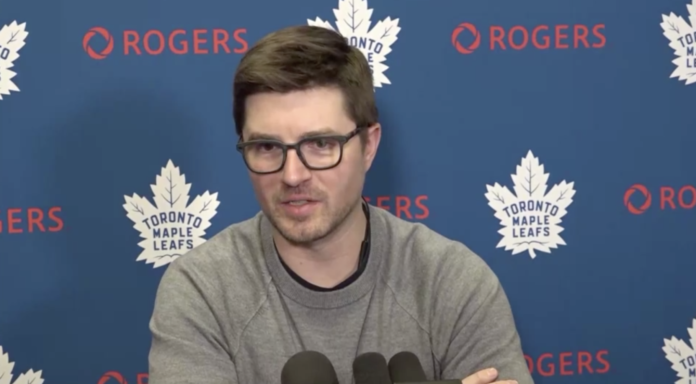 After the NHL trade deadline passed, Kyle Dubas discussed his many transactions over the past few weeks, carrying nine defensemen, standing pat at the goaltending position, and his belief in the team's ability to achieve a different result in the playoffs.
---
Opening statements after the trade deadline
Dubas: We made a number of different transactions over the course of the last several weeks that we feel set our team up competitively and give us the depth we need at all positions to compete come playoff time.

That was the goal of the entire exercise over the last couple of weeks: take the first part of the year and see where our team is at.  In concert with Sheldon and our player personnel department, find out what is available, how it addresses the needs that we have, and try to go and address them.

We feel good about where we are at right now. Like everybody, when you make a trade in the season — especially when you only have less than a quarter of it or about a quarter of it to go — you worry about the players coming in and integrating into the group. So far, it has been good.

I think it is a bit of fortune that we are on the road as much as we are here. It is easier for the guys to come together. We have another couple of longer road trips as well.

We are happy with where we are at and we are excited for the last quarter of the season to get ourselves ready and secure our spot in the playoffs and be ready to roll from there.
Dubas on a busy few weeks and a quiet final day of trade deadline season
---
Were you close on anything today?
Dubas: We made a trade today with Dryden Hunt going to Calgary in return for Radim Zohorna. We just felt it further helped our depth at center that we can recall from if we need. It also alleviates a bit of a veteran problem with the Marlies, which doesn't gain a lot of traction in terms of public interest but it is important to us as an organization.
Zohorna is a guy we liked when he came over and went to Pittsburgh. We liked him in the American league with Calgary's club there. We are happy with that.
Were you surprised it was a little quieter today?
Dubas: After we made the move with Chicago — the days all kind of run together, but I think that was Monday — we had a subsequent move to make to ready our team salary cap-wise. After kind of sorting through all of our options there, knowing we had some time before today, we made the moves on Tuesday — three separate moves in succession — to make it all happen.
Once we knew all of that, I kind of felt that — barring something outside of the box or completely unforeseen — this would probably be fairly light in terms of activity later in the week here.
Why do you think there were so many deals done so early this year?
Dubas: I don't know. I can only speak for ourselves. St. Louis had already acted and moved Tarasenko. They were wanting to move quickly.
You can see why. Doug had quite a number of different deals he was attempting to do. That allowed him to address some of the separate acquisitions he made with Pittsburgh and Detroit to kind of re-tool it quickly in St. Louis. He had kind of wanted to move, so that move came together two weeks ago today now.
It just seemed that the longer you can have guys in here, the better value it is, even if it is just a game or two or three or four. It helps them come in and get together faster and roll.
What is the feeling like to actually get a deal over the line — let alone so many of them — and now that the deadline is over?
Dubas: It is a bit of a relief when it is all done. There have been times — when I was an assistant GM and now this, which is my ninth year going through this — where you often have a little bit of apprehension that things may not get across or they don't. That is not a good feeling. In terms of wanting to get things done earlier, maybe that is one of the things that propels you. That is one of the key parts of it.
It is a good feeling when you get it done, and then immediately, in this job, as soon as you get something done, it frankly turns to anxiety about how it is all going to fit together and work. You get to deal with that.
It never really ends. We have a great staff. The players are a great group. This is the year that we have to put it all together and get rolling. We have tried to arm them to do so.
Dubas on standing pat at the goaltending position
---
Based on the lack of moves in net, you are clearly comfortable with the goaltending situation moving forward. How do you view that position?
Dubas: I am very confident in our goaltenders.
Ilya has come in. The things we are looking for from him: How would he respond when things weren't going well? How would he recover when he got into bad stretches like any young goaltender? He has done an excellent job of that, especially when he had that stretch in mid-December. He bounced back strong in January. If he has had any games where he has struggled, he has right away been able to stop that and get it rolling the other way.
Matt Murray has been out now for just over a month. Now he is on his way back.
Joe Woll has been an All-Star in the AHL and has come in here and played well in the games that he has played for us as well. We are very comfortable with the three.
We have Erik Källgren as well, who ended last year as our backup. When looking at it, the question is: How confident are you that they can do it in the end and pull through? Matt has done it in the past. There weren't really guys available who have. We believe in the potential of Ilya and Joe both.
We will get Matt healthy, get him rolling, and let the three of them continue to move it in the right direction.
Dubas on bringing six new faces into a top-five team
---
It is rare that a team inside the top five makes this much change to its roster. At what point did you realize you needed to make this many changes?
Dubas: I never set out to try to make a lot of changes. I think it was more just trying to identify what we needed, address that, and further address what the impacts were going to be of that relative to the salary cap, player injury status, and different things of that nature.
In a perfect year, I think you would go in and feel you didn't have to do anything, but in this era where the cap isn't really growing, you take the summer and you try to address things as best as possible. You take the first 40 games and really try to measure where you are at and try to take as much time [as possible].
I do have a lot of faith in what I have seen from the players — when they are outside of the lens of the public and we are together — that they could handle bringing some new guys in. One of the new guys has been here before, knows a lot of the staff, and has the reputation as one of the better character or quality people in hockey.
They have come in, and both in terms of how they have fit in and how they have played so far, they have all seemed to settle in really quickly. There are always going to be some rocky steps in games when you are so new to an organization, but as we got past those moves on Tuesday, it became, "Do we want to further…" The chemistry part came more into focus in terms of wanting to say, "Okay, now we have to let it settle and let it roll. We have addressed what we think they need. Now let's let the players and the coaches get to work."
What was it like in terms of balancing changing the chemistry and wanting to make a lot of moves to improve the team?
Dubas:  I think you have to be around the group a lot to have a sense of what they can handle and a sense for guys that are central or core to the group… When you live it every day and the way they practice or play, they can be a core part of it and can really help drive the team or pick the energy up when the energy sags when you are going through a long stretch.
For me, it is just a matter of being around and measuring that — knowing what is important, knowing how different guys impact the team, knowing what their contributions are off the ice, and then knowing what we can handle in terms of what is coming in. And we're really relying on our personnel department and different people throughout the game to know the people we are bringing in, what they are about, what their work ethic is like, and how they treat the staff.
We are really relying on that, especially when we have brought in six new guys now. The feedback has been exemplary in terms of who they are as people. Combined with the group that we have, more than ever, the group's focus is on winning. Anyone that can help them win, they are going to bring in with open arms.
When you mentioned there is anxiety about how it is all going to fit…
Dubas: There is that every time.
When you look at this team, what are you worried about?
Dubas: The thing about hockey or any form of athletics is that there is a massive amount of variance and luck involved in different things that play a huge role in the fortunes of your team each and every year, especially in a playoff series in a low-scoring sport.
Those things always loom. You can't control them. It is trying to do every single thing you can in preparation to give yourself the best chance possible knowing that it is going to loom over it in the end. You hope that when the coin flips at certain points in the game when it does, this game and this year is the time that it lands in your favour while controlling all that you can control.
I think that is just part of the profession and part of the job. I don't know anybody who doesn't come with a great deal of anxiety to it in terms of worrying each day about the group, how it is fitting together, and every single part of it.
It is a job that whether you want to or not, you live it. You don't just come and do it, go home, and drop it. You live it. It is part of everything that you do.
With the group here, I am very fortunate with Brandon Pridham and our staff to have a great support group and people who are excellent at their jobs to help me. Now, it is just a matter of trying to put this all together for them so we can have success.
Dubas on the acquisition of Erik Gustafsson and Luke Schenn, the departure of Rasmus Sandin, and carrying nine defensemen
---
What do you like about Luke Schenn and Erik Gustafsson that led you to part with Rasmus Sandin?
Dubas: With the Rasmus deal, it was to get the first-round pick and then get a secondary piece, which I then felt we would have to take. Given where our farm system is at on D, we have Niemela, but he is in Europe and we hope will have a long playoff run with Karpat. You don't really have guys flush with that ability offensively on the power play.
Rather than leave ourselves hanging there, we could get Gustafsson in the deal, who was probably going to cost us more than the [other] pick we were going to get back anyway. With his form this year with Washington, we felt it would be a good move for us to make.
Once he gets settled in, we know he has been excellent on the power play in his career and an excellent offensive defenseman. He has taken steps defensively throughout his time in the NHL.
We were excited to get him in here. We had talked about him in the summers. Sheldon and the coaching staff have talked about him throughout. That just made sense to tie off the depth part, in addition to getting the draft capital in that deal.
On the Schenn side of it, in wanting to allocate our roster slots, what did we lack? We just felt on the backend, having that one more size-and-strength, physical defender who has been through it before and has that experience was going to be really important for us.
When those two things all lined up in conjunction with the Pierre Engvall part of it — which allowed us to fit cap-wise and return a draft pick there — it was what I felt would be best for our depth overall.
With regard to Rasmus, he has been a part of the organization for nearly five years. As we went through it here, we just felt the draft capital coming back was going to be something that we could use to either add a higher-end prospect to our system in Nashville or survey what the market is going to be as we get into June in terms of trade. We felt that was important for where we are at right now and where our roster is going to be.
That was the decision-making that went into it.
You now have nine defensemen at the NHL level. Are there some benefits and drawbacks to that?
Dubas: As we see on Wednesday night, Liljegren takes a bit of a knock. This year — maybe it is a bit of bias or recency bias on my end — we had a stretch in late November where we had Gio and Holl who played each night and the rest were really testing our depth.
We have had some arduous times in terms of who has been available for our D. I would rather have the guys and sort through a little bit of competition. I don't think the competition hurts them in terms of having to be at their best every night. That pressure will set us up for what we are going to encounter come playoff time in terms of what is expected each night.
Exerting that onto the group is never a bad thing. I will work closely with Sheldon. I don't think it just falls on Sheldon to manage it. I have to help him and be very clear in communication with the players, what is expected of them, and how they are supposed to handle different things.
Conor Timmins is one of the nine. He is a guy we have committed to long-term. Because of the injury situation, he has missed a lot of training in each of the last two or three summers. We can continue to ramp that up for him and set him up best in the long run as well, which we think is important.
We have committed to him for the next two seasons as well. He is going to be a part of it here in the long run. We want to do right by him. We will also continue to get him some game action.
The roster limit raises today. We have the cap space to bring in a 13th forward if we want as well. You never want to be in that situation with one too many, but you definitely don't want to be in a situation with one too few.
Dubas on his belief in the team's ability to get over the playoff hump and a probable first-round rematch against Tampa
---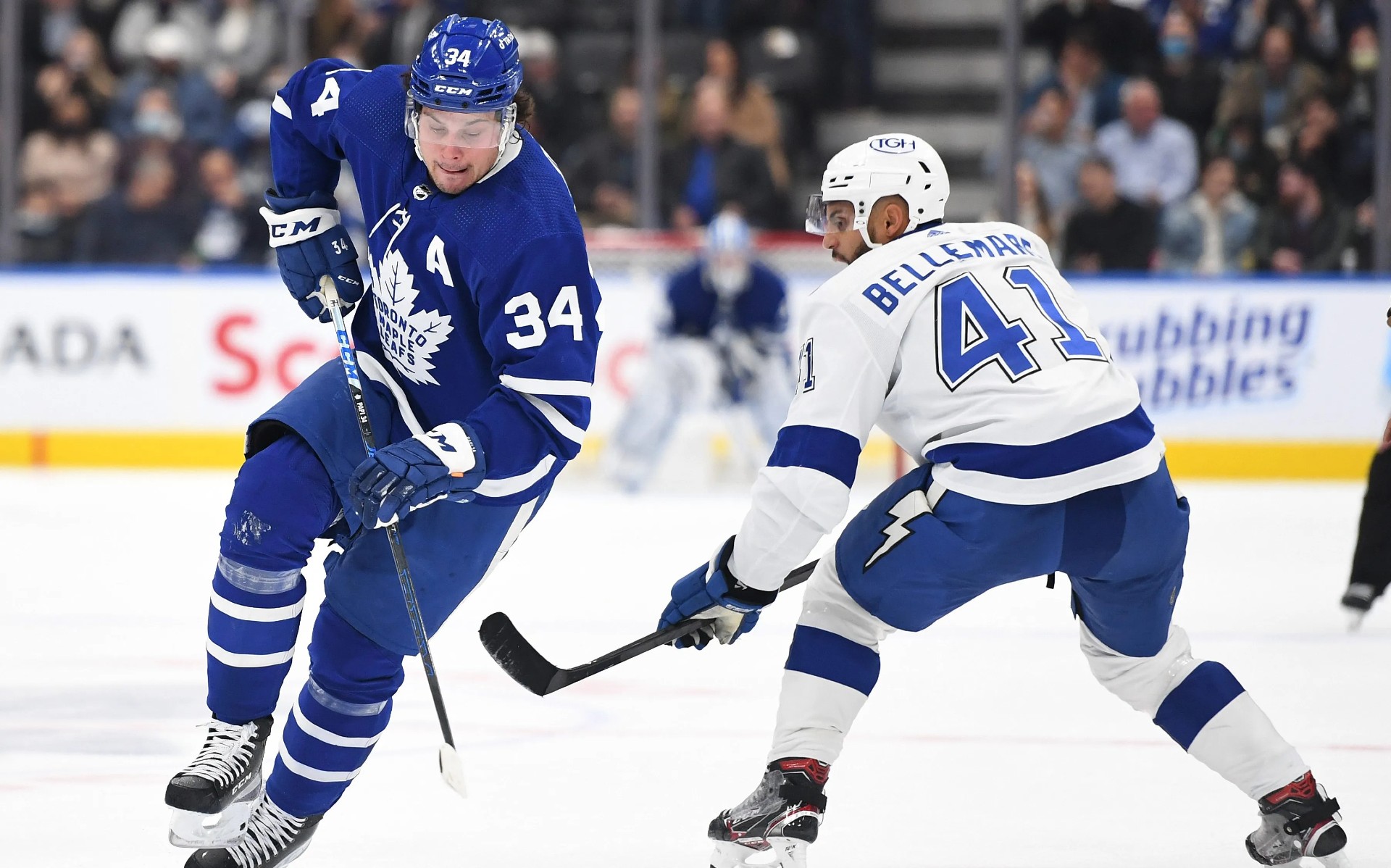 What makes you feel like the group's playoff results are going to be different this year?
Dubas: It is difficult for me to say, but I think the team's third period last night sort of exemplifies the difference in the team — just a little bit more competitive, a little bit more sacrifice, willing to put themselves on the line to win pucks and do the right things defensively that aren't necessarily the fanciest or the sexiest things in the game but contribute to winning.
I just sense, with the players we have added and also some of the growth of the guys internally, we are just far better in that realm. It is probably something the players and coaching staff can give you better insights into than me. They are the ones on the bench living it. From my view from up top, that is what I see as a difference in them.
Now that the deadline is done, you have seen what Boston and Tampa have done. How do you view this team in the context of the first-round matchup and the Eastern Conference?
Dubas: I think the goal of the team is to win. We have tried to set ourselves up as best as possible to give ourselves as good of a chance against whoever we contest. For one, it is clinching our spot and making sure we are in, and then it's getting ready for whoever that opponent is.
I know what the numbers say in regard to the probability that it is going to be one team. If it is Tampa, we played them last year. They are a championship organization every day. We know how hard it is going to be.
The easiest way to put it is: Hard things are hard. What we are about to do is going to be extremely difficult, and we have to ready ourselves each day leading into that to clinch our spot and then be ready for what is ahead.
It is a tough road. We know that. Knowing that is important for our group. We need that. We need to show we can overcome that. We have to push through. That is what is going to lead us to where we really want to go to.
What is your perspective on Auston Matthews' season? The offense hasn't been as plentiful as in years past.
Dubas: As everyone knows, he has played through some injuries and some things that have hampered him. In terms of his impact on the game and the way that he has helped our team, I am very happy with the season he has had, how he has competed and battled defensively, and his growth as an overall player. It has all been very, very good.
If this is a down season for him offensively, that is a really good sign in terms of how great of a player he is. The other guys in the group have all stepped up. That is why you commit to that core group. When one isn't at the level they expect in one specific area, the others tend to step up and help them.
As with any team — not just ours — when you are talking about the playoffs, it is going to come down to everyone executing their role. When you are in that core role — whether you are a forward or defenseman — it is going to be making plays or making stops when it is harder to do so. I think they are at that stage where they are all going to take that step.
Dubas on the impact Ryan O'Reilly has made on the team already
---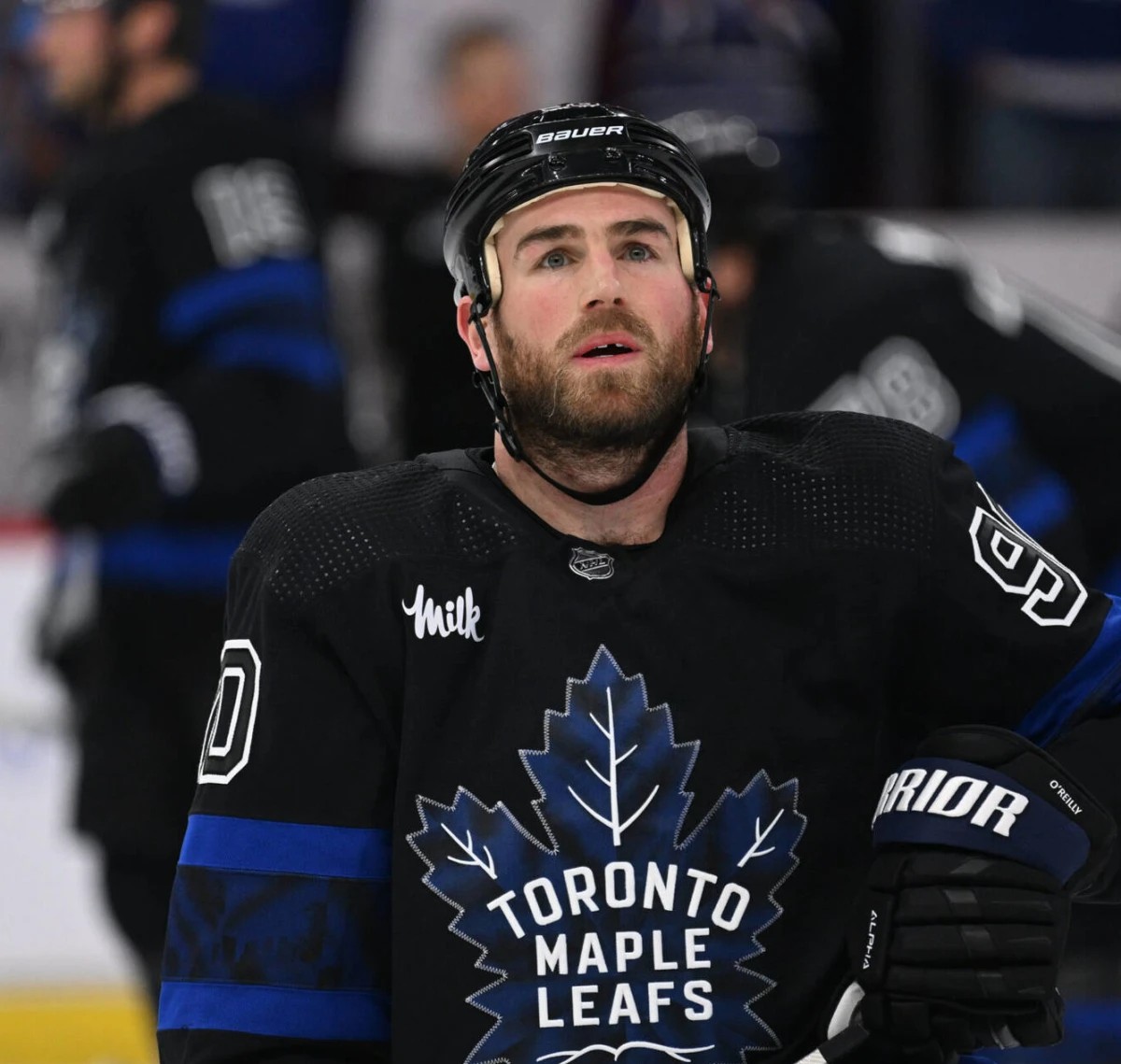 What is your sense of the impact Ryan O'Reilly has made in his short time with the team so far?
Dubas: There are two ways to phrase it. There is the off-ice impact that he is made, which has been significant. He has come in and fit in seamlessly. His habits — the way he prepares and practices — were notorious before he arrived. Everything he has done since has backed that up.
On the ice, obviously, he has produced right off of the bat, but more importantly than the production, it is the way that he plays. No matter who we are playing against or what time it is, he is doing everything the exact way you have to play when you really want to win.
It is not always stuff that stands out on TV or even on film, but he is above his man all the time when they are trying to leave the zone. It prevents the other team from breaking out clean a lot of the time. His stick details on the forecheck, how strong he is on the puck… These are things that for me over time in this job have stood out time and again in the playoffs as vitally important.
He does them all to the ultimate degree every time he is on the ice. He has done that already. You can see that starting to impact some of the other players on the team. He has been everything that we thought when we acquired him and everything that Doug Armstrong said he was and anyone who had him before said he was.
There is a reason why he has the individual accolades he has and there is a reason why he has won before. He shows it every day.
Dubas on the acquisition of Radim Zohorna
---
In the trade with Dryden Hunt, what was the catalyst behind you getting Radim Zohorna?
Dubas: The catalyst is that he will add to our center depth. Certainly, he is a bigger body down the middle for us which we can add. Our scouting staff thought he had played very well for Calgary in the minors, in particular. He kind of bounced around at the beginning of the year. From Pittsburgh, he was claimed by Calgary and then sent down by Calgary. They had thought he played well in the American league for Calgary.
The other part of it is that we kind of had excess on the wing. You are always worried that you are not going to have enough centers, D, or goalies. For us, it was being able to add a center to the mix who is a non-veteran in the American league. That will help the Marlies as well.
We would like them to win as well. They are in first place right now. They have had a great season. Ryan Hardy, Greg Moore, and the staff have done a great job. Logan Shaw has led the team on the ice. We are trying to balance it out there and reduce the friction and number of veterans. Having done that job before, I am a little more cognizant of wanting to do right by them and make it right by them.
It also gives Dryden Hunt a better opportunity elsewhere. He has bounced around a bit this year. It will get him closer to home and give him a chance to perhaps roll there.