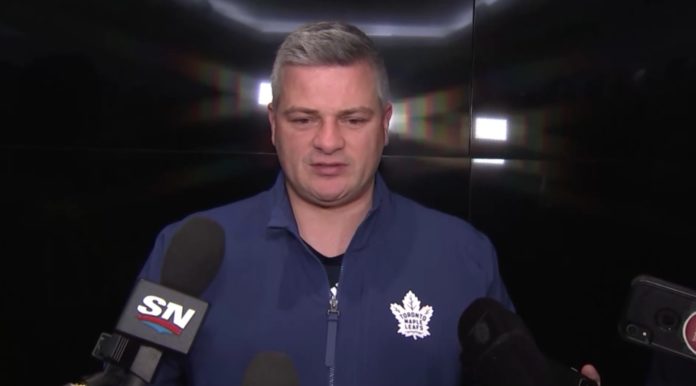 After practice on Friday, Sheldon Keefe discussed the latest on Matt Murray's status and Ryan O'Reilly's impact on the team through half a dozen games.
---
What is the mood like around the group on a day like this after the deadline passes and the players know this is the group going forward?
Keefe: The mood is good. I don't think it is any different.
In terms of the trade deadline, I don't think that was a factor. It was scheduled late enough in the day that it had passed. So many of our moves came early. There was a strong sense that there wasn't going to be anything major happening with our group.
Everybody is feeling good coming off of last night.
When you showed video to the group today, did you show a lot of Luke Schenn's physicality?
Keefe: He was in the mix for sure. We showed a lot of the third period.
For the most part, we showed the process in which our first goal of the game was scored and how we played in the third period in terms of our pressure on the puck and managing the puck really well while still generating offense and being on the attack. That was really what stood out to me.
The contributions from our new players — there were six of them in the game last night — were significant and very prevalent in that video.
What is the latest on Matt Murray and how close he is to a return?
Keefe: He is really close. He has a skate today. I will chat with the medical staff and see exactly where he is at. If he gets through the day today — which we believe he will — he will be playing tomorrow.
What is your sense of how he has handled this long layoff?
Keefe: I think he has been great. He has put the work in both on and off the ice. He has had ample opportunity to get comfortable and feel like he is ready to get on the ice and progressively increase his workload. He's been working into practice.
This week has really been about increasing his workload, getting into some practices, and stressing him a little bit more that way, seeing how his ankle would respond. It seems as though everything has been very positive.
Yesterday was a scheduled day off for him. Looking at his week, we had an off day as a team on Monday, but he skated on Monday, Tuesday, and Wednesday. He had yesterday off, and the plan was to go today. If all is good, he was looking at the game for tomorrow.
That is how we mapped out his week. He has managed that really well. Assuming everything continues to be positive the way it has been, he will be the guy tomorrow.
Ryan O'Reilly is playing that third-line role. What sort of flexibility does he give you in terms of your lineup? What sort of advantages do you see in that?
Keefe: It gives us another high-end center with great defensive awareness and abilities and yet the ability to carry play and make a play, whether that is to score himself or to facilitate.
There was a play he made in the second period to Justin Holl where I don't think anybody in the building thought there was going to be a play available. All of a sudden, he sees the weak side of the ice available and snaps a puck tape-to-tape. It was extremely impressive.
You see those types of plays offensively. The defensive piece, and doing what it takes to win, was a clinic in the third period with how he played.
When you have that deeper in the lineup, it is great to have. You can use him against anybody. As we worked with when he arrived here, you have the ability to move him up, move John over, or try different combinations there.
That is a very significant addition for us.
Is he more impactful seeing O'Reilly close up now than watching him from afar?
Keefe: Yeah, no doubt. When you are seeing it with your group, your players, your system, and your structure, it is more significant.
I have been extremely impressed with him in so many ways — how he carries himself off the ice, the extra work he does to prepare himself, and how he takes care of himself on and off the ice. With the way that he plays the game, he doesn't put the team in bad situations virtually ever.
The way he manages the puck, the way he positions himself, and his line change habits are all at an elite and championship level. Of course, that bleeds through your entire team. Last night was a good example of that.
Do you think ahead to how it can help you in the playoffs?
Keefe: Of course. From Kyle's perspective, that is why he was a player of importance. He has been through that. It is ingrained in how he is and how he plays.
That is really contagious. A lot of those habits that he has and brings to the table are things we have been talking about for a long time. We have done well and made great progress in that area over the last couple of seasons. To bring a guy who has been through it and lives it every day — and has had the results — is something that really kind of pulls it all together.