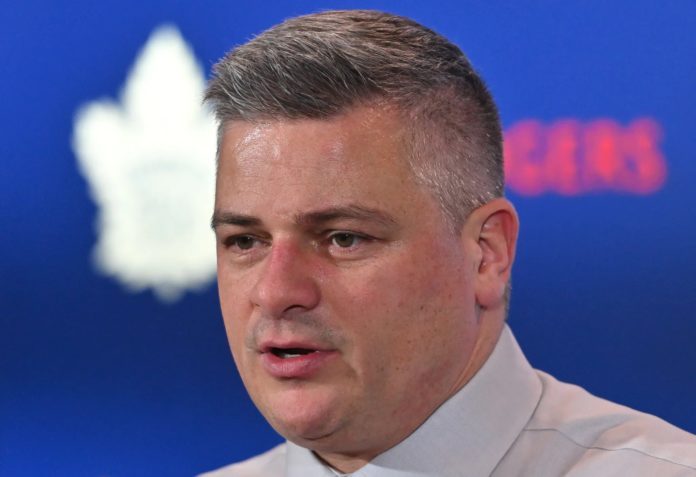 Sheldon Keefe addressed the media after his team's 7-4 win over the Edmonton Oilers which improved the Leafs' record to 40-17-8.
---
On the team's fight back to win the game:
I just liked that we stayed with it. Even down 3-1, I didn't feel like we were playing poorly. I thought we were doing fine. They had just scored more than we had. There was lots of game to play.

The guys just stayed with it. We got a break. Mitch made a big play. It turned the momentum. We took off from there offensively.
On Mitch Marner's difference-making ability:
I think he has shown examples of it every night. I don't think it is necessarily new, but you need a guy to make a big play.

They cough one up, but those kinds of things — while they look like a big mistake — don't happen by accident, especially when a guy like Mitch is out there. He is reading the play and in the right spot.

A big-time finish, too. It is one thing to pick it off, but then to finish… He was great today.

I thought we got a lot of good efforts today. Mitch, Auston, Willy, and John were all on the board here tonight. I thought Noel Acciari was unbelievable in all regards in the game. He scored. He defended. He was physical. He generated scoring chances. He was excellent.

It is a good team win against a very good hockey team.
On the team's ability to contain Connor McDavid:
Obviously, through two periods, we stayed out of the penalty box, which is a big one. We had to kill in the third there, and that is a whole different beast when you take a guy off of the ice.

We made one mistake on the goal that he scored. That is an example — both that and the Kane goal — where we made mistakes on those plays. One is in the offensive zone. One is coming back into our zone. He creates the Kane opportunity, and then he scores himself.

I just thought we minimized our mistakes. When we made mistakes, they are in the net. That is how it goes, but I thought our guys defended well. We had numbers in good spots consistently.

Head to head against Matthews time, I thought Matthews' line spent a lot of time in the offensive zone and had the puck a lot. That makes it a lot harder for those guys to get going offensively against Matty.
On the physicality and chippiness within the game:
Both teams are invested in the game and are competing. I didn't think it was that physical of a game. It got a little emotional at different times, but I thought our guys both initiated that well and responded well.
On the Leafs' star players making it their night and not McDavid's:
I wanted to go with the Matthews-McDavid matchup straight up tonight. It gives an opportunity for us to take the puck out of his hands and play on offense and try to make him have to defend.

I thought those guys were really focused tonight. Whether it is the Oilers on Saturday night and playing against such elite players on the other side… and we got it handed to us pretty good the other night out in Edmonton. All of that is fresh on our minds. I thought the guys responded well.
On whether Noel Acciari is exceeding expectations so far:
I would say it is what I expected in terms of how physical he is, how strong he is on his feet, and how he is a gamer who does whatever it takes to win.

Some of the offensive pieces… I know he has scored 20 goals before and has the ability to do that, but he has made plays. He has generated shots. He is getting in behind defenders. He is taking the puck to the net. He is doing the little things there that show some great capacity for us lower in the lineup to be able to play against anybody, be a guy who is no fun to compete against, and chip in for us offensively.

He is a very important player.
On Luke Schenn's status:
The baby has arrived. The baby arrived yesterday. They are getting things in order and getting baby home and all of that. We will take it a day at a time from here, but I suspect things will start to move here in the next couple of days.