Jake McCabe, Sam Lafferty, and Erik Gustafsson will make their home debuts as the Maple Leafs attempt to avenge their recent 5-2 loss to the Oilers tonight on HNIC (7 p.m. EST, Sportsnet).
The Leafs should have learned a few lessons in their March 1 loss out in Edmonton: In addition to staying out of the box against the league's best (/historically good) power play, it's critically important that they force Connor McDavid to spend more of his shifts inside his own zone and that they don't feed the McDavid and Draisaitl lines with transition opportunities by turning pucks over in the neutral zone.
Edmonton is a deeper team than they were when these two teams last met just 10 days ago; Evander Kane has returned from injury and rejoined Connor McDavid on the top line, pushing Draisaitl back to center on the second line, while big centerman Nick Bjugstad was added to bolster their depth down the middle before the trade deadline passed. Edmonton has now won four of their last five, including a recent 3-2 win on the road in Boston in which they came back from 2-0 down to hand the Bruins just their third regulation loss in 32 home games.
The Leafs are 2-2-0 so far in the month of March as they have navigated something of a transition period with all of the new bodies arriving — and then an important one leaving the lineup due to injury in Ryan O'Reilly, in addition to John Tavares missing a game — as Sheldon Keefe has actively juggled his lines and reconfigured his lineup (11/7 will return tonight).
Tavares will be back in the lineup tonight, but he won't fully rejoin William Nylander on the second unit; instead, Keefe is opting to give Sam Lafferty more run as the center on Nylander's line after a good night in New Jersey in which Lafferty added some pace to a line that opened the scoring for the Leafs. Whether it lasts will remain to be seen as Tavares will start on a forward "pairing" with Michael Bunting in the 11/7 setup with the expectation that he will be moved around plenty, and how the game plays out in terms of leading/chasing will, of course, change the deployment.
Despite a rough game vs. Vancouver with 11/7 and a much better outing against New Jersey with 12/6, Keefe is persisting with 11/7 due to his desire to keep the momentum of Erik Gustafsson's strong season in Washington going as he moves over into more of a depth role in Toronto. Despite carrying nine defensemen on the roster, the O'Reilly injury allows the Leafs to bring one of Alex Steeves or Pontus Holmberg into the lineup to complete four forward lines, but neither played much at all in New Jersey, and Gustafsson will start on a pairing with Morgan Rielly while manning the second power-play unit.
The other factor at play is that this is the first time Keefe will deploy 11/7 with the benefit of the last change on home ice.
---
Head to Head: Oilers vs. Leafs
In the season-to-date statistics, the Oilers hold the advantage over the Leafs in five out of five offensive categories, but the Leafs hold the advantage in five out of five defensive categories.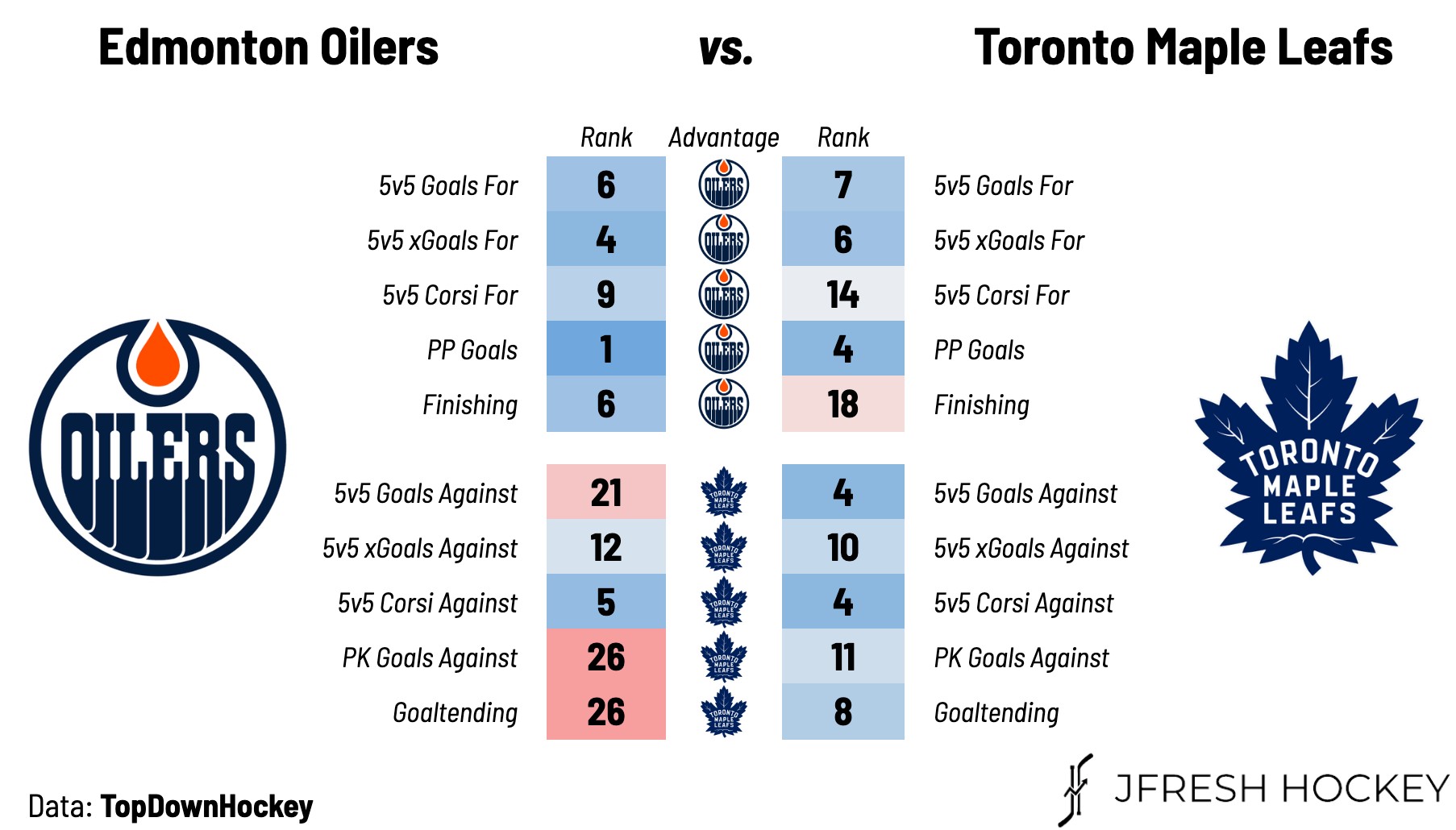 ---
Game Day Quotes
Sheldon Keefe on the lessons from the loss to Edmonton earlier this month:
How hard the opposition played. You are aware of their best players and all of that, but to me, we made two mistakes with turnovers in the neutral zone that McDavid turned around and put in our net within seconds.

There is that, and it is obvious. We talked about that, but they played a really sound and hard team game that made it difficult for us to generate any sort of meaningful offense. That is a big piece for us to contend with today.

We have to tighten things up defensively ourselves, and we have to find ways to get through the neutral zone and play more on offense.
Keefe on the plan to rotate Michael Bunting and John Tavares within the 11-forward setup:
John and Bunts will have different linemates quite a bit, whether it is them moving into other lines or others filling into that spot. That is where I have the open spot to begin. I like the other three lines. I will try to be as stable as I can with those.
Keefe on Jake McCabe's fit in Toronto so far:
He has come in and played big minutes and tough matchups for us. He is a guy who plays with poise. He is calm. He is a veteran player, really. He has fit in really well. He has partnered with Brodie and they have done a really good job together with him.

It has been nice to have him. He has taken on a lot of minutes. It didn't register until talking to him yesterday that it was his first day in our facility in Toronto. He is only going to get better the more comfortable he gets.
Jake McCabe on Connor McDavid somehow finding another level offensively:
I don't know if he is shooting more or what, but his ability to find space and create space out of basically nothing is impressive. His release is elite. The puck is finding the back of the net a lot more this year for him. I don't think anyone is really that surprised in the league, to be honest.
McCabe on going four straight games without an on-ice goal against since joining the Leafs:
Playing with Brods, he is such a steady presence for me joining a new team. He is such a good skater. He has such good gaps and makes such solid plays out there. Having a partner like that is easy to read off of. We have been working well together in that aspect.
Oilers head coach Jay Woodcroft on his team's 5-2 win over Toronto on Mar. 1:
We skated well in that game against a team that skates very well. We started the way we wanted to. We got better as the game wore on. We found contributions from a lot of different players that night.

When you are playing a team of Toronto's calibre, you need everyone playing toward a certain standard and pulling on the same rope. On that evening, we had that, but that was a while ago.

Our focus and attention are on a very good Toronto team tonight… It is not going to take one line to contain them. It is not going to take one shutdown D pair. It is going to take everyone in our lineup to be playing the game the right way.
Woodcroft on the addition of Mattias Ekholm to the Oilers' blue line:
He fits our team like a glove. He was exactly what our team needed. He is a big, shutdown defender that has some offense to him.

He has veteran poise and veteran presence. He has had a very good effect on Evan Bouchard. When he is on the ice, his teammates feel good about it and his coaching staff feels good about it.
Jack Campbell on his anticipation for the reception he'll receive in his first game back in Toronto:
I definitely appreciate all of the love they have given me in my career here. I can't really imagine what it is going to be like until the moment happens. I love all the fans here. I love my teammates and the city.

There were so many special moments. Even going out there today, I was remembering a lot of the little things that meant the world to me. Now my focus is on trying to make some great memories with the Oilers.
Campbell on not starting in either game against the Leafs this season, including in his return to Toronto:
You guys know I hold myself to a pretty high standard. It just hasn't gone that way yet this year, but I'm working hard and I know I'll get there.
---
Toronto Maple Leafs Projected Lines
Forwards
#15 Alex Kerfoot – #34 Auston Matthews – #16 Mitch Marner
#88 William Nylander – #28 Sam Lafferty – #19 Calle Järnkrok
#58 Michael Bunting – #91 John Tavares
#12 Zach Aston-Reese – #64 David Kämpf – #52 Noel Acciari
Defensemen
#22 Jake McCabe – #78 TJ Brodie
#44 Morgan Rielly – #56 Erik Gustafsson
#55 Mark Giordano – #37 Timothy Liljegren
#3 Justin Holl
Goaltenders
Starter: #30 Matt Murray
#34 Ilya Samsonov
Extras: Wayne Simmonds, Conor Timmins, Alex Steeves
Injured: Ryan O'Reilly, Nick Robertson, Jake Muzzin, Victor Mete
---
Edmonton Oilers Projected Lines
Forwards
#91 Evander Kane – #97 Connor McDavid – #18 Zach Hyman
#93 Ryan Nugent-Hopkins – #29 Leon Draisaitl – #56 Kailer Yamamoto
#37 Warren Foegele – #72 Nick Bjugstad – #26 Mattias Janmark
#14 Devin Shore – #71 Ryan McLeod – #10 Derek Ryan
Defensemen
#25 Darnell Nurse – #5 Cody Ceci
#14 Mattias Ekholm – #2 Evan Bouchard
#27 Brett Kulak – #73 Vincent Desharnais
Goaltenders
Starter: #74 Stuart Skinner
#36 Jack Campbell
Injured: Ryan Murray