Matt Murray will make his return to Ottawa as a member of the Maple Leafs as Toronto attempts to avenge a 6-2 loss to the Senators back in late January (7:00 p.m. EST, Sportsnet/CBC).
The storylines for tonight begin in net, where Matt Murray will make his first start against his former team after missing out on the January 27 loss to Ottawa due to a last-minute injury issue.
At the other end, injuries have been the major story in the Senators' crease, where their top two netminders in Anton Forsberg and Cam Talbot are out, with only Talbot having any hope of a return before the season's end. That leaves Mads Sogaard, who has been lit up for 14 goals in his last three starts (all losses), carrying the load for the time being. The rookie goaltender is trying to shake off a blooper of a game-losing goal against Colorado on Thursday:
Especially with the Leafs rolling in off a convincing win over Carolina in the first half of this back-to-back, there might be an opportunity for the Leafs to jump on the Senators early by testing a green goalie who has to be battling some self-doubt at the moment.
In the back-to-back situation against a rested opponent, the Leafs will return to 12 and 6 while bringing in fresh legs in the form of Justin Holl — who was scratched last due to the rotation underway on defense, not for performance reasons — as well as Wayne Simmonds and callup Bobby McMann. In addition to Erik Gustafsson, team greybeard Mark Giordano will be given the night off — the first time the Leafs have taken this initiative to give the 40-year-old some rest down the stretch.
McMann has responded to his demotion in late January in as perfect of a fashion as possible, tallying two hat tricks and 13 goals in total over the 12 games with the Marlies. His original stay might have been a longer one if he had a little more puck luck initially (including a disallowed goal in Detroit) to gather some early momentum as he flashed some promise with his size, pace, work rate, and willingness to drive the net.
McMann will start on a line with Sam Lafferty and Alex Kerfoot, while Wayne Simmonds slides in for his first game since February 1st in the place of the injured Noel Acciari on a fourth line with David Kampf and Zach Aston-Reese.
The atmosphere should be electric inside the split-crowd (realistically more 60/40 Leafs) Canadian Tire Centre as the Senators try to keep their dwindling playoff hopes alive and the Maple Leafs look to deliver a good effort for Murray in his return to Ottawa.
---
Head to Head: Senators vs. Maple Leafs
In the season-to-date statistics, the Leafs hold the advantage over the Senators in four out of five offensive categories and four out of five defensive categories.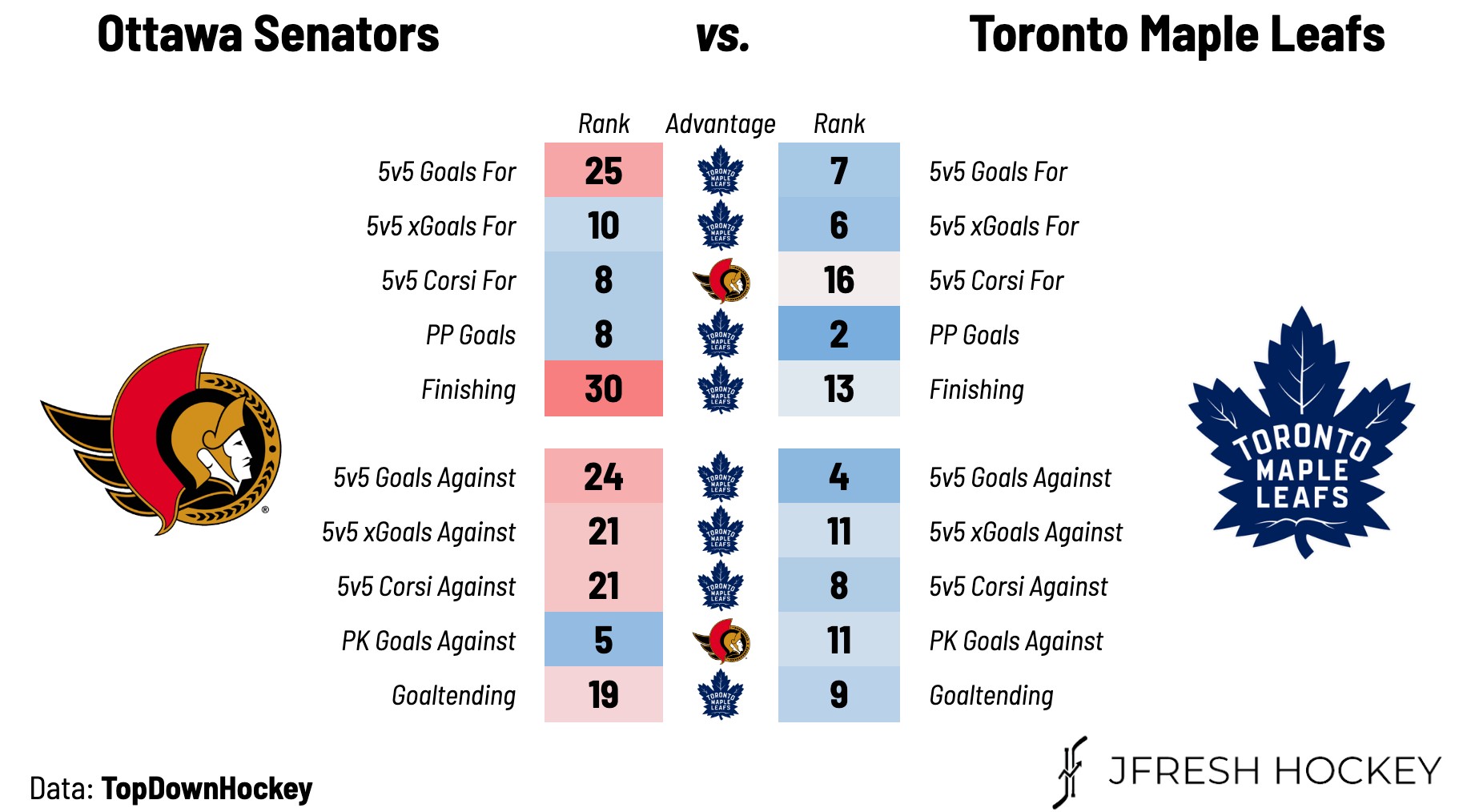 ---
Game Day Quotes
Sheldon Keefe on whether the Senators beating the Leafs in Toronto in the last meeting should be a motivating factor for his team:
That is part of it. We have a lot of respect for this team. Regardless of whether it is the last game or the last couple of seasons, they play us really hard. They have a lot of really good players and dangerous players.

We have to be at our best. More importantly, we just want to continue to build our game. We have had some really strong games here of late. We didn't get the two points against Colorado, but against a really good team last night, we did a lot of good things to put ourselves in a position to win and close the game out.

You want to be able to build on that. It is another opportunity right away here on the road on a back-to-back. We would like to see our team continue to pile up good efforts. That will be the challenge tonight.
Keefe on inserting Justin Holl in the lineup and giving Mark Giordano and Erik Gustafsson the night off:
It is a good chance for us to give Gio a break here. He has played a lot of minutes this season — probably more than we anticipated because of how much we needed him at different times.

With it being back-to-back at this time of year and the depth that we have with so many healthy defensemen, we're giving him a break.

Gustafsson is just the same. He played really well last night. I really liked his game, but we want to keep our guys involved here.

Hollsy had played well and didn't deserve to come out when he did yesterday. We will get him in today and have some fresh people.
Keefe on the expectation for Matt Murray as he plays against his old team for the first time:
I want to see him continue to build. I think he has done a good job. His numbers don't show up well here in the last couple of starts that he has had, but coming off of the injury, he didn't play for a long period of time. There was a big gap between his first two starts. He is just kind of getting going.

We played him in back-to-back starts last week. I thought he really built some momentum through that. In the second half of his first game, you could really see him coming, so we wanted to give him the second start.

You are just looking for him to continue to build his game and get some more game reps. He hasn't played a lot. It is a real chance for him to do that tonight regardless of who the opponent is.

… One thing I know about Matt Murray is that he is unflappable and extremely confident in who he is. That comes with his nature, and secondly, once you have won two Stanley Cups, I don't think you care about much else that is going on.
Keefe on Auston Matthews' goal-scoring starting to cook with four goals in his last five:
He has missed a bunch of goals earlier in the season that in previous years would be going in for him. They haven't. Maybe there is a little more luck coming his way, but it is also coming through good process.

With the way that he is skating and the way that he is working, things start to fall your way when you focus a little less on the actual scoring and more on the details of your game, the pace of play, controlling play, and winning your shift.

When Auston Matthews is at his best, that is what he is doing. The goal is the thing that shows up in the highlights at the end of the night, but as much as Auston won the Rocket and the Hart last year and the goals stand out, to me, it is how he dominates play, how he wins shifts, and how he makes a difference in the game even when he is not scoring.

As we all know, if you get 20-30 shifts a game, you are not scoring on all of those, but you can make an impact on every single shift. When he is at his best, that is what he does. We have seen more of it of late.
Matt Murray on his approach to playing his old team for the first time:
You do your best to treat it like any other game. My focus is on that. They are a dangerous team. They are incredibly talented offensively. I think it is going to be a playoff-type atmosphere out there. We are going to have our hands full tonight for sure.
DJ Smith on the challenge against the Leafs:
They play the right way. They are well-coached. Their focus is clear. Everyone knows that they and Tampa are going to play each other in the first round. Who is going to get home ice? They are trying to get their game ready for that series.

They are not going to cheat and give you freebies. They don't give up much. They have eight defensemen that they rotate. They are sitting out some pretty good players on the backend there. They are built to go.

We can't think about that. We have to do what we do. We play hard in front of our crowd. Guys get excited about these kinds of games. It'll be electric tonight. We'll be ready when the puck drops.
Smith on whether his team draws confidence from its 6-2 win over Toronto back in late January:
That was so long ago. I hope they draw some confidence from it because confidence is good in any scenario. But we have talked about how anyone can beat anyone in this league.  We have beat good teams. We have lost to teams that are way below us in the standings.

They are going to be a way different team tonight than they were then. We are a different team than we were then. We just have to be at our best. When we are at our best, we can beat anybody.
---
Toronto Maple Leafs Projected Lines
Forwards
#15 Alex Kerfoot – #34 Auston Matthews – #19 Calle Järnkrok
#58 Michael Bunting – #91 John Tavares – #16 Mitch Marner
#74 Bobby McMann – #28 Sam Lafferty – #88 William Nylander
#12 Zach Aston-Reese – #64 David Kämpf – #24 Wayne Simmonds
Defensemen
#78 TJ Brodie – #3 Justin Holl
#44 Morgan Rielly – #2 Luke Schenn
#22 Jake McCabe – #37 Timothy Liljegren
Goaltenders
Starter: #30 Matt Murray
#60 Joe Woll
Night off: Ilya Samsonov
Extras: Mark Giordano, Erik Gustafsson, Conor Timmins, Alex Steeves
Injured: Noel Acciari, Ryan O'Reilly, Nick Robertson, Jake Muzzin, Victor Mete
---
Ottawa Senators Projected Lines
Forwards
#7 Brady Tkachuk – #18 Tim Stutzle – #19 Drake Batherson
#12 Alex Debrincat – #17 Ridly Greig – #28 Claude Giroux
#61 Derick Brassard – #57 Shane Pinto – #77 Julien Gauthier
#45 Parker Kelly – #27 Dylan Gambrell – #16 Austin Watson
Defensemen
#6 Jakob Chychrun – #23 Travis Hamonic
#85 Jake Sanderson – #2 Artem Zub
#72 Thomas Chabot – #26 Erik Brannstrom
Goaltenders
Starter: #40 Mads Sogaard
#70 Kevin Mandolese
Injured: Cam Talbot, Josh Norris, Mathieu Joseph, Parker Kelly, Anton Forsberg