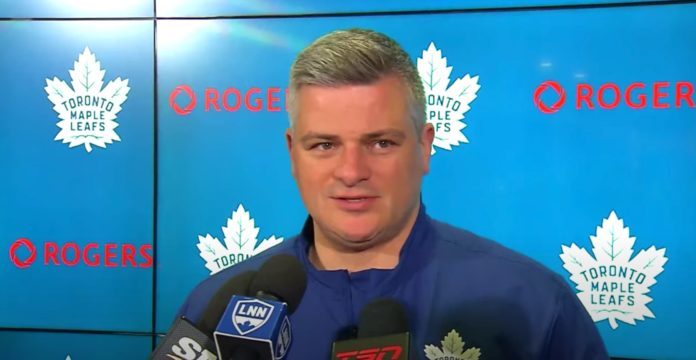 After practice on Tuesday, head coach Sheldon Keefe discussed the status of Ryan O'Reilly as he works towards a return, his exchange with Michael Bunting on the bench in Nashville, officially clinching a playoff spot, and much more.
---
Practice Lines – March 28
Lines at Leafs practice

Jarnkrok – Matthews – Marner
Kerfoot – Tavares – Nylander
Bunting – Lafferty – placeholder*
Aston-Reese – Kampf – Simmonds

McCabe – Brodie
Rielly – Schenn
Giordano – Holl
Timmins – Liljegren

Samsonov
Murray

*see pic @TSN_Edge pic.twitter.com/4BiwQ6F1sI

— Mark Masters (@markhmasters) March 28, 2023
---
Ryan O'Reilly skating before practice appears to be a good sign. What is the plan or approach with him over the next week?
Keefe: Just to continue to ramp him up and make sure that things respond positively both as he is shooting more and handling pucks more. It is also just making sure he is safe in terms of minimizing risk for re-injury. That is really it.
He didn't practice. He did everything but practice. He got a lot of work individually himself before we even got out there. The hope is that he will continue to progress toward practice here.
I would call it unlikely that he'll play this week, but it hasn't been ruled out necessarily. The plan is to ramp him up throughout this week and look more toward the next.
Is there an update on Erik Gustafsson?
Keefe: There is no update. He is still not with the team.
With about six minutes left in the third in Nashville, you had a discussion with Michael Bunting on the bench. He was kind of looking ahead. Is there any issue with that, or is two guys who know each other really well?
Keefe: Bunts and I do have a relationship that goes far beyond here, but that is not anything I focus on or think about. It is a non-issue for me. I give players a lot of leeway and passes, essentially, especially for those who come right off the ice.
For me to expect a player coming right from the heat of the battle to sit on the bench and be a true gentleman when I want to go talk to him, I am putting myself at risk going into that situation.
A non-issue for me. He got the message. He said he understands, and I know that he hears me. I don't overthink those kinds of things, especially on the bench in the heat of the moment.
another Bunting-Keefe heart-to-heart pic.twitter.com/ZjwOlYL042

— Omar (@TicTacTOmar) March 27, 2023
How much is it about you wanting to challenge him to work his way back to Auston Matthews' line versus liking the third line as a pesky line?
Keefe: I would say it is both. With the way that things had gone there, the Matthews line needed a change. We worked through some things there and landed on something that we have really liked and has worked really well.
We had Bunting with Willy and John. It is something that hasn't gone well in the past. We went away from it, and we decided to go back and give it another run. I just thought some of the things defensively hadn't been cleaned up the way we would like them to be.
I wanted to put Kerfoot there to solidify things, as we talked about the other night. You kind of land on a different line there. But there are elements there that I do really like: three real competitors with Acciari and Lafferty, and we know how Bunts plays and what he is like. All three guys have a good skill set to still be able to make plays, score, and be on the puck.
That is part of what we have gone through here: working through some different options. You land on different things you get a look at.
I think Bunts' game has really improved in the last week or two weeks. He is making a lot more plays and skating better. He looks like he is playing with a freer mind. He looks to be finding his game again.
I have talked to him at length about some defensive things that are really important, but to me, his game has really been trending in a good direction.
Do you take a moment to bask in officially making the playoffs? 
Keefe: We spoke about it very briefly today. Obviously, we are focused on bigger things, but as you are going through this journey, you have to qualify for the playoffs before you can do anything else.
To that end, I think it was worth acknowledging to the point that you clinch a spot with nine games remaining. With that being the case, you did some good things along the way to put us in that position.
We acknowledged that and then we moved onto the bigger things.
When Auston Matthews is going like he is at the moment, how does it impact the rest of the team?
Keefe: It makes everybody better. Since I have been in this job, I have talked to Auston about his ability to impact the team in ways far greater than just scoring goals or producing offense.
The best players impact the team and make their teammates better — not just those they play with. We focus so much on what happens with the guys he is on the ice with — and of course, there are big impacts there — but when you truly have a great player and a team that is a true team, the players on the ice start to impact the players that are on the bench waiting. They come over the boards in a better position than they may otherwise have.
When you have a player like Auston playing like he is, Mitch really going, Willy, John… These guys not only make their linemates better on that shift, but the momentum of the game swings in our favour. Those coming over the boards come out in positive situations.
We focus a lot these days on offensive-zone starts and defensive-zone starts — these kinds of things on faceoffs — but when you are playing live and changing on the fly, there is another area where you have the opponent in a good spot when your teammates are getting out there. Not only are they feeding off of your energy and momentum from watching you play, but now you are leaving the game in a better spot than you found it.
That is what being a great player, to me, is about more than just goals and assists. Auston has that ability — perhaps even greater than any of our guys — in particular with the role he plays as a center.
Is there a part of his game that has stood out since he's really taken off of late?
Keefe: The pace he is playing with both ways, the way his feet are moving, his strength in the battles, and his willingness to engage physically. He is not running around finishing checks or anything like that, but he is engaging on every puck and either winning the puck or disrupting the play enough so that the next play becomes one that is winnable for us.
That is another area that shows up on video and in the game with the energy and momentum swings but maybe not so much on the scoresheet. That is what we need from players like that — all of our players, but even more so guys like Auston, who we lean on so much.
How much are you and your staff starting to watch Lightning games in terms of keeping an eye on them and looking for tendencies?
Keefe: It is an opponent we know quite well, but we always keep an eye on teams in our division specifically all season long. We play them more than anyone.
Of course, this time of year, we are paying more attention to what is happening there.
There is a balance in sports of rest vs. rust with the sports science side of it. What is your philosophy, as we get closer to the end of the regular season, as to what you are going to do with your top guys?
Keefe: We will look at where we are at. With our defense, we have built in somewhat of a rotation here. We have given some guys nights off and managed it that way.
We practiced today with 11 forwards healthy. We have to be mindful of that. We still have to ice a team. You have limits to what you can do.
It is something we are mindful of, whether that is managing minutes or reducing workload in terms of actual games played for guys. We will look at it.
First and foremost, for us, we want to continue to build our game. We thought we took really positive steps in a lot of ways on this road trip that we just got back from. We would like to see that come back into home ice this week. It is a bit of a lighter load in terms of games this week, and then it starts to really ramp up for us as we get into April and this weekend.
There are more opportunities for us to get our game in a good spot. We will just take it a day at a time to see where guys are at and see where we are at as a team and how we are playing.
There were a lot of really good signs last week for us. Of course, we are still in a position here where we want to get as many points as we can. We have to be mindful of all of those things.
The most important thing is that we keep our group healthy. We lost another forward there with Acciari the other night. He is day-to-day at this point. He is not going to be available tomorrow. Those are the kinds of things that are most on my mind. If we can reduce workload, perhaps it helps keep us healthy. We will keep that in mind.
Will you go 11 and 7 tomorrow vs. Florida, then?
Keefe: Yes.
Where are you at with Timothy Liljegren's game? What do you like? In what areas do you think he can improve?
Keefe: What I like about Timothy is that he has had a terrific season for us. He has taken tremendous steps towards being an everyday player and a reliable player. He has been a real key for us at different times this season when we have really had to lean on him.
The challenge for Timothy now — and other defensemen on our team — is the situation has changed. We have added additional depth. At times, we have played seven. There is a lot to manage there. It can be more challenging for a younger player that hasn't been through such a situation.
My message to Lily: This is a little bit of adversity in terms of the situation changing. When the playoffs begin, that in and of itself is some adversity. Things change. The atmosphere and environment change. The pressures change. The ability to handle all of these things is really important for all of our D, but especially the younger ones who haven't been through it as much.
I want Lily to focus on the fact that he has been an excellent defenseman for us all season long. There is a little bit of adversity for him now. We would like to help him through it.
Do you notice a sense of relief on Ilya Samsonov's shoulders compared to last week before he left the team for the birth of his child?
Keefe: Certainly, there is a lot less on his mind for sure. Everything went very well. He is very happy.
From what he has communicated, he is very appreciative of how we handled it in terms of giving him the appropriate time. The team still pressed on and did well, allowing him to just focus on his wife and the arrival.
I think he is enjoying the early days as a dad. Now it is about adjusting to that new life and getting back into his regular routine.
How do you plan on settling the goalie debate or decision ahead of game one of the playoffs?
Keefe: The goalies are both going to play. We have a very busy schedule. We have lots of time to sort it out in terms of that decision. Most importantly, we have two goalies who are feeling good, comfortable, confident in the net, and healthy. We will keep all of that in mind.
You have to acknowledge the fact that Joe Woll did a tremendous job for us in net the other night. We feel really good about where we are at there with the depth.