One of the consistent themes of the Maple Leafs' first-round playoff exits under Sheldon Keefe has been their power play failing to produce.
Here's the breakdown by season:
2022: 14.3 percent
2021: 13 percent
2020: 15.4 percent
That's ugly.
Every year, the signs have been there down the stretch. While the Leafs have had strong power plays over the course of each regular season with Sheldon Keefe in charge, the production has dropped off significantly in roughly the final month leading up to the playoffs, and the Leafs have been stuck in that rut through to the playoffs.
Here's how they have ended the final month or so of every regular season under Keefe:
April 2022: 17.7 percent, 16th
April 2021: 12.1 percent, 25th
February 15 to March 13 (due to COVID) 2020: 13.9 percent, 27th
It has fallen off for any number of reasons: becoming stagnant and too predictable, struggling to make adjustments in series, personnel decisions at times, and the top players simply failing to produce.
In 39 playoff games apiece, Auston Matthews has four power-play goals and nine power-play points, William Nylander has three power-play goals and five power-play points, and Mitch Marner has zero career playoff goals, although he does have 11 power-play assists.
For reference, there were five players that had at least 11 power-play points in the playoffs last year alone.
While most people are waiting for the playoffs to begin to really judge this team, I have been preemptively keeping an eye on the power play. With nine games to go in the regular season, it is holding steady. In the month of March, it's clicking at 27.8 percent, good enough for fifth in the league.
In all three of their recent games, we have seen the man advantage come up big.
Against the Panthers, the Leafs were up 3-2, went to a 5v3, called a timeout, and scored almost immediately. It was an onslaught attack worthy of full marks.
Against Carolina, the Leafs went 0/3, but I thought the power play produced a big moment in the first period. The Hurricanes came out in that game with real purpose and were gifted an early 5-on-3 that they capitalized on. Carolina then doubled the lead, the arena was rocking, and we started to wonder if the game was going to get away from the Leafs.
A few minutes later, the Leafs went to a power play of their own, and while they didn't score, they put six shots on net and did everything but finish. It was the type of effort that settled the game down and set the stage for a second period that the Leafs completely dominated.
Too often in playoffs past, not only has the power not scored, but it has been so poor to the point of sucking the life out of the team. They can't score on every power play, but they should be able to generate some offense and build some in-game momentum to ride forward through to five-on-five play. Otherwise, the opponent kills off the penalty, puts their top players on the ice, and the game flips the other way. That has been a familiar story for the Leafs at playoff time.
Against Nashville, the team scored twice, and perhaps most importantly, they showed killer instinct. The Predators hung around in the game despite getting outplayed, but when the Leafs went to a power play with an opportunity to properly put the game away, they were aggressive and buried one. It mattered, too, because Nashville scored afterward.
There are still nine games to go, so I don't want to get too far ahead, but to this point, the power play has remained productive as it has all season (tied with LA for second in the league). That's a promising sign for a team that has seen its power play turn the other way for three straight disappointing playoffs.
Notes
---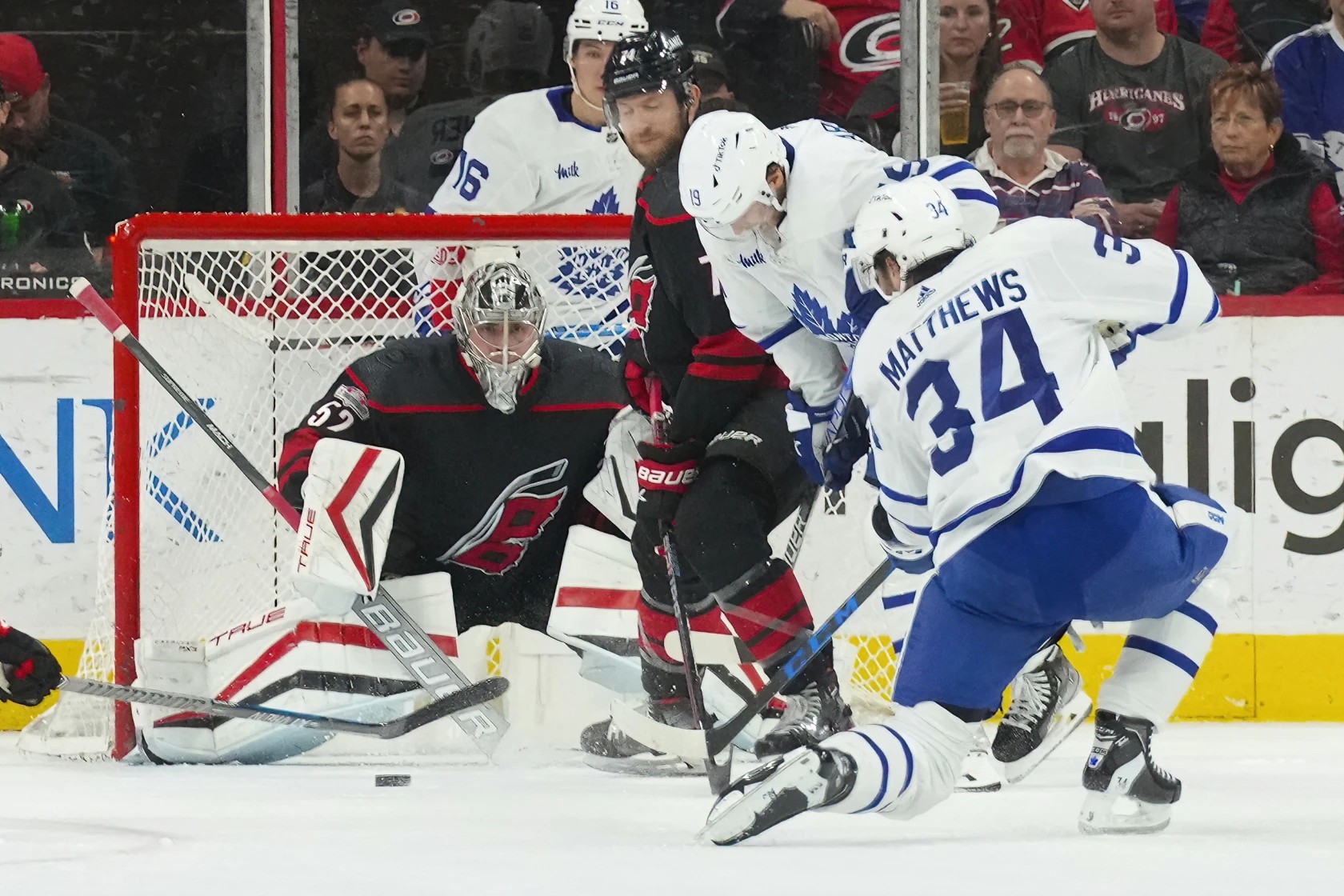 –  Auston Matthews is up to 18 points in 13 games in March. His 15-shot performance against the Hurricanes was about as dominant as we have seen him this season, to say nothing of the swagger shown chirping Brandon Montour (he gave him a little shot after the whistle) right before winning a faceoff and scoring.

He looks healthy and is clearly gearing up for the playoffs now. The vibe is very different this spring compared to the last one when the focus and attention in the market was very much on him scoring 60 goals. 
–  The Leafs did play well in Carolina and probably deserved a better fate, but there's also no getting around the fact that they tied the game late, got an offensive-zone faceoff, put out a fresh line and defense pair, and were promptly scored on. That's just inexcusable at this point in the season, especially from a veteran team.

They lined up with Michael Bunting on the right side for the faceoff and William Nylander on the left inside the hashmark (just as they did against Florida when they scored off the draw), but they lost the draw, Bunting was obstructed with a pick, and Carolina cleared. On the backcheck, Nylander stayed on the left side and Bunting was for some reason pointing at him instead of covering the right.
At the bottom of the screen is Jaccob Slavin – the man Bunting should be covering – who, right after this freeze frame, ripped a wide-open one-timer that led to an easy game-winning goal. 
–  I thought the timeout usage was noteworthy this week: one to organize their first 5v3 of the season – which they scored on – and one to settle the game down against the Predators, which worked as they scored the insurance goal shortly after that all but iced the game. 
–  It's tough when a team has little to play for and has to match the desperation of an opponent playing for its playoff lives. We saw that recently in spurts against the Senators – who poured it on to tie the game late – and the Islanders, who grinded a good win (for them).

On the flip side, they did very well to respond and close out the Panthers up 4-2 going into the third. They gave up few scoring opportunities and only 10 shots on net in the period, winning 6-2. If nothing else, the Panthers are a top-five scoring team in the league. They can score. But the game was never particularly interesting in the third.
–  The Leafs are now seven points up on Tampa with a game in hand on them to boot. I have been saying this for weeks, but clinching home ice is significant. These are two of the best home teams in the league.
Quotes
---
"He's going to really heal up now. He's been battling some stuff. It's not going away real easy for him."

– Minnesota head coach Bob Motzko on Matthew Knies

Matthew Knies did not tally a single point on Minnesota's 13 goals in the regional. His coach admitted he's playing through an injury, and while he will have some time to heal before the Frozen Four, who knows about his availability and how he'll be feeling before the NHL playoffs even start, which is far more of a grind than college hockey.
There's so much talk about him walking into the lineup and contributing right away, but with Knies having never played in the league and possibly battling injury, it seems like more of a hope than a plan at this point. Knies will not even be eligible to sign with the Leafs until roughly April 9, which would leave him with three regular season games to get his feet wet.
"Obviously, Liljegren just whiffed on one. I don't know if you are going to practice that. It is a play that you need to make and he will make."

– Sheldon Keefe on Timothy Liljegren fanning on the puck leading to a goal by the New York Islanders

At first, I laughed at the idea of an NHLer practicing not fanning on the puck as well as Keefe's somewhat biting sense of humour in response to the question. But I've watched the goal about 15 times since the quote, and his technique was genuinely poor.

The puck was on the toe of Timothy Liljegren's stick, and with the way he handled and released the puck, it looked more like he was taking a snapshot instead of cradling the puck and ripping a pass off more of the center/heel of the blade. Snapping passes like this is one way to end up whiffing on the puck.

In the first period against Carolina, Liljegren fanned on another one. His confidence is clearly rocked right now. He needs to get back to basics and to keep it simple. Part of this includes bearing down on the puck harder and making easy plays leading to positive shifts.
"Their world-class talent took over, and we just watched it happen. I tip my hat to them because they played a really good game. They were just coming in waves, and if it wasn't for our goalie, we obviously wouldn't have won."

– Rod Brind'Amour on the Hurricanes-Leafs game
I thought the second period was the Leafs' best of the season. Against a very good team, in their arena, they were down a couple of games and simply dominated, putting together good shift after good shift until they scored multiple goals to tie the game up.
Tweets of the Week
---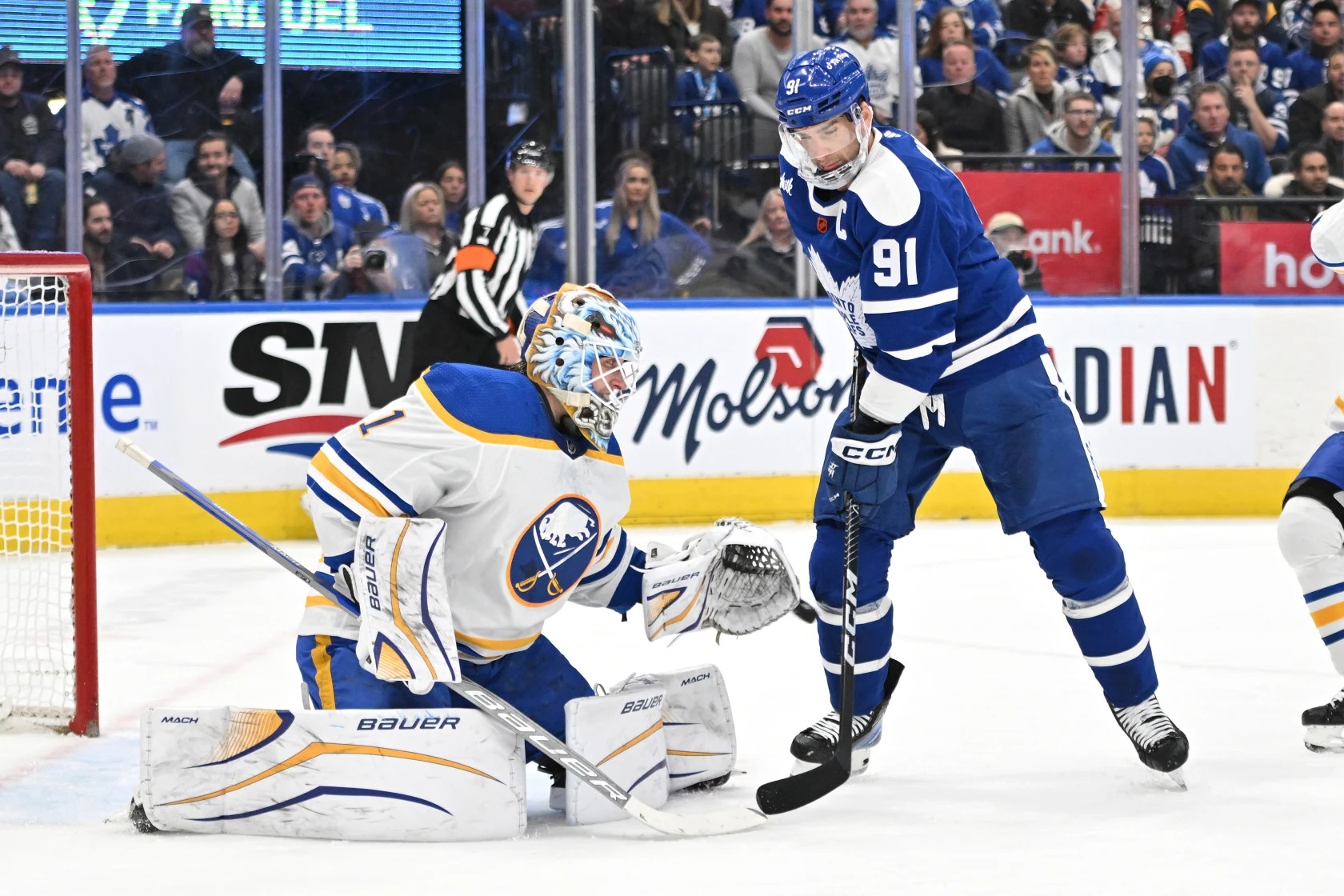 121 forwards have played 150+ minutes at 5-on-4 this season.

John Tavares ranks 3rd in primary points per minute behind Draisaitl and McDavid.

He's also 3rd in shots per minute behind Pastrnak and Robertson.

— Kevin Papetti (@KPapetti) March 24, 2023
Ever since his OHL days (and realistically beforehand), John Tavares' game has really been about his play below the top of the circle in the offensive zone. That's precisely what the power play is for him. He is still lethal in front of the net, and it probably doesn't get talked about enough just how strong he is on his stick and protecting the puck.
Against Florida, he was just relentless below the goal line, winning the puck from two Panthers, leading to an easy Nylander goal. It wasn't on the power play, but it was a good example of what makes him successful and translates well to power-play situations.
The #Bolts will finally have more than one day between games for the first time since February 21 vs. Anaheim. Also played four back-to-backs during that stretch. The 19 games over 33 days were the most the Lightning have ever played in a 33-day span in franchise history.

— Chris Krenn (@Chris_Krenn) March 25, 2023
Tampa's struggles of late have been well documented, but there are a few things that should give one pause.
As far as I can tell, no team in the league has played a more condensed schedule of games this season than Tampa's 19 in 33 days. That is a massive task, and Tampa has struggled through it.
Secondly, last season, Tampa Bay was 8-7-0 in March, and we all know how it ended. If anything, the fact that Tampa is going through some struggles now is possibly the worst part of all. They will work themselves out of it. Their core of Brayden Point, Nikita Kucherov, Anthony Cirelli, Steven Stamkos, Victor Hedman and Andrei Vasilevsiky are not about to all struggle come playoff time.
Where the opportunity really lies is the loss of some key players in the summer – Ondrej Palat and Ryan McDonagh – in addition to the Leafs adding a significant piece in Ryan O'Reilly while improving their goaltending.
another Bunting-Keefe heart-to-heart pic.twitter.com/ZjwOlYL042

— Omar (@TicTacTOmar) March 27, 2023
I don't want to make a huge deal out of this – coaches are annoyed with players all the time, and players often decide to stare forward instead of looking back, believe it or not. But it is noteworthy is that Michael Bunting didn't play the rest of the game.
The Leafs made it 3-1 almost right after this, and there were just under five minutes left in the game. That's plenty of time to give him another shift of two, but Keefe didn't.
In fact, Bunting's ice time is starting to decline. Here's his breakdown per month:
October: 16:11
November: 15:19
December: 16:33
January: 17:03
February: 15:25
March: 14:53
Bunting has four points in 13 games so far through March. It appears Calle Järnkrok has passed him on the depth chart at this time.
Five Things I Think I'd Do
---
1.   As the defense pairings are shuffled around, I think one duo that should be locked in is the Mark Giordano – Justin Holl pair. When I think back to the Leafs rebounding in November and December – especially amid injury to basically everyone else on defense – it was the Giordano – Holl pair playing tough matchup minutes and performing well.

They have been together on and off down the stretch here due to the defense shuffle – and Giordano clearly should be getting some rest in – but this pairing works. Giordano is great with the puck. Holl is great without the puck. The Leafs can trust them against top players, and they have come out ahead in every metric together at 5v5. 
2.   I think if you pencil Giordano-Holl in as one pairing, the rest of the defense comes together pretty quickly. We know all of TJ Brodie, Morgan Rielly and Jake McCabe will be in the lineup. That leaves Luke Schenn, Timothy Liljegren, and Erik Gustafsson competing for the final spot. With Liljegren currently fighting it and Gustafsson's game in his own end being what it always has been, the decision is basically making itself. The only real question is if the Leafs put together Rielly – Brodie as a big-minute top pairing or turn to McCabe – Brodie as a matchup shutdown pairing. 
3.   Auston Matthews – Mitch Marner always looks great – and it's nice to know that the Leafs can turn to it – but I think the best I've seen this team look on a consistent game-to-game basis with this core is when Matthews was driving a line with William Nylander on his wing and Marner was driving a line with John Tavares as his center. I understand loading up, but I'm not sure the Leafs need to do it all game when Matthews is looking healthy and back to himself and Marner is Marner.
4.   I think Joseph Woll is making a real case for being the backup goalie next season. He has only played eight games in the NHL, but he has a .922 save percentage (across two seasons). He has crushed the AHL this season, and he has some pedigree as an early third-round pick who enjoyed a very good college career.

I know the Leafs have been burned before by rolling with an AHL goalie as their backup, but stylistically, Woll is much more sound on and off the ice. He is signed for the next two seasons at a $766K cap hit, and he is no longer waiver-exempt next year. It's hard to imagine he would slide through, even forgetting the fact that the Leafs are picked apart on the waiver wire all the time.

It's going to give the Leafs some options to sort through as Matt Murray has a year left and Ilya Samsonov is an RFA. Depending on how the two veterans perform at playoff time, I think Woll is fully immersed in the conversation for next season if he keeps this up. 
5.   Conversely, I think short of a huge playoff – which can definitely happen – Michael Bunting's price is either going down or – if he really just wants to get paid – he won't be getting his money from Toronto.

He has reasonably established himself as a 20-goal scorer who can chip in offense. But his ice time is going the wrong way, they don't particularly trust him defensively, and the book is out on him as a pest/embellisher. When he has been away from his most common (star) linemates in Auston Matthews and William Nylander, he has been below water in shot share, scoring chances, and expected goals.

In general, he has not been a player who can drive play or carry a line. He is a nice complementary goal scorer and producer who is effective on the forecheck, in front of the net, and can play on the second power-play unit. That is not something the team should fork over big dollars for.