The Toronto Maple Leafs have made their big-splash signing of the free agency period by adding LW Tyler Bertuzzi.
The agreement is a one-year deal worth $5.5 million. With Michael Bunting signing in Carolina, Bertuzzi represents a replacement for Bunting and could allow the Leafs to run a formidable top six of Auston Matthews, Mitch Marner, John Tavares, William Nylander, Matthew Knies, and Bertuzzi, assuming there are no trades involving the Core Four.
The Leafs have had interest in Bertuzzi dating back to the Kyle Dubas era, with rumors swirling around the former Detroit Red Wing and Toronto at the most recent trading deadline. Bertuzzi ended up being dealt to Boston, not Toronto, in exchange for a 2024 first-round pick and a 2025 fourth-round pick (both conditional). Boston worked hard to get Bertuzzi signed over the final days leading up to Friday but were unable to do so, with Bertuzzi hitting the open market and the Bruins moving onto other options. Reports were out on Friday night that the Leafs were prepared to make a pitch to Bertuzzi and in the end, it was a good enough one to bring the forward to the 6 on a short-term deal.
Tyler Bertuzzi's #leafs contract features a no-movement clause and the maximum signing bonus.

Plus he's eligible to hit the UFA market again next summer when the salary cap takes a big jump. https://t.co/7D9dFFMFEC

— Chris Johnston (@reporterchris) July 2, 2023
Tyler Bertuzzi, the backstory
Bertuzzi was a second-round draft pick of the Detroit Red Wings back in 2013, with the consensus at the time being that the Red Wings had reached on a sentimental pick given that Bertuzzi's uncle Todd played several seasons in Detroit and was well-liked by the front office. Despite the condemnation in 2013, Bertuzzi well outperformed his draft position. He finished out a strong OHL career with the Guelph Storm — an All-Star his last season there — before joining the Grand Rapids Griffins of the AHL in the spring of 2015. Bertuzzi played only two regular-season games but was a useful piece of the '15 playoff run with seven goals and 12 points in 14 games.
Bertuzzi spent two seasons with Grand Rapids, a quiet first year notable only for his 133 PIM, but he closed it strong with seven goals in nine playoff games. 2016-17 saw Bertuzzi build on that success with 37 points in 48 AHL games and spend some time with Detroit (he played his first seven NHL games that season). Grand Rapids was a contender in the AHL playoffs and Bertuzzi was a key cog for the Griffins, scoring 9-10-19 in 19 playoff games. He was third on the team in playoff points and second in playoff goals (behind future NHLer Tomas Nosek), helping to lead the Griffins to the Calder Cup championship. Bertuzzi was awarded the Jack A. Butterfield Trophy as the playoff's most valuable player and across his three playoffs in GR, Bertuzzi scored 23 goals and 39 points in 42 games. His 23 goals eclipsed the Griffins' franchise record for playoff goals.
Bertuzzi's exceptional performance in the playoffs earned him a larger role in Detroit in 2017-18. He started the season in Grand Rapids, but he was called up to Detroit mid-season, and from there Bertuzzi carved out a niche. He scored 24 points in 48 games (with 39 PIM to go with it), earned a contract extension, and went into the summer of '18 as a legit NHLer. 2019 and 2020 saw Bertuzzi notch his first two 20-goal NHL seasons with 21-26-47 in 73 games in '19 and a nearly identical 21-27-48 in 71 games in the COVID-shortened 2020 season.
By this point, Bertuzzi was seen as a solid top-six complementary winger and a key piece of Detroit's forward group. He'd been quite consistent and healthy through the 2020 season, but the past three years were a diversion from that. A back injury cost him all but nine games in the shortened 2021 season and that was followed up by a very mixed 2021-22. On one hand, it was the best year of Bertuzzi's career — his first 30-goal season and a career-high of 62 points. On the other hand, his refusal to get the COVID-19 vaccine (he was the only player in the league not vaccinated by December 2021) held him out of 14 games when Detroit went on the road to Canada, which became its own sideshow distraction off the ice.
This past year saw normalcy return to the Bertuzzi saga. He was able to travel to Canada again due to changes in vaccine policy in the country, but there was further injury-related instability. Injuries held him to only 29 frustrating games before Detroit made Bertuzzi available and sent him to Boston. Bertuzzi's cold streak as a goalscorer continued with the Bs, but he was able to pile up assists on such a dominant team with 16 points in 21 games. His goalscoring touch returned in the playoffs, his first playoffs as an NHL player. Bertuzzi was one of the stand-outs of the first round despite his team's defeat. Bertuzzi scored five goals and five assists in the seven-game series, tied for the team lead in both goals and points.
As stated at the top, Boston desperately tried to keep Bertuzzi, according to all the reporting. They traded Taylor Hall for pennies on the dollar to open up cap space and were in negotiations with Bertuzzi for some time about a deal. Those negotiations couldn't find a spot to meet in the middle, and Bertuzzi hit the open market. From there, the Leafs made their pitch and sealed the deal to bring the hometown kid to Toronto.
Tyler Bertuzzi, the player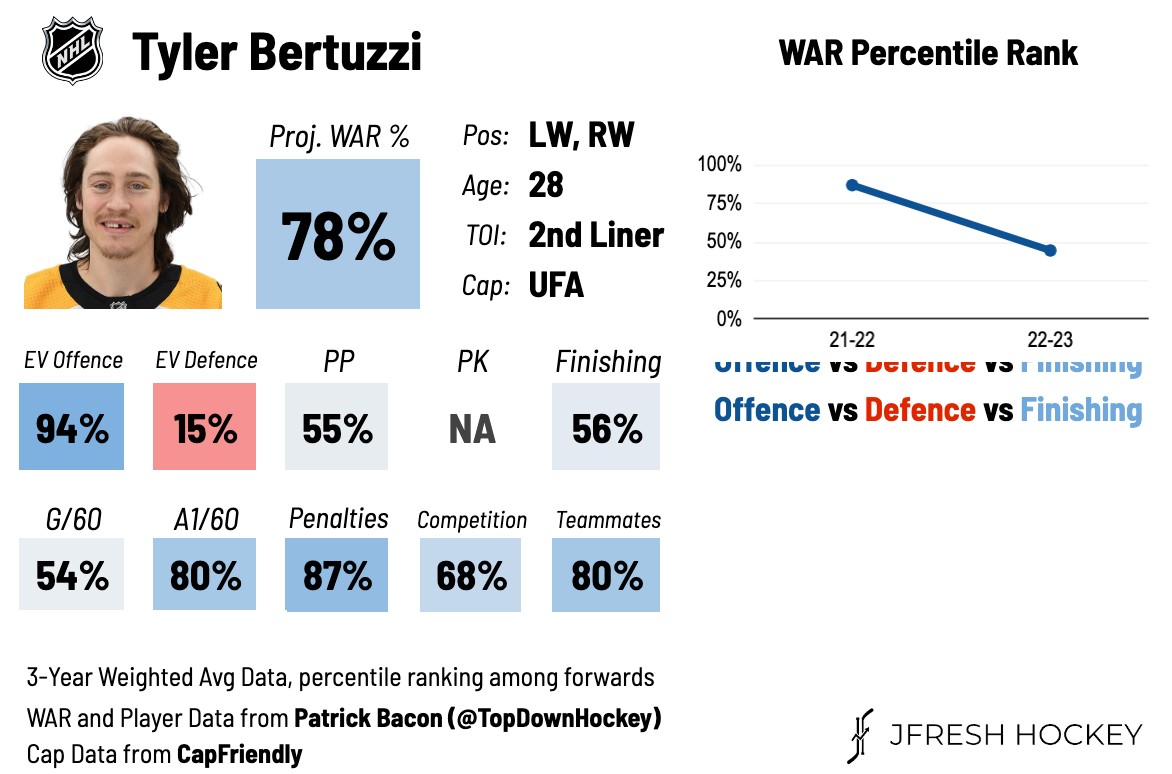 As a player, Bertuzzi has an attractive set of skills, which explains the interest from many teams. He's not a big guy, but at 6'1″ he has adequate size for a pseudo-power forward. Bertuzzi is not the world's best or even most willing fighter — his 100 PIM days have been left in the AHL/OHL — but he has the greasy rat persona of Michael Bunting with a little more follow-through. Simply, Bertuzzi annoys the hell out of opponents, mucking it up after the whistle and trash-talking the opposition. Bertuzzi is willing to play around the net, adds timely goals, and plays with a lot of heart and hustle. He's not afraid to go into the corners, and this profile made him a fan favorite in both Detroit and Boston.
From 2020-22, Bertuzzi was deployed as a legitimate first liner, playing with Dylan Larkin and logging nearly 20 minutes game, playing heavily at even strength, a healthy chunk on the PP, and occasionally on the PK as well. In 2022-23, with a deeper forward group, the Red Wings cut his minutes back to 16:29 per game, the fewest for Bertuzzi since 2018-19. On a loaded Bruins team, Bertuzzi's ice time didn't change.
His dip in production this year was partially due to a decreased shooting percentage (7.5% vs. career average 14.5%), but his play-driving impacts ticked down as well. In 2021-22 they were exceptional, especially offensively at 5v5. In a miserable 74-point campaign for the Red Wings (-82 goal differential), Bertuzzi was the only Detroit regular to be on the ice for more goals for than against at five-on-five (53 for, 52 against), and he nearly broke even in expected goal share as well at 49.5%.
As good of a player as Bertuzzi has been in his career, the injury history can't be ignored as an area of concern. He broke both of his hands blocking shots this past season — the left one required surgery — and dealt with a minor lower-body ailment as well, which is why he only suited up for 50 games. While both of those hand injuries are flukey tough breaks, the 2020-21 back injury would've also loomed large on any expensive multi-year commitment. Bertuzzi is only 28 right now and will likely be about as good as he has been over the next three years, but once you get into the 30s you always have to brace for impact.
With the injury worries in mind, though, the one-year bet on Bertuzzi is a good one, especially in comparison to Bunting's deal. While Bunting's play declined in the back half of this past season due to discipline issues, Bertuzzi has no such concern. He's been reasonably effective at drawing penalties but doesn't have the issue taking them like Bunting does. Bertuzzi has also been a supreme playoff performer across his career, one of the best in the AHL and he dazzled in his first showing in the NHL with Boston. Bunting, on the other hand, has two goals in 13 career NHL playoff games due to injury, discipline issues, and other associated struggles (and only 3-1-4 in nine AHL playoff games).
Bertuzzi is also the sort of player who can play down in a lineup more credibly than Bunting, with some PK experience that Bunting does not bring, either (not a ton of it, but some). If Bertuzzi can stay healthy (and that's an important if), I think he represents a clear upgrade on Bunting in the top six. Don't expect Bertuzzi to drive his own line necessarily, but he can help in the effort of doing so and is the sort of player who makes high-end players better. An ideal complementary piece, someone who makes the Leafs "harder to play against," and a notable splash by Brad Treliving in his first UFA period.