The Toronto Maple Leafs remain busy on day two of unrestricted free agency, adding another offensively potent forward on a one-year, prove-it deal. A few hours ago,

it was Tyler Bertuzzi

. Now it's Max Domi:
The final details are still being worked through, but sources say Max Domi is closing in on a one-year deal with the #leafs in the $3M range.@NorthStarBet @TSN_Sports

— Chris Johnston (@reporterchris) July 3, 2023
While a one-year deal is not necessarily surprising given that the salary cap will be increasing next summer, the cap hit ($3M) is a little lower than expected in a good way for the Leafs. It's the same amount he made this past season ($3M) and unlike Bertuzzi or John Klingberg, Domi isn't coming off a down season: He scored 56 points and 20 goals, the second-best total of his career in both categories.
The lower cap hit appears to be a decision by Domi to bite the bullet on salary for this season in exchange for the ability to play for the Maple Leafs, a contending team with a tight cap situation but one that offers him a lot of media-based incentives and skill to play with ahead of the cap increase. As we saw with Luke Schenn, showing out in Toronto can net a massive financial benefit, logic that Tyler Bertuzzi is also applying in signing a one-year deal.
Max Domi, the career
Domi, son of famed Leafs Tough Guy of yore Tie Domi, was drafted 12th overall in 2013 out of the London Knights by the then-Phoenix Coyotes (a front office that included one Brad Treliving). By the time he reached the NHL roster in 2015-16, the team was known as the Arizona Coyotes and was composed of a rough collection of players. Domi was one of the best players on that team as a rookie, second in scoring behind defenseman Oliver Ekman-Larsson (and just ahead of new Leafs AGM Shane Doan). He scored 18-34-52 and took sixth in Calder voting, with good underlying numbers to back it up and electric chemistry with fellow youngster Anthony Duclair.
Unfortunately, Domi's numbers stalled in Arizona over the next two seasons as he failed to take the next step. He played only 59 games as a sophomore (scoring 38 points), and while he played a full 82 in 2017-18, his point and totals were still far below his rookie year (9-36-45). Meanwhile, his defensive play declined dramatically and the Coyotes decided to look for a fresh start for him, dealing Domi to Montreal for a former 2012 draft pick who needed to turn a page in former Leaf Alex Galchenyuk.
Domi took off in Montreal in 2018-19, posting totals that are still the best of his career. He scored 28 goals and 44 assists for 72 points in a full 82 games. His underlying numbers were superb, he posted a +20 rating that was second on the team, and he showed a feisty side in taking 80 PIM. At 24, Domi looked to be back on track to rising stardom. But just like his rookie season in Arizona, a big year was followed by a letdown.
Domi's second season in Montreal saw his offense tick down to 17 goals and 44 points, with okay but reduced play-driving metrics. He was a background character in Montreal's bubble upset of Pittsburgh and then was traded in the 2020 offseason to Columbus for Josh Anderson.
With the Jackets, Domi inked a two-year extension but never really found a groove. He scored 18 goals and 56 points in 107 games with the Jackets across 1.75 seasons, his play style clashing dramatically in 2021 with coach John Tortorella's low-event defensive system as an all-offense forward. Domi wasn't faring much better in 2022 under coach Brad Larsen when he was a bargain-bin trade deadline add by Carolina, who scooped him up for cheap in a multi-team deal.
Domi's offense didn't pick up much with the Hurricanes, but all three lines he played on were successful at winning their minutes in the regular season. That changed some in the playoffs when Domi's line with Teuvo Teravainen and Vincent Trocheck was snowed under, eventually leading to Domi playing on a more defensive line down in the lineup with Jesperi Kotkaniemi, which was surprisingly effective. Domi scored a modest six points in 14 playoff games, but two of his three goals were big ones. Domi scored two in Game 7 against Boston, the latter standing up as the series-winner:
The fit in Carolina wasn't perfect, and Domi walked in the offseason to Chicago, who inked him to a one-year contract to be a centerpiece of their Tank For Bedard horror-show roster. That allowed Domi to play high in the lineup and pile up points, especially on the power play. He racked up 18 goals and 49 points in 60 games before he was predictably made available at the deadline and shipped to Dallas for a 2025 second-round pick.
Domi played some with Tyler Seguin and some on his own line, tilting the ice in the regular season but not adding much in the way of points. In the playoffs, he played most commonly with Mason Marchment, some with Seguin, and some with Ty Dellandrea. Goals were not abundant, but 13 points in 19 playoff games was a decent return as the Stars made it to the Western Conference Finals.
Max Domi, the player and fit
Domi's greatest attribute is his playmaking ability. He's not a big guy — listed at 5'10, 194 lbs. — but he can pass the puck, especially to the slot, with ruthless efficiency. It's his primary talent and he derives a lot of value from it. Domi's shot isn't anything special — 10.3% for his NHL career with a career-high of 13.8% during his 2019 breakout year with Montreal. Domi has hands that can dangle and he's a good skater, attacking comfortably off the rush back when he was with the Habs. That was the source of some of his struggles with Columbus, where he was forced to play more from a standstill, which limited his creativity and effectiveness.
The issues for Domi over the years, beyond those of fit (more on that later), have often been defensive play and discipline. Domi takes quite a few penalties, not all that many of which are fighting majors despite his last name. It's something he needs to work to keep in check.
As for the defensive side, it's not pretty, but as with any player, it's a matter of how bad it is and how much it balances out the offensive side. There have been years of Domi's career when his defensive impacts are below average but totally acceptable if his offensive game is firing on all cylinders. There have also been instances (including his time in Chicago in the first half of this season) when the defensive impacts were catastrophically bad.
In many ways, his time with Columbus highlights what has often been the key with Domi: chemistry. His ability to impact the game has swung wildly based on the situations he's been in. On teams and with teammates that allow him to play his best game, he can be an electric hockey player — a skilled and creative offensive forward who can play comfortably inside an NHL top six. He drives offensive play, puts up points, and keeps the defensive issues in check. This was his three-year player card from Evolving Hockey spanning his two seasons in Montreal and his final one in Arizona (2018-20):
That player is a really good one and a quality add to an NHL roster. The player Domi was in Columbus is a deeply flawed one — an empty-calories scorer who gives it all back and then some. His player card from the last three seasons, encompassing his time in Columbus + his partial season in Chicago playing on a line with Patrick Kane and Andreas Athansiou (two more horrendous defensive forwards), shows this in plain view: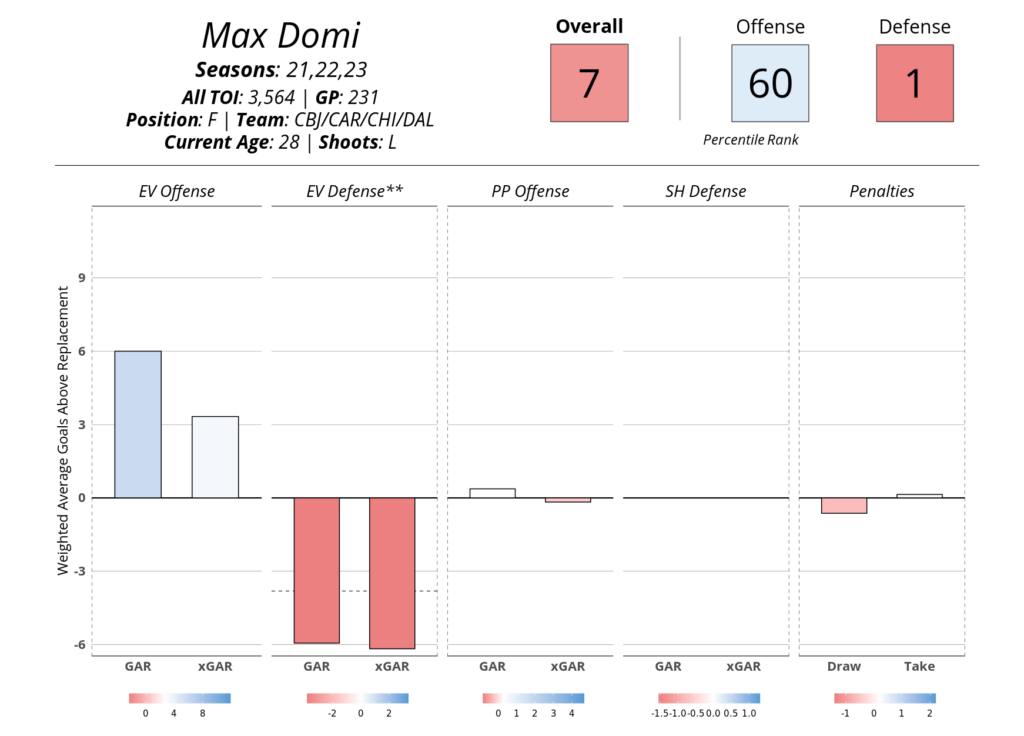 All of this is why I like the idea of acquiring Domi during the summer. The routine he's been in the last two seasons — traded at the deadline to a contender — is one that I don't think benefits Domi, a player so dependent on a good fit. As a deadline-time add, it only gives him a few weeks to figure out where to play before the important games begin. Adding him in the summer gives the Leafs many many months of largely meaningless hockey games to figure out which players bring out the best in Domi and how to utilize him, which is the best case for the team and the player.
If Domi can be his best, I like what it gives the Leafs. Many in Leafs Nation will salivate over the last name on Domi's jersey, but again, he's not much of a fighter and he isn't a consistent finisher of checks (until his temper flares). Rather, he's a pest and (at times) a hothead. Domi will certainly make the Leafs harder to play against, but that's not the primary reason I like this signing. I like the move because it makes the Toronto forward group faster, more skilled, and gives it more of an offensive ceiling.
Pace was an issue against Florida, and Domi's speed and ability to play off the rush increases the Leafs' strength in those areas. He could also be the main distributor on the PP2 unit and adds a more credible punch in the middle six. Between replacing Justin Holl with John Klingberg, Michael Bunting with Tyler Bertuzzi, and Ryan O'Reilly with Max Domi, the Leafs are intent on scoring more goals and being more dangerous in transition than they were in the past playoffs.
I'm not sure if Domi will play down the middle or on the wing. He could do either and has done both throughout his NHL career. All of that will depend on the moves to follow as the Leafs now have to do a bit of juggling. They need to finalize plans for Matt Murray and his cap hit (although, presumably, they know what the plan is behind closed doors), which will then open space to fit Domi and leave room to re-sign Ilya Samsonov. Additional juggling on the margins will likely be needed, too, and there's still the chance the team could explore the trade route to beef up the defense.