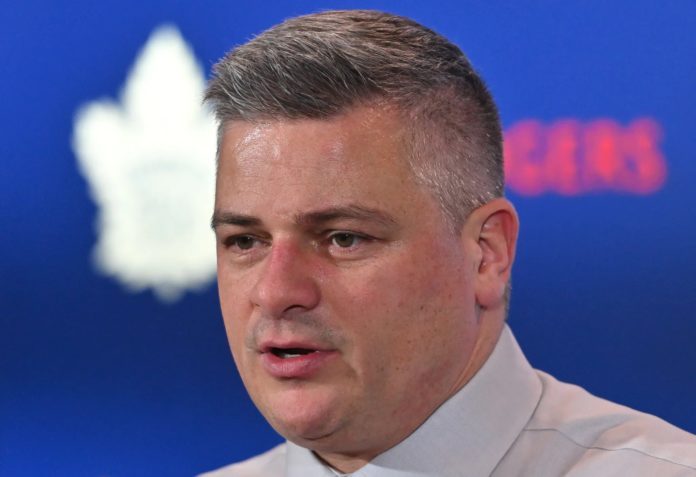 Sheldon Keefe addressed the media after his team's 5-2 win over the Buffalo Sabres in the third game of the 2023 preseason.
---
On Conor Timmins' four-point game:
He creates offense. In the game in Ottawa the other night, I think he ended up with one assist and made some great plays. Going back to the scoring chances, I left watching the video back saying, "Timmins could've had three or four points tonight if some guys finished their chances on the end of some of his plays."

He finds a way to score or set up offense and create. We saw that last season when he played for us as well. It is not a big surprise that way.

We went down to five D for most of the night tonight — pretty much all of the game — which meant more minutes for guys and less time to think. Just go out and play. I thought he did a good job tonight. I thought all of the D did a good job tonight.
On what Timmins needs to do to be an everyday player in the NHL:
Like with most guys who have the ability as he does, it is a matter of consistency. In his case, it is not necessarily consistency on offense. He has found ways to score and produce. He produced at a high rate for us last year. But there is more to playing the position than that.

It is being consistently reliable breaking the puck out, reliable defending, reliable playing against good players at times, and not having to be sheltered. All of those kinds of things are important in order to take a step.

He has worked really hard to give himself a chance to compete here in camp. It is good to see him get rewarded on a night like tonight.
On his impressions of Max Domi so far:
He has been great. He has played a long time in the league now. You have a good sense of what to expect from him. It is just good that he looks comfortable and confident. He is having fun, but he is also working.

I have been very clear with Max about my expectations for him. I think he has done a good job in the first two games to work toward that. As with most experienced players in the league, they are using these games to just kind of get their timing and get some of the summer habits out. As we shift into this weekend and certainly into next week, that is when we really start to focus on a lot more of the detail.

I liked his game. It was a good goal coming out of the box, but he is using his speed. He is on the puck. He created a ton in his first game out in Ottawa — a ton of offense. I have been really encouraged.
On John Klingberg's status after leaving the game:
He just had something tighten up on him. It is going to have to be evaluated before we know. It was precautionary to come out, but we won't know the extent of it until we can get it evaluated tomorrow.
On Sam Lafferty's potential to seize a role on the PK:
Huge potential. He has done it before. He has found a way to produce offense on the PK. Last season, he did a great job of that. He showed that again tonight with his ability to use his legs to get in behind you. We play a pressure penalty kill. There is great benefit to having guys who can skate as he does. We need guys to take a step.

Last year, he didn't get a great opportunity with us. It just so happened at a time when we were already pretty good on the PK and we acquired two veterans like O'Reilly and Acciari. There wasn't a whole lot of opportunity for him last season, but there certainly is now.

I thought he had a good game tonight. I thought Gregor also had a good game. I wanted to get a look at those guys together with Holmberg. I was interested in that. That is why we took [Lafferty] away from Tavares today — just to get a look at that, and at the same time, give Robertson a chance up with John.

I really liked the speed of Gregor and Lafferty together. Whether it is five-on-five or PK, that is a great asset.
On Nick Robertson's preseason to date:
It has been good. In both games, the puck hasn't fallen for him, but I think he has been all over it. He has had some great scoring chances. He looks really fast and confident with the puck.

Some of our guys — and I would put Nick in this category — maybe looked a little tired today. It is the second game in three nights for these guys. It hasn't been an easy camp. It never is.

Later in the game, I thought he started to drain a little bit as some of our other guys did. He looks fast and explosive — all of the things you come to expect with him.